Archived News
TVA meets with Alarka houseboat owners
Wednesday, August 17, 2016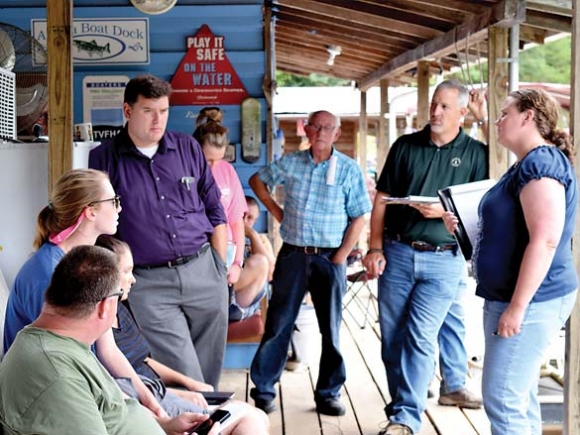 Following a May 5 decision by the Tennessee Valley Authority Board of Directors to ban all houseboats on Fontana Lake after 30 years, TVA promised to spend the next six months talking to stakeholders in an effort to mitigate the negative economic impact.
TVA staff made good on that promise last week by making the rounds in Graham and Swain counties to listen to concerns, but many houseboat owners still feel like the TVA is only providing lip service to placate their frustrations over the ruling.
"I feel like anything we say to y'all falls on deaf ears," houseboat owner William Duncan said to TVA staff during a meeting at Alarka Boat Dock last Wednesday. "Is the TVA board going to listen?"
TVA staff members assured the houseboat owners that they were taking note of all their comments and would report back to the board before its next meeting on Aug. 25 in Knoxville.
Woody Farrell, a land-use specialist with the TVA, said the entire point of the community meetings was to hear concerns from stakeholders and get their feedback on the TVA's future rules that will govern the 1,800-plus houseboats on TVA lakes until they have to be removed in 30 years.
Until those rules are established, Farrell said no new houseboats should be constructed and no new permits would be granted. Some houseboat owners have a pre-1978 TVA issued permit, which means they were grandfathered in when the TVA ruled that no more houseboats would be allowed on its reservoirs.
Other houseboats are not permitted at all and some are permitted through the state but not the TVA. TVA admits enforcement has been lax, which is why so many more houseboats have popped up since 1978, but now they want to take corrective action.
"If you have a (TVA) permit and are in compliance, you can continue to operate the structure under the current rules," Farrell said. "But if you have no permit, you'll have to apply for one under the new rules and get approved."
All houseboats will have to meet minimum standards for things like electrical safety, proper floatation and wastewater removal. All houseboats will be subject to annual fees, but no amount has been finalized. Farrell said TVA suggested a 50-cent per square foot cost, but that could change depending on public feedback. Farrell said they were also discussing whether docks on the houseboats should be included in that square-foot price or whether that was a step too far.
"The whole thing is too far — I've been here for years and years and my houseboat is supposed to be grandfathered-in," Duncan replied.
Bill Rank and his wife Diane were equally as frustrated over the new policy since they sunk most of their retirement money into purchasing a floating house last July.
After making every effort to get properly permitted under the current rules, Rank said it wasn't fair that so many people would lose their investment in 30 years.
"Someone should have some responsibility in us getting screwed around," he said.
Farrell said he understood people's frustration over the sunset clause but the new TVA policy still stands and it will be enforced.
One reason TVA passed the new rules was to keep private ownership off of the public waters, but some houseboat owners find that hypocritical given that TVA is using the public waters to make money through selling electricity.
"(TVA Director Bill) Johnson said it wasn't right for me to use public water for private use, but the TVA is doing the same thing by using the water to make millions," said houseboat owner George Radford.
To make up for removing houseboats, Farrell said the TVA was looking at ways to increase public accessibility by adding more boat ramps and beach areas — though Fontana's steep banks would make those kinds of projects difficult.
Even though the TVA is still deadset on keeping the sunset clause, houseboat owners haven't given up on the chance of getting the decision reversed. They have the support of North Carolina's U.S. Rep. Mark Meadows, R-Cashiers, and Sen. Richard Burr, R-Winston Salem; who have both written letters to the TVA strongly opposing the sunset provision.
When TVA's proposed rules are finalized, the public will have a 60-day comment period before the TVA votes on whether to adopt them. The new houseboat policy is now posted on the TVA website and any proposed rules will also be available online.
Voice your concerns
The Tennessee Valley Authority Board of Directors will hold its next meeting at 9 a.m. Thursday, Aug. 25, at 400 West Summit Hill Drive WT 6, in Knoxville, Tenn.
If you wish to address the board during the public comment portion of the meeting, arrive by 8:30 a.m. to sign up.
Meetings can also be viewed live at www.tva.com.
For questions or concerns about houseboat issues, email This email address is being protected from spambots. You need JavaScript enabled to view it. or call Woody Farrell at 865.632.3024.