Archived Opinion
Bashing teachers does nothing to help public education
Wednesday, August 10, 2016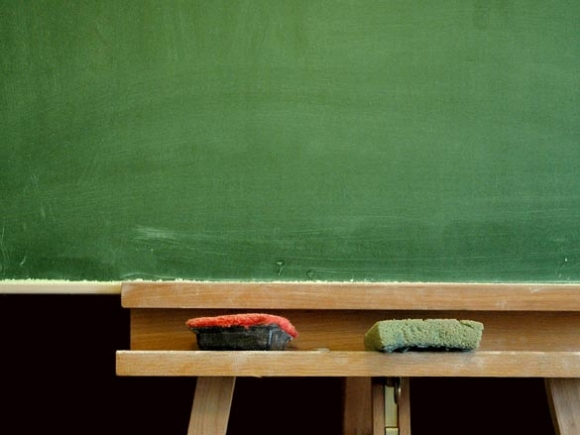 When the back-to-back national political conventions finally ended, it was like a benevolent deity had provided a merciful pardon, finally allowing me to move away from the television and get on with my life. Those two weeks are one of the few times when I tend to watch way too much TV.
But as we prepare for the start of school, my wife (a teacher) and I have discussed a couple of times the comments by Donald Trump Jr. at the GOP event regarding teachers. In case you forgot or missed them, here's what Junior — educated exclusively in private schools — had to say:
"The other party gave us public schools that far too often fail our students, especially those who have no options … Our schools used to be an elevator to the middle class. Now they're stalled on the ground floor. They're like Soviet-era department stores that are run for the benefit of the clerks and not the customers, for the teachers and administrators and not the students."
Our public schools do have serious problems and challenges, among them low test scores, achievement gaps, uneven funding, technology shortcomings, teacher shortages, and more. In this fast-changing world, they struggle to stay up, just like many businesses.
Placing the blame for public education's problems on one political party seems ignorant at best, as the GOP has held sway in lots of states for many years. But a lack of nuanced knowledge and outright falsehoods is what we've come to expect from the Trumps.
To imply, as Trump Jr. did, that educators are in it to help themselves, like pigs lined up at the government trough, is so out-of-touch with reality as to border on the absurd.
I've met bad teachers, but even the worst among them is not in it for the paycheck. The truth is that the huge majority of teachers are in it to help children and young adults get ahead and acquire the skills they need to succeed as adults. It's a difficult, messy job.
Trump Jr. was right about one thing, however: many of our schools do resemble "Soviet-era department stores."
That's because public education doesn't get the resources needed and because our funding formulas are so uneven depending on where one lives. Many schools are crumbling. Truth be told, if people with the wealth of Donald Trump Jr. attended public schools, methinks they would perhaps get more private and public support.
Public schools have plenty of room for improvement, but change won' happen unless we address the real problems instead of blaming teachers for all the shortcomings.
•••
I own a newspaper and I've worked in the press for almost all of my adult life. So it should come as no surprise that I'm a cheerleader for the industry and the standards we bring to the profession in this changing era when almost everyone is getting more and more news online.
The Fayetteville Observer-Times was one of the largest family owned newspapers remaining in the South, bucking the trend of corporate ownership as it served up quality journalism to the city, the sprawling military bases of Ft. Bragg and Pope Air Force Base, and the entire Cape Fear River region. But it sold last week to GateHouse Media. That sale ended a unique era at the oldest newspaper in North Carolina, the newspaper I grew up reading.
I have even more history with that newspaper than simply reading it. It's where I cut my teeth, where I first rolled my chair up to a typewriter and hammered out sports stories while still a junior in high school back in the fall of 1976, where I had to pull the copy off the clacking Associated Press and United Press International teletype machines, stick the rolled up copy in a glass pneumatic tube and send it upstairs to be re-written by my loud, clamoring editors, where ladies of the night liked to tease a 16-year-old boy getting off work at midnight on Hay Street in a sleazy downtown district we locals affectionately nicknamed "Fayetnam."
All that personal history aside, the newspaper is still high quality and one I still get to read several times a year when I visit my stepfather. When the sale was announced late in July, comments online started coming in fast. Here's my favorite, and one that speaks to the essence of quality we strive for in print journalism:
"Newspapers will never be 'obsolete'; they simply will buckle under the sheer invasiveness of the wanton Internet, the shortsighted fickleness of the American public and the national pursuit of profit at the expense of accuracy and integrity. It is newspapers that, for 300 years, have been the diary, the witness and the conscience of America. A newspaper is a moment in history. You can pick one up a year later, a decade, a century, and be transported to a day, an era, a snapshot of a bygone time. The Internet is a raging drowning pool; a newspaper is a slow, steady stream of consciousness. Good newspapers such as The Fayetteville Observer are irreplaceable — but they'll be replaced, grimly, by claims of 'legitimate' Internet news sources that almost invariably cater to the user's biases. I needn't cite the many studies that have shown how Internet news is notoriously unreliable, often unchecked and unedited, shamelessly slanted and bloated with supposition and barely veiled advocacy. Most Internet 'journalists' have no formal training and little news sense or appreciation of long-embraced ethical standards. News is neither 'right' or 'left'; it is well-written or poorly written. It is verified or unverified. As a newspaper employee for more than 30 years, I know that most newspaper journalists are bright, ethical, fair reporters and editors. But bright, ethical and fair don't generate buzz and bring in rash dollars. Keep your Internet, man. I'll stay with newspapers until the last page rolls off the last press."
That came from Ted Hoffman in Florida. I think Ted and I would get along just fine, and if he ever finds his way to the mountains the drinks are on me.
(Scott McLeod can be reached at This email address is being protected from spambots. You need JavaScript enabled to view it..)