Archived News
Model airplanes take to the sky for charity
Wednesday, August 10, 2016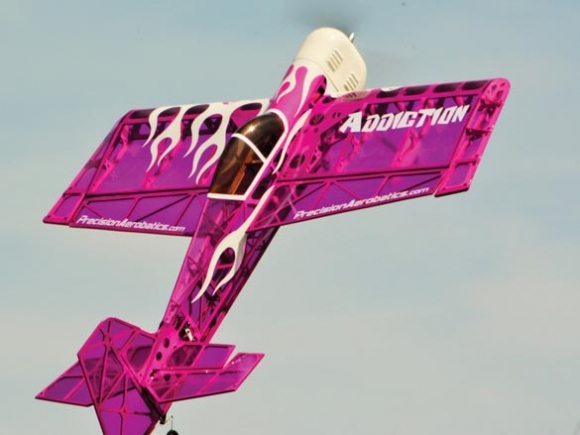 The Macon Aero Modelers Club members are looking forward to showing off their flying skills to the public this weekend during their annual National Model Aviation Day.
The Aero Modelers have been around since the mid-'80s, and the club's membership continues to grow. Several members can be found on any given day down at their airfield in Otto flying their radio-controlled airplanes and sharing stories about their lives.
"The camaraderie keeps it fun," said Greg Doster, the club's current president.
"We have ex Pan Am pilots that have flown every aircraft known to man and we have World War II pilots. We all just sit with our controllers under the metal canopy and listen to war stories. It's amazing — it's an education you won't get in a book."
When Doster joined the club in 2002, there were about a dozen members. Now there are about 70 members who can fly everything from small composite model planes to half-scale models with a 12-foot wingspan.
Doster and several other members have trailers they use to store their large planes and haul them out to the airfield in Otto. Trailers can also double as a camper when the club hits the road to visit other clubs for their special fly-in events. In total, Doster probably owns 25 RC airplanes.
It can start off as an expensive hobby, but so does golf or being a musician, Doster said. He was a musician when he first passed by the airfield and saw the radio-controlled planes flying around. It's something you never expect to see in your backyard, so he had to stop and check it out.
"I was a musician but I traded it in for this hobby," he joked. "It can start off expensive, but when you're not crashing them all the time it levels out."
Bob Scott, mayor of Franklin, has been a member of the club for about four years, but he's been a lifelong model plane hobbyist.
"I've always loved airplanes — I flew with the civil air patrol for 20 years," Scott said. "When I no longer felt like I should be piloting a plane I took up radio control airplanes."
For Scott and many other members, RC planes are more difficult to navigate than an actual plane.
"It's a whole lot harder because you're standing on the ground and flying it toward you so everything feels backward — you have to be really coordinated," he said.
As a local branch of the National Academy of Model Aeronautics, the Macon Aero Modelers organize two public fly-in events every year as a fundraiser for local charities. The club has given money to Macon TRACS, CareNet, Wounded Warriors and many more. The club's upcoming event this Saturday will raise money for The American Legion in Franklin.
"The AMA basically asks all their clubs to host an event for charity. This year they wanted us to it for Disabled American Veterans, but we've been trying to keep our donated monies local and they're OK with that," Doster said. "Our goal each year is to give at least $1,000."
The club has used several pieces of land around the county as its airfield — from the old county landfill to Cowee Valley — but now the growing club has 12 acres to fly over in Otto thanks to fellow long-time club member Bob Wilson.
Doster encourages the public to come out Saturday to see the club members in action flying their planes and performing air acrobatics. And if you're looking for a new hobby, he encourages you to join the club.
"If you like building or doing things with your hands and hanging out with the guys, it's a lot of fun," he said. "It's good to be able to pass along things to each other and show someone how to build an airplane and teach them tricks just to see the look on their face. They can say, 'I built that, I flew that and I mastered it.'"
If you go
• AMA National Model Aviation Day Celebration
• Event starts at 9 a.m. Saturday, Aug. 13
• Otto Aerodome on Tessentee Road, Otto, N.C.
• $5 per vehicle parking fee, $7 barbecue plates, $5 hot dog plates
• All proceeds to benefit The American Legion in Franklin