Archived News
Franklin gets answers on new Ingles project
Wednesday, August 10, 2016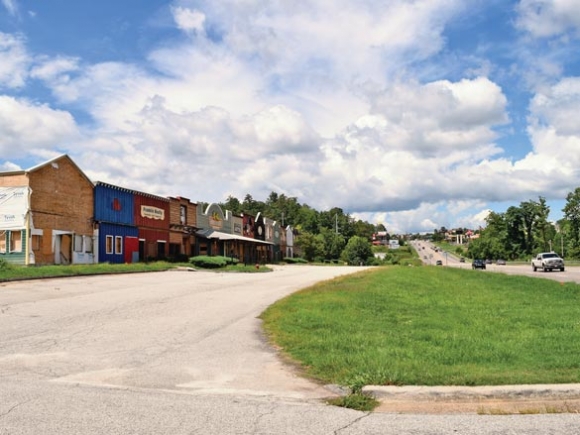 Many rumors were put to rest Monday night as Ingles Market representatives laid out the plan for its newest grocery store in Franklin.
The town has been buzzing with questions about the proposed project since Ingles purchased the Whistle Stop Mall property on Georgia Road in January. Will the small Ingles on Palmer Street be closed? What does Ingles plan to do with the former Walmart property in Westgate Plaza? How will the new Ingles right off U.S. 441 impact traffic conditions?
Ingles Project Manager Preston Kendall and Engineer John Cox were on hand at a neighborhood compatibility meeting at town hall to try to address all those concerns — though they didn't have answers for everything.
The town requires a neighborhood compatibility meeting for any large development project requesting a special-use permit. Even though Town Planner Justin Setser said he sent out 25 letters to property owners within 400 feet of the Ingles project, the town hall boardroom was packed to the brim with people interested in the new development.
Kendall said the new Ingles would be 72,000 square feet of grocery store space and another 14,800 square feet of retail space. Comparing it to other new Ingles projects in the area, Kendall said it would be the same size as the new store in Enka, but smaller than the new one in Waynesville, which is still under construction.
The new grocery store in Franklin will have 60-plus skylights and be Energy Star certified. Like other new Ingles, it will feature a pharmacy, bakery, Starbucks, fresh salad, soup and olive bar, Boar's Head deli sandwiches, a Chopsticks restaurant serving sushi and other Asian menu items and a larger café area for people to sit and eat. The Ingles site will also have a full gas station as well so residents can use their gas points collected from shopping at Ingles. The parking lot will feature plenty of landscaping and four electric car charging stations.
Kendall said the only obstacle might be parking.
"The city says we need 488 parking spots but we'll be asking for a variance to do 100 less spots," he said. "We've been building these for 56 years and we know the more concrete you have the hotter it gets — this way we'll have more grass — and we don't think more parking is warranted at this point."
To address concerns about traffic, Kendall said Ingles has been working closely with the North Carolina Department of Transportation to ensure their construction needs line up with DOT's improvement plans along Georgia Road. One improvement residents seem happy about is a new traffic light with a turn signal that will be installed at the new Ingles' entrance. The traffic light will be aligned with the community building across the road, which will make it easier for cars to make a left turn out of the building. He said discussions were on going with DOT to allow legal U-turns at the same traffic light.
Kendall said the new Ingles store would need to hire 350-375 new employees to get the grocery store up and running, which is more good news for Franklin's local economy. When asked what the store's hours will be, Kendall said it was unlikely that the store would be open 24 hours although a night crew would be working overnights to stock the store.
Kendall said Ingles has now acquired all the necessary permits to start asbestos removal from the Whistle Stop building and will begin demolition in the next couple of weeks. It will still take several months for Ingles to go through the town process of getting its plans approved, but once construction begins, he said the project would probably be completed within 10 months.
"We still have a long while before we can even get started," he said.
As for questions regarding the other Ingles in Franklin, Kendall didn't have any definite answers.
"We haven't talked about closing the other stores," he said.
With Ingles purchasing the former Walmart property at Westgate Plaza off U.S. 441, rumors have been swirling about the possibility of Ingles opening a distribution center there. Kendall said that wasn't likely since Ingles just expanded its distribution center in Black Mountain. He said there were no current plans for the property.
"I think we'll do something with the old Walmart property in the future — after this project is done," he said. "But I don't think we'll be building two brand new stores in the same town."
Setser said the public would have two more opportunities to ask questions and express any concerns about the project. The Franklin Planning Board will be discussing the project at its next meeting — 4 p.m. Aug. 15 at town hall — and then a public hearing has been tentatively set for 7 p.m. Oct. 3 at the board of aldermen meeting at town hall.