Archived News
New landlines no longer available in Swain County
Wednesday, August 10, 2016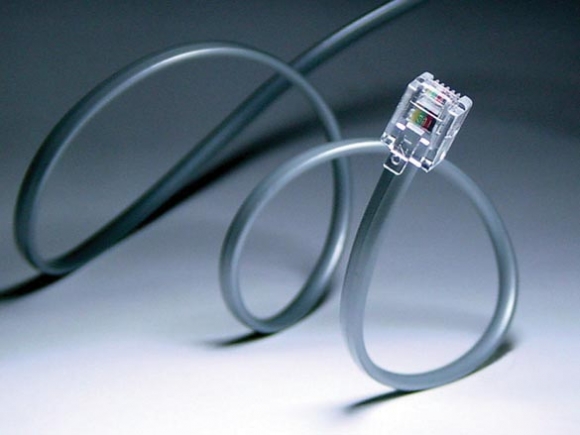 Even though Londa Bohl had the summer off from teaching in Swain County, she spent most of her vacation learning the ins and outs of telecommunication laws in North Carolina.
"What I learned was that the whole industry has been deregulated," she said.
Bohl, who owns a number of long-term rental houses in Swain County along with her husband, was searching for recourse after several of her tenants were having difficulties securing a landline from Frontier Communications — Swain County's only telephone provider.
Bohl's rentals in Swain are located in the Alarka community where cell phone service is limited.
"Cell service is unreliable out here at best, but it's really non-existent," Bohl said.
A landline might be someone's only way to communicate during an emergency situation, which was why Bohl was so perplexed when a new tenant — who's job required him to have a landline — kept getting the runaround from Frontier.
"Our tenant called Frontier and they'd give him an install date but then they'd never show up," she said. "We lost that tenant because he couldn't get a landline — we had to let him out of the lease and refund his deposit."
At the time she just chalked it up to bad customer service, but it kept happening. She didn't understand what the problem was — her home in Alarka had a landline and tenants in the past hadn't had a problem getting one as well. She didn't have any luck getting answers from Frontier's corporate office so she began talking to Frontier's technicians when she saw them around town.
Then it became clear it was not an isolated issue. Frontier — and other providers — are running out of telephone lines and aren't planning on investing in the outdated infrastructure anymore. The only way to get a new landline is if someone else in the area moves and a line opens up. Bohl's newest tenant finally got a landline hooked up last week after waiting about two months for someone else to cancel his or her service.
Bohl reached out to the North Carolina Utilities Commission and the Federal Communications Commission to file a complaint regarding Frontier's inability to provide service. Even though she is the homeowner, the utilities commission told her she couldn't file the complaint — only the customers can. Even when her tenants called to complain, they were told not much could be done to force Frontier into installing new equipment.
"It used to be if a company had a monopoly in the area, they had a responsibility to the consumers, but not anymore," Bohl said. "Why do we have our government dollars going to the utilities commission and the FCC? What the heck do they do?"
It's still hard for some people to believe in the 21st century that landline telephone service isn't available, but it's a new reality as telecom providers are putting their money toward high-speed internet infrastructure.
County's hands are tied
Swain County officials have received a handful of complaints from new residents and developers who haven't been able to get a new landline through Frontier Communications. County Manager Kevin King brought it up to commissioners at a recent board meeting.
"Frontier has said they're not putting in any more lines — no more new infrastructure," he said. "Five or six people have called me about not being able to get phone service and they also don't get cell phone service at their house."
King said there isn't much the county can do about what a private business decides to do even if Frontier is the only telephone provider in the county. However, he said consumers could file a complaint with the North Carolina Utilities Commission and with the Attorney General's office.
Even though not having any phone service could present a major safety issue for rural residents, King said the county's hands were tied on the issue.
"As a county, we can voice our opinion, but it takes the consumers — that's the only way to change it," he said. "Frontier is looking at supply and demand — they're losing money here."
Ken Mills, economic development director for Swain County, said supply and demand was most definitely the issue at hand. Frontier and other telecom providers are at a point where they need to install new infrastructure to be able to provide new landlines, but the revenue those few new lines would generate doesn't come close to covering the cost of the infrastructure.
"I've been talking to providers but unfortunately we don't have the demographics to make their business plan work — it's been a problem not just with internet but telephone service too," he said.
Mills said Frontier is looking for ways to pay for the equipment either through grant funding or contributions from the private sector. Even so, its doubtful a private enterprise would fund lines to go out to rural parts of the county where it's needed.
"It's frustrating, but we'll keep working on it," he said.
Frontier focuses on new technology
While it seems like it is becoming a bigger problem in rural Western North Carolina, Bob Elek, spokesman for Frontier Communications, said the unavailability of telephone service to new customers is limited to "only the most extreme reaches of Frontier's network."
Elek said the company was aware of a limited number of instances where telephone service is not currently available and attributed the problem to the small amount of new construction and development, which makes it difficult to justify the cost of new infrastructure equipment. If a significant number of new businesses or households were popping up in a certain area, Frontier could get a return on its investment, but that isn't the case in Swain County.
"However, Frontier Communications is heavily invested in the North Carolina communities it serves and has no plans to discontinue services in any of those areas, including Swain County," Elek said. "In fact, Frontier continues to invest in Western North Carolina — particularly in association with the FCC's Connect America Fund program."
He said the program would provide Frontier with almost $22 million over a six-year period to expand the availability of high-speed internet service. Frontier anticipates an additional 10,000 locations in Western North Carolina will have access to 10-megabit broadband service by the end of 2020 as a result of funds provided by the FCC program and matching funds provided by Frontier.
The network upgrades necessary to provide this level of broadband service are also expected to increase the reliability and quality of Frontier's voice telephone services. If residents can get better internet access, they have more options for phone service, whether it's their cell phone or internet phone service.
"Unfortunately, even with the FCC's support, there will still be many areas of the county were internet service remains a distant prospect," Elek said. "The limitations of network technology coupled with mountainous terrain in the area have always created challenges delivering internet service outside of the more populated areas in Western North Carolina."
Regulations have no teeth
John Garrison, director of communications for the N.C. Utilities Commission's Public Staff Division, said his department has only received one complaint regarding Frontier landline service in Swain County.
"We were informed about a customer not being able to get service up there. We contacted the local provider there and it's my understanding they are working on a solution," Garrison said.
Other than reaching out to the company to see if a solution can be found, Garrison admits that the utilities commission doesn't have many options under the current telecommunications regulations. While providers are obligated to provide service to those who request it, he said issues do come up when customers are in a rural area and it's not economically feasible for a company to expend millions of dollars to get a line to them. In those instances, providers usually require the customer to pay some of the cost associated with installing new infrastructure.
"Quite honestly with the way the regulations are set up these days there's not much the commission can impose upon the company to take action," he said. "But we generally have reasonable success getting the company to take action on the complaints because they don't want the bad publicity."
Garrison said telecom providers are all focusing on transitioning from the traditional landline technologies to the new broadband technology — a transition that requires all their capital money. Until that long and expensive transition is complete and more residents have access to high-speed internet and better cell phone service, people are going to have a hard time accessing the traditional landline services.
Investing in new technology is a positive step, but Bohl said it doesn't do anything to alleviate the current problem. She and her husband are ready to grade some property and build two more rental homes, but they wonder if they should move forward at this time.
"This is really our livelihood — a huge part of it," she said. "Here we are ready to put in two new home sites but we'll have to advertise that we can't guarantee landline services."
File a complaint
If you have not been able to get a landline from Frontier Communications or another telecom provider, contact the N.C. Utilities Commission at 866.380.9816 or the Attorney General's Office at 919.716.6400.