Archived News
Putting the pieces together: Archeologists continue to uncover mysteries of Cowee Mound
Wednesday, August 03, 2016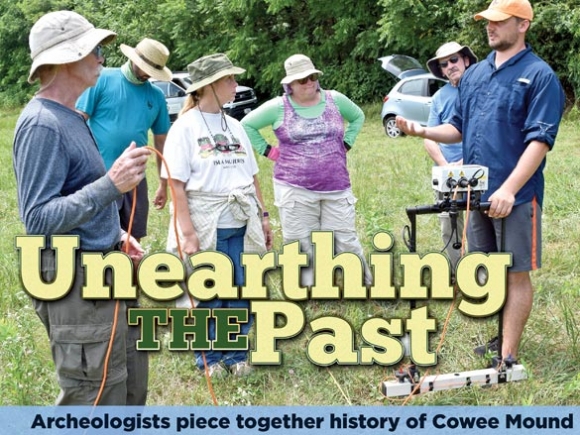 While most people come to Macon County in the summer for a relaxing mountain vacation, Kathryn Sampeck makes the trip down south with a more important mission in mind.
SEE ALSO: Mounds hold key to understanding Cherokee history
With a wide-rimmed straw hat to shield her face from the beaming sun and a pair of worn-in brown leather boots she's owned for at least 20 years, Sampeck returned again this summer to walk among sacred Cherokee land along the Little Tennessee River banks.
The anthropology professor at Illinois State University is looking for small pieces of a puzzle that she hopes will eventually tell a larger story about Cherokee history. A shard of pottery or a fragment of iron may not seem like much, but each piece can unlock an important aspect of early Cherokee civilization.
It's Sampeck's third archeological trip to Cowee Mound and it's surely not her last. The Cowee Mound and the surrounding open fields that once served as a large Cherokee village is one of the best-preserved sites in the region because of its isolated location. It's an ideal place for Sampeck and her archeology students to study.
"This is my third year working here doing non-invasive excavating," she said. "In general, we know the town here was a very important place culturally, but finding out the details is what makes it so interesting."
The platform-style mound at the Cowee site was built around 600 AD according to historical accounts. Sampeck said they know the village was there in the 1600s and into the 1700s, but it's been hard to determine exactly when the village was established.
She also knows that a tribal councilhouse or townhouse was constructed on top of the mound and served as a gathering place and focal point for the village. It could have fit a couple of hundred people inside its walls. The village was probably burned down and abandoned during the Cherokee War of 1776.
While she has worked at the site for three years, this summer was the first time she invited community volunteers to assist in the dig instead of students from the university. It's a large area to survey — some 18 acres with great potential for artifacts.
When looking for a field school for her students, many places aren't safe or affordable options, but Sampeck discovered Cowee Mound through her husband, who grew up in East Tennessee. After forming a partnership with the Eastern Band of Cherokee Indians' Tribal Historic Preservation Office, they were happy to have the students study Cowee Mound.
Ben Steere, anthropology professor at Western Carolina University who has done extensive research on Cherokee mounds, said invasive archeological digging in the late 19th century resulted in the decimation of several Cherokee mounds. He's glad to see new technology that allows Sampeck and volunteers to search for clues while also respecting the consecrated cultural site. It isn't like the old movies, where teams of archeologists dig up entire areas with the hope of finding a piece of the past.
"There's so much you can learn now without even putting a shovel in the ground," he said. "That's why (Sampeck's) research is so important — she's trying to figure out when the village was occupied, when it was built and what kind of activities happened there."
Michael Seibert, an archeologist for the National Park Service, was also on hand to teach volunteers how to operate three pieces of equipment being used on the Cowee Mound site. The equipment allows the team to determine specific locations where they might want to dig instead of playing a guessing game across 18 acres.
"That's the best thing about geophysics — it's a cost-saving measure," Seibert said. "We can pinpoint areas more than we could in the past and we can cover a whole area for a tenth of the price."
One piece of equipment is called ground-penetrating radar that provides readings of two different frequencies. When the lawnmower-looking machine is pushed over the ground, it can detect irregularities up to 3 feet underground and provides a clear picture of the object. Seibert says it can detect irregularities up to 3 meters, but it's a much lower-resolution picture.
"Everything we excavated last year was about a foot or two underground," he said. "If things are found that shallow, we have to be extra careful because any activity can mess it up."
Another piece of equipment used is a magnetometer, which measures magnetic forces in the earth. The instrument can detect metallic items underground, like ovens or fireplaces. Sampeck didn't think the magnetometer would produce much metal at the Cowee site, but she was excited when her team unearthed small pieces of iron. The pieces of metal could prove that the Cherokee were using some sort of metalworking during the time period.
"We think there could have been some kind of forge based on this finding," Sampeck said. "It was a busy town, but we don't want to assume it was all domestic — the bits of iron slags show some level of technology and a role in the economy."
Steere agrees that the pieces of iron could open the doors to an interesting area of research.
"We can begin to look at how did the Cherokee adapt to European contact and trade," he said. "In a way they maintained their own life ways with things like pottery, but they were also taking on guns for warfare and hunting because they had to. And if they were doing some kind of blacksmithing it just shows how they were selectively choosing which aspects to adopt. White culture was not just washing over them."
Sampeck couldn't think of a better way to teach community members about the local Cherokee heritage than to get them involved in the process. She was pleasantly surprised at the number of community members who contacted her about getting involved in the project following an article in the Franklin Press.
"If you're going to ethically research someone's past, it should be that community helping out," she said.
On any given day during the two-week stint at Cowee Mound, a handful of volunteers surveyed areas and learned how to navigate the archeological equipment through the property in the sweltering 90-degree weather. They sorted through the broken pieces of pottery at a lab set up at the Cowee School and tried to match up the different pieces by texture and color.
So what does Sampeck do with all the data and artifacts collected? She gives a presentation each year at the Cherokee Archeology Conference and publishes articles in academic journals. Of course the data collected also provides teaching materials for her department's curriculum.
With such a large undertaking, Sampeck said she'll continue to study Cowee Mound — probably for years to come — and she's happy to do so.
"My goal in the long term is to understand the nuances of how this village changed and the Cherokee's relations to people moving in," she said.