Archived News
Swain left off SCC priority funding list
Wednesday, August 03, 2016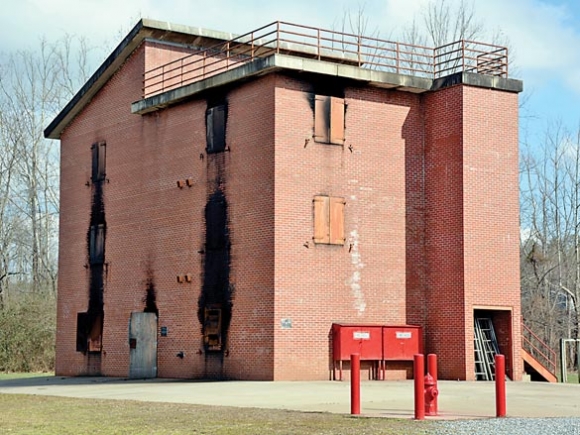 Southwestern Community College is receiving $7.17 million from the Connect N.C. bond to make major infrastructure improvements to its three campuses, but none of that money will be going to SCC's small Swain County campus.
The SCC Board of Trustees recently voted on its top priorities, which include constructing a new health science building at the main Jackson County campus ($5.5 million) and in Macon County replacing the first responder training building ($1.4 million) and repaving the driving course ($300,000).
"Our recent master planning process identified more than $54 million in essential needs on all of our campuses," said Dr. Don Tomas, president of SCC. "While we could not be more grateful to voters for passing the Connect N.C. bond, which provides us with $7.17 million for capital improvements, that revenue alone will not allow us to address all of our needs."
SCC's Swain campus is located inside the former Almond School building and offers a limited number of SCC programs, including outdoor leadership and heritage arts.
Swain County may feel like it gets the short end of the stick when it comes to SCC offering more local programs for students, but many factors are at play when it comes to expanding Swain programming, officials say.
SCC held a number of master plan workshops in each county to gather input on what the community college's infrastructure priorities should be. SCC officials have made it clear that the Almond School facility was a major hurdle in expanding educational programs in Swain.
Just bringing the 1950s building up to code would cost $2.2 million, and even then there is little room for growth in that location. It's difficult for SCC to justify that expense, especially with so few students taking curriculum classes at the Swain center. Typically fewer than 20 students are taking curriculum classes at any time, but over each of the last two years about 380 Swain County residents have taken continuing education classes at the Almond facility.
"On recommendation of our administration, our board of trustees unanimously voted to address our most critical needs: a new burn building and re-paving the driving course range for public safety training in Macon County and a new health sciences building in Jackson County," Tomas said. "We are continuing to keep the lines of communication open with Swain County Commissioners about our needs and potential sources of revenue for addressing those needs in Swain County."
Swain County voters will have another referendum in front of them on the Nov. 8 ballot that could potentially expand education options in the future. If the referendum is approved, Swain County's sales tax will increase by a quarter of a cent — bringing it up to 7 cents on the dollar. The additional revenue — estimated at $290,000 a year — will go to Swain County Schools' infrastructure needs.
Swain County Schools Superintendent Sam Pattillo is looking at fulfilling immediate needs at the schools as well as looking at long-term opportunities the referendum may bring. He would like to see the high school expand so it could offer a community college education similar to the programs provided in Jackson, Macon and Haywood counties through the early colleges. High school students can choose the early college track and graduate with an associate's degree in five years. This kind of program expansion would allow Swain students to get college credits at home without traveling to other counties.
"There's lots of opportunities to provide more on our high school campus while working with SCC," Pattillo said.
Macon questions need for new burn building
While Southwestern Community College has earmarked bond revenue for a new first responder training center (burn building) in Macon County, the project isn't a done deal unless county commissioners agree to fund a portion of the construction cost.
The Connect N.C. Bond passed by voters this spring will provide SCC with more than $7 million for infrastructure projects. However, the bond language states that if the funding is used for new construction, the county government has to match $1 for every $3 spent from bond revenue.
The new burn building would cost about $2 million, meaning Macon County commissioners would be responsible for up to $500,000 of the project. Even though the facility is nearing the end of its life expectancy, commissioners aren't convinced a brand new building is justified at this point.
"Wouldn't it make sense to get an engineering firm to look at it to see what it would take to make it structurally sound for another 20 years?" asked Commission Chairman Kevin Corbin. "The bond would provide $1.5 million but we'd have to provide $500,000, so it's still an expensive proposition."
As its name implies, the burn building has been subject to extreme harsh conditions for the last 26 years. It's been set on fire countless times to help firefighters train for real emergencies. The building has also been negatively affected by flooding last Christmas. Commissioners allocated about $7,000 to replace burn panels on the building after the flood damage.
"Our burn building is 26 years old. Having multiple fire situations in it has made it start to decompose," said Curtis Dowdle, SCC's dean of public safety training. "Additionally, it's in a floodplain. As recently as this past winter, we had 2 feet of water in the building twice."
Based on an external analysis by SKA Consulting Engineers, SCC President Dr. Don Tomas said the board of trustees made the decision to prioritize the burn building project. SKA also reported that the current building needed about $29,000 worth of renovations now just to be able to use it for another year or so.
"It would be foolish to spend money renovating it if it's useless in two years," Corbin said.
On the other hand, Corbin said, $2 million for a burn building still sounded steep. For the sake of due diligence, the commissioners agreed to hire engineers to assess the current facility and get an independent opinion on whether its life expectancy can be extended without constructing a brand new building.
SCC has prioritized a new $16.3 million health science building for the Jackson County campus, which would require a significant match from Jackson commissioners. Jackson County voters did approve a quarter-cent sales tax increase during the June 7 primary election that will be earmarked for K-12 and higher education capital needs. While the project has yet to be approved by commissioners, revenue from the sales tax increase could potentially go toward the construction cost of the health science building.
— Jessi Stone