Archived News
Silence-filled service puts a unique frame on spirituality
Wednesday, August 03, 2016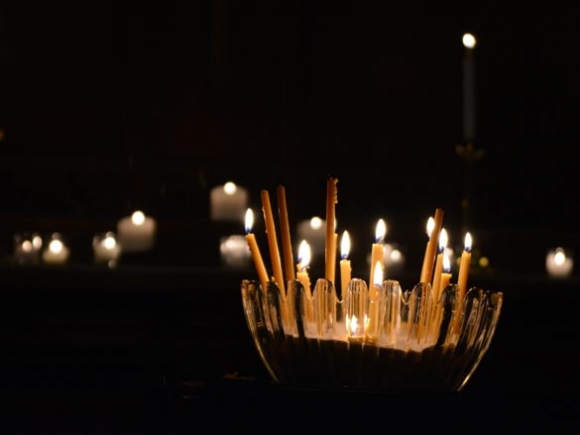 Evening is suspended over Lake Junaluska as doors open for the 8 p.m. Taizé service, its coming fall foretold by the soft-sided clouds gathered over the sinking sun.
Green trees and lakeside buildings are reflected in the blue-gray lake visible through the chapel's arches, and the peacefulness of the scene is, in turn, reflected in the service that starts to unfold indoors.
The hour begins with quiet as people file into the chapel, moments during which any noise louder than the rustle of paper or creak of a pew feels overpowering. For a few brief moments at the beginning, the room resembles a typical church setting, with a speaker at the front and the listening congregation spread in the pews below. Rev. Susan Slye Giles, chapel dean, comes up to say a few words about how the service will work, and Rev. Woody Wiggins takes a minute to coach the attendees through a couple tunes to be sung a capella, later in the service.
"The beauty of the Taizé music is that it's your own song," Giles says. "There is a melody, but feel free to elaborate on that melody to take it and make it yours so that it becomes your prayer."
With that, the stage empties and the service follows an order outlined in programs handed out at the beginning. A few short, simple songs, sung repetitively so that the mind can wander toward prayer. A three-line prayer voiced simultaneously by everyone in the room. Some scripture readings, and 10 minutes of extended silence. More songs, more prayers and an open-ended ending in which participants leave, as they feel led, in silence. Most of the time, there's no apparent leader — the transitions are guided by pastors who remain seated, as participants.
It's an odd type of service, to be sure, and unfamiliar even to many who would consider themselves familiar with churches and their traditions. But over the past several years that Lake Junaluska Conference and Retreat Center has held Taizé as part of the summer programming, it has become an integral part of the organization's spiritual offering.
"For me, it's a time of centering," said Jack Ewing, executive director of Lake Junaluska. "It's the one hour each week where I feel most clearly connected to God, to the Holy Spirit."
That's the intent of Taizé, a type of service that's named after its point of origin in Taizé, France. It's all about simplicity, about meeting God by quieting the soul and focusing on stillness.
As Roger Schütz, better known as Brother Roger, who founded the Taizé Community in 1940, said, "When it is not smothered by too many words, then a common prayer, far from exuding monotony and boredom awakens us to heaven's joys on earth."
In a world of constant content, that kind of boiled-down simplicity can be hard to come by. Indeed, the 10 minutes of silence placed in the middle of the service can be almost scary for some people.
"If you have never sat still for 10 minutes, that can seem like forever," Giles said, "but once you get used to it it's never enough."
The silence is a reconnection, a chance to put away distractions and re-center on the source of life. And that's an idea that flows seamlessly into Lake Junaluska's theme for its summer worship programming — "Come to the Water."
To the folks at Lake Junaluska, water is an apt metaphor for God and spirituality. Water is a necessity for life. It creates beauty. And in order to experience the full measure of that beauty, you have to go down to it.
"Coming to the water is a way to step back and slow down. To reconnect," Giles said. "Sometimes I feel like my mind, body and spirit are disconnected, and it brings the connection back."
For Giles, Taizé does just that. It's an hour experienced internally, more than externally, knitting all those aspects of being back together again.
"In the traditional worship service you have a minster and worship team leading the worship. That's absent in a Taizé service," Giles said. "The leader of the Taizé service is actually, I believe, the Holy Spirit. Everybody experiences Taizé at their own level of whatever it is they're needing at that point."
Sometimes, in a more typical service, worries and realities from life outside are hard to keep at bay, Ewing said.
"I don't have to do anything in the Taizé service," he said, "other than be Jack Ewing, child of God."
This week's service ended, as they all do, with a silence broken softly by footsteps headed either toward the door or to the altar, the glow of candles up front and the windows darkened from the recent setting of the sun. It had started to rain at some point in the last hour, and reflections of headlights and streetlamps painted the pavement outside.
The evening may have been about a symbolic coming to the water. But in a physical sense, the water itself made the journey too.
Try Taizé
Taizé service will be offered 8-9 p.m. Mondays throughout August at Lake Junaluska Conference and Retreat Center, in Memorial Chapel next to Stewart Auditorium.
Originating from Taizé, France, in 1940, the service revolves around repeated songs, prayers and contemplative silence.
Further detail about Lake Junaluska's summer worship programming is available at www.lakejunaluska.com/events/worship/summer_worship.