Archived Arts & Entertainment
This must be the place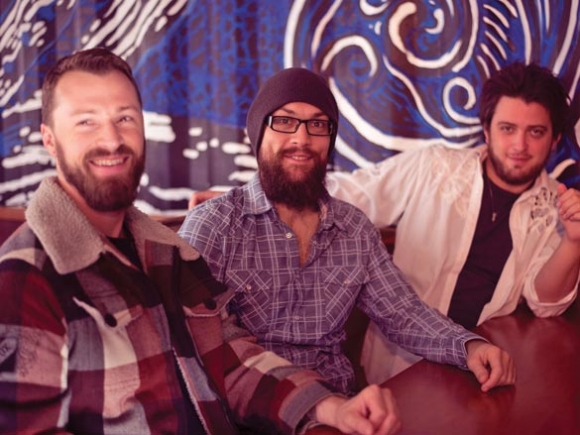 As I enter my fifth year living and thriving here in Western North Carolina, I'm also sliding into a space of reference and observation where I can now compare and contrast those subjects I continually cross paths with throughout my travels.
Of which, I find myself running around in numerous musical circles, from Asheville to Franklin, Hot Springs to Murphy. And when you're writing about all of these talented and unique acts, one thing sticks out — how far they've come.
Based out of Asheville, The Get Right Band is a group I've been keeping tabs on for a few years now. Led by singer/guitarist Silas Durocher, the ensemble also includes Jesse Gentry (bass) and drummer J.C. Mears (drums). What stands out about this band is the mere fact that nobody around this region sounds like them. Period.
Though I encourage folks to track them down, either live or by way of their albums, I find myself, more or less, running down a list of musical genres when describing them. "Well, they're definitely a rock band, but they also get jazzy, and down and dirty funky, also some reggae and folk in there for good measure. Oh, and they jump into the blues and touch upon some pop aspects, too," I'll say, as if to stop for a moment with my next thought, "Heck, they have it all."
And it's that "all" factor which puts The Get Right Band into a league of their own. It's surprising when you stand there watching them perform, where you're trying to figure out just how they're able to get that much sound from a power trio. With their latest record "Who's in Charge?" the group once again showcases those musical tastes and attitudes that continue to propel them into the next chapter of what is already amounting to a promising future.
Garret K. Woodward: It has been a couple years since we last talked. How has the band evolved, professionally and musically?
Silas Durocher: We've gotten significantly busier and, I think, significantly better. When I say "better," I partially mean obvious stuff — we're tighter, our songs are stronger, we're growing as individual musicians and as an ensemble. But, I mostly mean that we feel like we're really creating art that we're excited about and proud of. We're being more honest and more present in our art. This album is a great reflection of that — this is a fully realized artistic vision. That doesn't at all mean it's perfect, it just means that we put everything we've got into it and did everything we wanted with it. We stopped working on it because we were finished, not because we ran out of time or money.
GKW: As a musician these days, what are you seeing out there, as a touring act, as a group trying to find traction in an often difficult industry to properly navigate?
SD: Well, oversaturation of the market is a major factor in every single thing a band is trying to do. There are so many bands these days — it's insane. So, any industry "gatekeeper" that we're trying to get in touch with, they're just being inundated with similar emails and phone calls. It's a real challenge just to get people to give you a chance. And it's the same for listeners, where they have so many options of what to listen to and new music to be turned on to. Of course, the flip side of that is that it's easier than ever to get your music directly to your fans.
GKW: With the recording process, where was the new album done? And what is the process by which y'all craft together a record? Come into the studio with songs ready, or let the energy of the space dictate the attitude of the sessions, or both?
SD: We recorded the album at the one and only Echo Mountain in Asheville, with Julian Dreyer as our engineer and co-producer. Most of the songs we put on this album had been heavily road-tested. We usually like to take songs out into the world before recording them. We can get energetic feedback from audiences and from each other, we can try different versions, jam one night, play it straight the next night, change the tempo. When it came time to record these songs, we spent about a month before going into the studio doing pre-production, figuring out what versions of the songs we wanted to do, how to arrange them for a recording versus a live show, how to really represent what we do and who we are. But, we also didn't plan too much. We intentionally left some things unplanned, especially when it came to anything in addition to our normal trio, such as extra guitar parts, keys, crazy studio effects, extra percussion and horns. Once we recorded the music, we just really listened to the songs and let them tell us what they needed.
Editor's Note: The Get Right Band will be hosting an album release party and performance for their new record "Who's in Charge?" at 9 p.m. Friday, Aug. 5, at Isis Music Hall in West Asheville. Roots of a Rebellion will open the show. Tickets are $8. www.thegetrightband.com or www.isisasheville.com.