Archived News
Folkmoot moments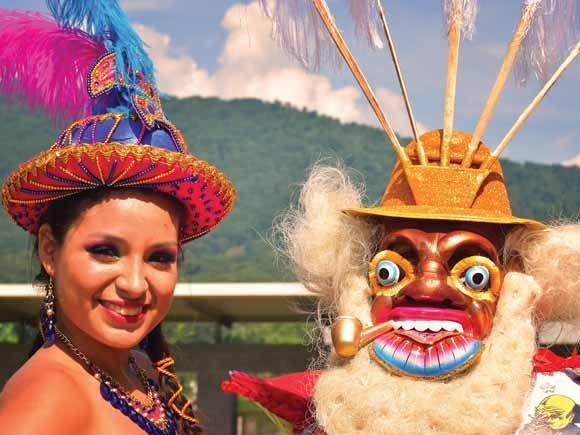 Peru: We travel to different countries. It's our fifth festival this year, already two in France. We like a lot of the people, so friendly. The people is really friendly, the place is really beautiful. We think you have a different city not like other festivals and different in this part of the country, and we love it so much.
— Maggie Ormeno (above, left) with Jofre Cardenis, Multicolor Espectaculos, on North Carolina.
Dominican Republic: It's not the first time in the United States. I've come many times, with my family, and another [dance company] who I came with the first time. But I like it. Now I'm looking a little, because I just came yesterday. It's very beautiful. It's very nice — the people are very nice, everybody's happy.
— Monica Vargas, M & K Dance Studio, on visiting the United States.
Eastern Band of Cherokee Indians: Some people might not be aware if they're not from the area that there are indigenous people here in this land. I think it's important for us to remind people that we are still here, and not only are we still here, we still have our culture, we still have our language, we still have our dances and songs, we still practice our ceremonies. We're still who we've always been.
— Mike Crowe, Tsa-la-Gi Touring Program Dancers, on the preservation of culture.
Finland: They are so different from our culture, so it's nice to see what other countries and cultures do.
— Vilma Valiketo (left), KimuranttiKirjavat, on the diversity of this year's Folkmoot performers.
It's really great — there's so many countries here and I have seen so much different performances from different countries and it's been so awesome.
— Sanni Kauppinen (right), KimuranttiKirjavat, on watching other groups at Folkmoot.
France: It's a very big country. Very beautiful. Lot of parts, lot of difference — it's amazing. My first time was in California. It was like a dream. It's the first time of this group in USA and it's a very good fit for this group, and great for every dancer, performer and musician in the group.
— Adrien Boyreau, Lo Gerbo Baudo, on traveling across the United States.
Poland: We really like the South of the U.S. We were up North, I don't say it's worse — it's different. We were in New York, and Washington. We really like it here — it kind of feels as home. The hospitality of people around here is great. We were surprised at the welcome. There is a lot of stereotypes about Americans you hear in Europe, and the last thing I expected was a sincere, warm, outgoing attitude. It's very very friendly. The people here want to make us feel good.
— Phillip Christopher (above, left) Song and Dance Ensemble, Warsaw University of Technology, on the American South.
We have everything really, here at the festival that we want. We have a time to rest, we have a lot of food, many kinds of food. It's just like a vacation, you know'?
— Anya Christopher (above, right) Song and Dance Ensemble, Warsaw University of Technology, on how she's enjoying the festival.
Japan: I have never seen this in Japan before, like this. Everything is huge, compared to Japan.
— Tatsuya Maruyama, Hibiki Rengo-kai, on his first time in the United States.
Mexico: It's been pretty amazing. It's a totally different experience. This is the first one we have done that's international. We're getting to know a lot of other cultures, and new friends.
— Norma Silva (right), Ballet Folklorico South Texas College, on the international nature of Folkmoot.
I'm looking forward to getting to know a lot of the different cultures more, getting to interact with a lot more people, a lot more people around here. Everybody's been very kind and we're super excited to come back eventually and give a full performance.
— Robert Barrera (left), Ballet Folklorico South Texas College, on staying in Waynesville.