Archived News
Folkmoot dance party at Asheville's Orange Peel gives a peek below the cultural waterline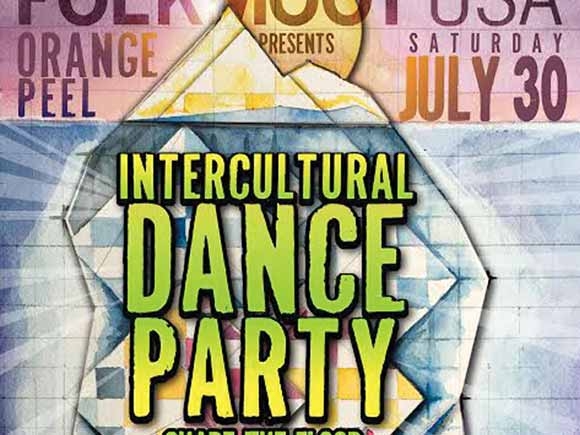 After talking with staff, volunteers and last year's groups, Folkmoot Executive Director Angie Schwab decided that this year, she wanted to give performers more of a chance to experience contemporary American culture.
The venue she selected for the event is Asheville's Orange Peel, and the multidisciplinary, multicultural, multitalented man she picked for the job is Oso Rey.
Rey grew up well east of L.A., but despite the name, he isn't Hispanic.
"I grew up in Southern California, so I'm Hispanic once removed," laughed Bear King, better known by his nom-de-guerre Oso Rey, which, in Spanish, means "Bear King."
Rey has spent more than 25 years performing in bands, but moved to Asheville in 2006 after being tipped off to its vibrant art and music scene by his former sculpture professor.
"My wife and I had a bar in Southern California that we were running, and it just felt like it wasn't the best spot to raise a 1-year-old. So we visited Asheville for a week in May 2006," he said, "and by September we were here."
Over the past four years, Rey has gotten even deeper into the music scene, concentrating on electronic production, which led him to start DJing.
But Rey — an artist at heart, whatever the medium — also mutated his sculpture background into graphic design, and, as of late, watercolors.
Consequently, the poster for the International Dance Party is one of his original watercolors, based on what has become the unofficial theme for this year's festival.
"Angie Schwab, the director, she and I had a lot of conversations over the past half year about the event, and that it's the first of its kind for Folkmoot," said Rey. "The image of the iceberg was a big one; with culture, we only see the tip of the iceberg, whereas it's so much deeper underneath the water."
The night of the event, Rey's work — including the event poster — will be on display at Pulp, the Orange Peel's downstairs bar/gallery space.
"It's watercolors, but a lot of it, I have it replicated onto wood, and directly onto metal. So any time you'd have negative space like the white of the watercolor paper, now you've got wood grain, or you're going to see the reflectiveness of the aluminum, whatever the material is. It's kinda fun, because it's a whole different thing," he said.
Another "whole different thing" Rey's put together is his performance set for the event; utilizing electronic production tools, he's assembled a special selection of music especially crafted to give listeners a peek below the cultural waterline.
"When you're listening to a 'song,' there might be three different tracks playing, a drum kit from somewhere else, a melody from another song, a vocal hook from a different song, and all of a sudden there might be eight, nine, layers happening to create one thing, which is wild," Rey said.
So how, exactly, does an American from Southern California put together an evening of music designed to satisfy Europeans, South Americans, Asians, Africans, Native Americans and native Ashevillians?
"When I got around to focusing on the event, I went down the rabbit hole into pop music in China, pop music in Finland, all that stuff," he said. "There's some really trippy rabbit holes you can go down, but I basically just wanted to find some common denominators, and more than anything it's in the rhythms. So instead of going for specifics and giving each country a little nod here and there, it was freaking me out — so I said, 'I just need to find the commonality.'"
That commonality is a globally known third-world superstar with African, European, Spanish, and Motown influences who was so visionary and so far ahead of his time that he had to create his own style of music — known now as "Reggae" — just to express himself.
"The one good place to start," said Rey, "is Bob Marley. I think of international superstars that touch so many different genres and spread peace and the idea of unity, he's the center point. If you had to choose one musician that also puts out a message in the vibe of what a Folkmoot dance party should be, in my opinion, it would be Bob Marley."
Marley was born the son of a Syrian-Jewish Englishman and an Afro-Jamaican mother. He grew up listening to Jamaican country music, melded it with American R&B, and tossed all of that on top of a raggedy, slowed-down facsimile of British Ska.
"There's a lot of that influence, a lot of different styles of music from the 60s into the 70s," Rey said. "That's the kinda groove, where I'm mostly coming from."
Rey hopes the international audience will appreciate the selections he's made, and thinks everyone in the diverse audience will find something they're familiar with — and something they're not.
"Everyone's touched by rhythm and sound," he said. "Everyone."