Outdoors Columns
Up Moses Creek: Buck Fever
Wednesday, January 11, 2023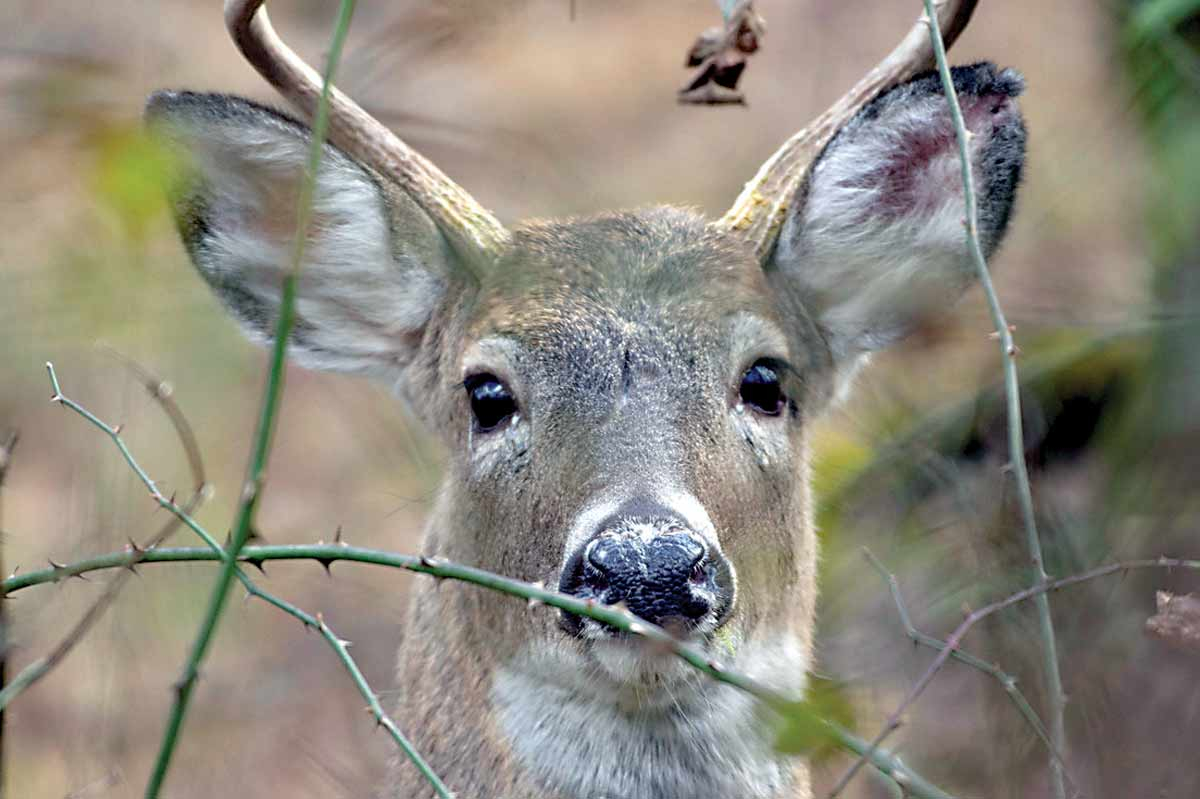 A fork-horn buck in rut peers through a thicket. Fred Coyle photo
I had read in natural history books about white-tailed deer that during the fall rut, deer hunters have sometimes been seriously injured when their prey — bucks hyped up to mate, and brooking no rivals — turned the tables on them and attacked. "A buck in the rut is always spoiling for a fight," is the way one naturalist puts it.
I'd also seen a video of a man who, quite sensibly I thought, perfumed himself with the scent of a doe in heat to see what would happen. What happened is that he got a severe pounding when a randy buck discovered the fragrant love of his life was a fake.
Bucks in the rut come armed to fight.Their heads are topped with antlers drawn to sharp points — nature's pikes — powered by a body that bulks up in the fall.When reared up on his hind legs, a buck can also flail away with his front hooves as if they were nunchucks.
But none of this was on my mind on Dec. 14 when, taking my morning trail hike on the ridge behind our house, I heard a loud, emphatic snort, and, looking up, saw the hindquarters of a deer disappear into a laurel thicket not 20 feet away. I'd been seeing does most mornings, usually with their yearlings and other females. But this deer seemed to be solitary, and it looked big, so I thought it might be a buck — maybe the very buck that had rubbed small trees raw along the trail with his antlers and torn up a bush in a mock fight, the same buck that had been making scrapes and drag marks in the dirt with his hooves while strutting his stuff.
Assuming the deer was gone, I turned to hike back along the trail when several rapid-fire snorts come out of the laurel. Deer snort by forcefully exhaling air out of their nostrils, a sound they make when startled or alarmed. The snorts also alert other deer to the presence of danger. But these exhalations didn't sound startled or alarmed. Instead, they seemed to be directed at me, and they came with a challenge.
The repertoire of animal sounds I'm able to imitate is small, but I can do a pretty good deer snort. So, on a lark, I snorted back. And before I knew it the deer and I were engaged in a snorting match, the deer hurling snorts at me from the thicket, and me sending them back snort for snort.
Then I noticed the snorts were on the move — and not away from me.Instead, the deer was circling, as if trying to get behind me to catch my scent.
I was retracing my route along the ridge, giving a sportive snort from time to time, when I spotted the challenger through some branches.He was now standing on a trail directly below — a trail that, if he kept on it, was going to junction with mine.Several times the buck looked at me then looked back toward the laurel thicket. When a doe suddenly walked out of the laurel and joined him, I knew why.I'd disturbed a mating pair.
I started toward the trail junction again, and so did the buck.If this kept on, we were going to meet.When the trail led the deer into an opening, I got a clear view.Male deer mature through various antlered stages in life, from button buck to spike buck to "Y" or "fork horn" buck.This one had grown through all those to become a full-grown "rack buck" of at least 8 points.He'd probably never seen his own handsome antlers, but by the way he carried himself, it was clear he knew he was crowned.
The buck eyed me back. That's when the warnings I'd read about what can happen to people during the rut came to mind, and I started eyeing nearby trees to climb. I'd reached the end of my snorts.
Suddenly the doe, still following the buck, and nudging him from time to time, turned and ran out of sight down the slope. She must have scented me. The buck watched her go and then followed — but not before giving me a last long look.
I noticed there was no hint of fear in the buck as he left. His every movement was deliberate, proud. The doe was a lot more important to him than I was, and his departure was as simple as that.
If I read his body language right, it was telling me, "Later."
(Burt Kornegay ran Slickrock Expeditions in Cullowhee for 30 years, and he is the author or "A Guide's Guide to Panthertown Valley." He lives with his wife Becky up Moses Creek in Jackson County.)