Rumble
Meet Robin Arramae: Local entrepreneur and owner of WNC Paint Events
Wednesday, November 24, 2021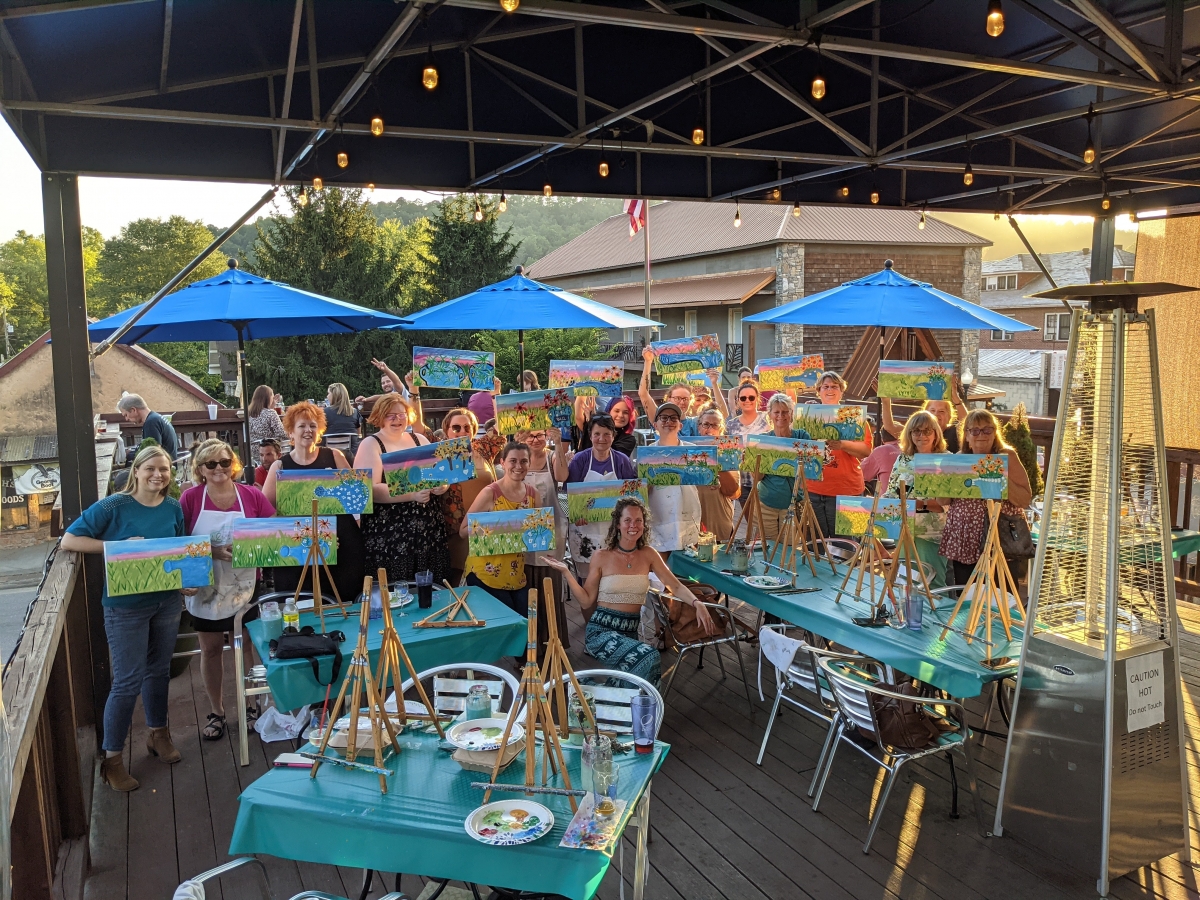 Robin Arramae is a local artist and entrepreneur. In 2014, Robin hosted her first group-painting event. Rumble writer Susanna Shetley sat down with Robin to get the full scoop on her story. If you have an idea for a business venture or new endeavor, you will surely gain some inspiration by reading about Robin's journey.
Rumble: Tell us a little about WNC Paint Events.
Robin: In 2014 Paint Nite Waynesville had its first 'Paint Nite' with six people at the Panacea Coffee House in Waynesville! Fast forward seven years aand WNC Paint Events is a night out, a time to let go, an opportunity to get creative without having to think too much, and an experience that leaves you feeling your best. You can even paint while you sip on craft beer or glass of wine. The painting usually gets better as the night goes on. These destination paint-along events are for pure fun. No experience necessary, as these are for beginners. In a judgment free zone, you are there to enjoy yourself and those around you. These events are for adults ages 21 and up. The idea is to paint while you sip on a beverage as I show you step by step what to do. My most frequent events are held in breweries, while other events are held in local shops. I also host private events, which happen in the comfort of your own home or anywhere you want it. I arrive, set up and provide everything you need to paint along with two hours of instruction.
Rumble: What inspired you to start your business?
Robin: While visiting my sister Brady in Orlando, she took me to a Paint Night, and we had a blast. I said... "Wow, Waynesville really needs something like this!" A few months later I printed out a flyer, walked to Panacea Coffee House and asked if I could host a paint event. This was back when Panacea stayed open later. They were totally down for my ideaa. Just like most of my painters who come to the events, I had not painted much before deciding to do this. I truly only wanted to provide an experience and something positive to do in our town, and I knew I could provide just that.
Rumble: What brings you joy and inspiration when it comes to your business?
Robin: Joy and inspiration come so natural with my business. From the moment I plan the event to the last photo with everyone's finished painting, I feel like I am providing a fun experience for people. Their desire and willingness to join, get creative, have fun, and let go inspires me to keep going. Also, since it's not my only income, that pressure to HAVE to do it dissipates. Further being a momma, it is a night out for me too!
Rumble: What are some of the challenges?
Robin: There is one minor challenge I encounter with my business. It is having enough or not enough room in my car to fit all the supplies when I have a group of 25+. Also, finding the perfect spot in my home to store the supplies when not being used. I have been in search of a tiny, enclosed trailer. I want to be able to have everything nice and organized to where I can just hook up and go! I would have my boyfriend, Jacob, who owns A to Z Signs and Engraving in Waynesville, add my logo to the sides with some paint splatter and business information. That sounds so cute to me, and what a solution it would be! If you're reading this and know someone who has a trailer, let me know.
Rumble: Where do you see WNC Paint Events in five years?
Robin: In the next five years, I see my events continuing to bring new faces from near and far. I might pick up a few more locations west of Asheville for my once-a-month events. I've been asked many times if I had events for kids. Although, I have in the past, I have not made that a monthly event yet. I hope to have my trailer locked and loaded. In the next five years I see tons of smiling faces, loud laughs and good vibes.
Learn more about WNC Paint Events by clicking HERE.