Archived Rumble
Violet Lemon Pound Cake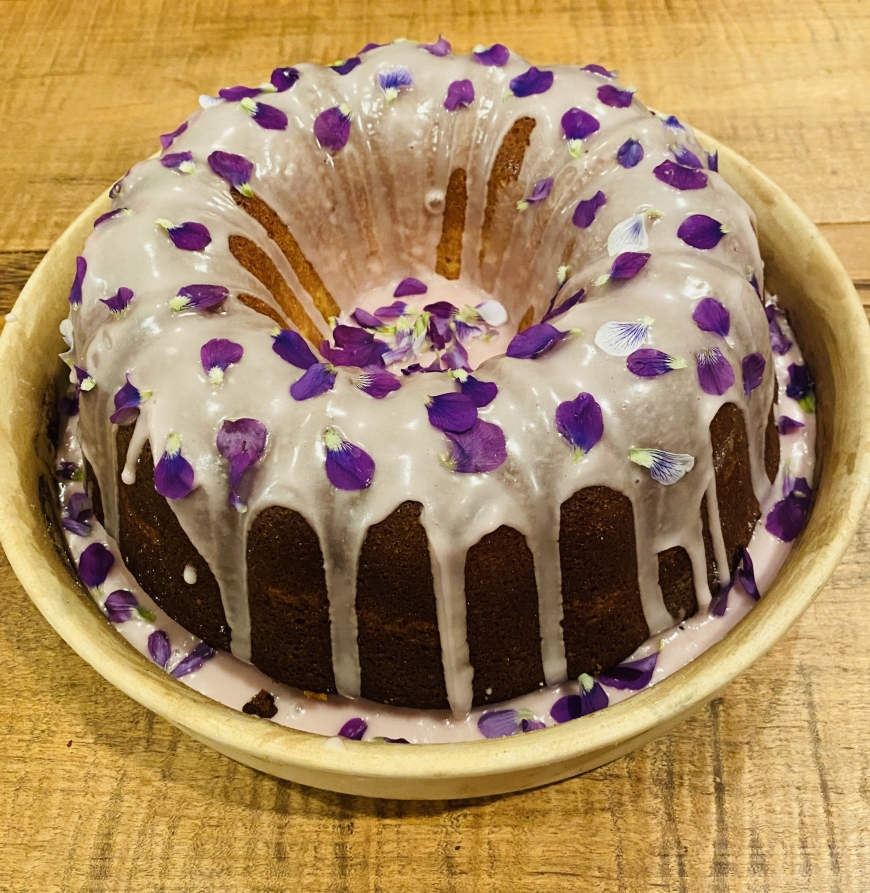 As spring gets underway, Violet Season is officially here. Violets are some of my favorite spring flowers, for they signal the start to the seasons of abundance. The seasons when a walk in the woods can result in a freshly foraged salad.
Violets can bloom purple, white, yellow or blue. Their flowers are small and delicate. They make for easy foraging because violets tend to pop up in distubred soil. You can expect to find them at the edge of a garden, dotting a freshly mowed lawn, growing in the cracks of pavement or among the gravel in dirt roads.
Violets grow up to 8 inches tall, the flowers have five petals and the leaves of the plant are heart shaped. When foraging for violets you don't need to worry about harming the plant, if pinching off the flower from the stem. The flower is sterile, while the plants spread by underground rhizomes.
These little flowers start to bloom in mid spring and will grow through the summer.
The flowers have a very mild flavor but make a beautiful and exciting garnish for salads. Thanks to the mild flavor, violets are perfect for infusing into teas and syrups. When soaking in water they will turn it a deep shade of blue, but when lemon juice is added, the water will instantly turn purple.
I have been using violets to brighten salads, violet syrup to sweeten sparkling water, and with Easter approaching I knew I wanted to try and make a decorative, floral cake for the occasion. I used this pound cake recipe from Preppy Kitchen for the bones of the cake and added almond extract, lemon zest and juice, violet petals and a violet glaze.
Violet Lemon Pound Cake
Ingredients:
3 cups flour
1 tsp salt
1 tsp baking soda
1 ½ cups white sugar
1 ½ cups brown sugar
1 cup butter
6 eggs
1 cup sour cream
1 lemon
1 tsp vanilla extract
1 tsp almond extract
About 1 cup violet flowers
Directions:
Preheat the oven to 350 degrees and grease the bundt pan.

Combine flour, salt and baking soda in a bowl and set aside.

Combine butter and sugar in a bowl and mix until creamy.

Add vanilla extract, almond extract, zest of one lemon and juice of half the lemon to the butter mixture, combine.

Add eggs to the mixture, two at a time mixing in between.

Alternate adding a bit of the flour mixture and a bit of the sourcream to the batter, stirring to combine between each addition, until all combined.

Add half the violet petals to the cake batter and stir in.

Cook for about 45 minutes, or until cooked through.
For the glaze
Combine two tablespoons of milk (I used one tablespoon of milk and one tablespoon of violet syrup) with 2 cups of sifted powdered sugar.

When the cake has cooled, pour the glaze on top of the cake and lightly press flower petals into it.