Archived Rumble
Kale & Brussel Sprout Salad
Wednesday, January 06, 2021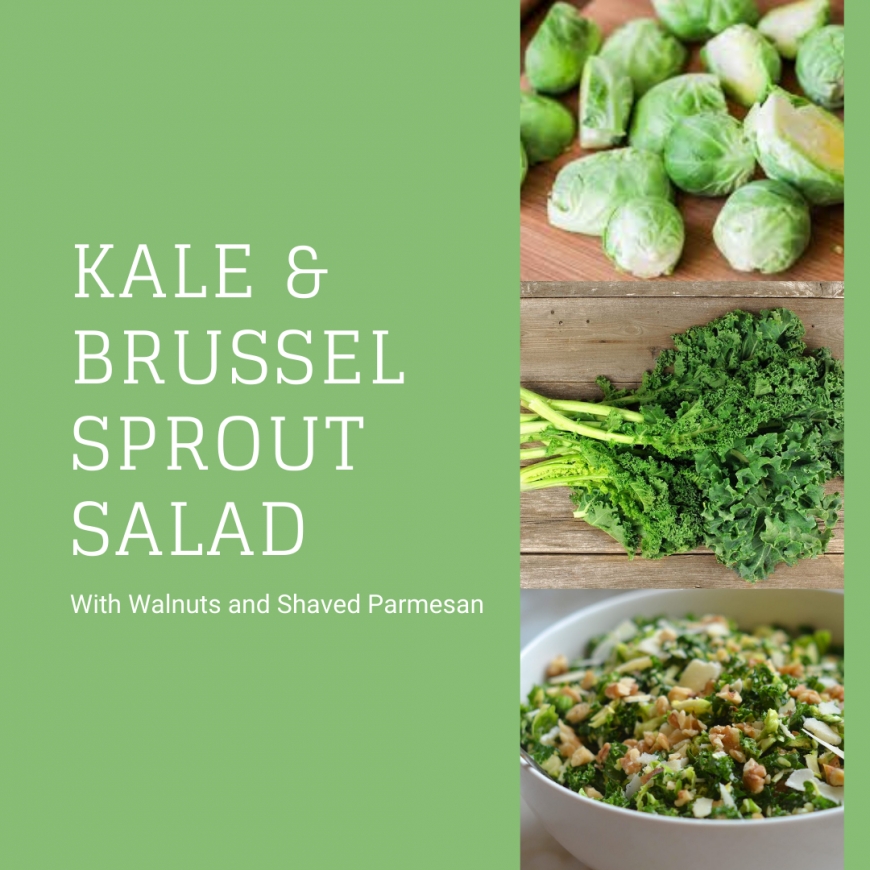 The holidays are over and we are one week into our new year. This is the exciting "honeymoon" phase of our year during which we set goals and relish in possibility. Savor this time.
The holiday season is bursting with excitement, celebration, family, food and drink. We often need time and space to reset afterward. Taking time to consider and reflect on the past year, while simultaneously looking forward to the next, helps ground us. And once grounded, we can fully comprehend and plan for all the opportunities in the year to come.
This mental reset is vital, but as we know, mind and body are inextricably tied. We can best serve our minds and bodies when we attend to them in unison. That's part of the reason we see so many people committing to different nutritional challenges for the month of January. Whole 30, dry January, no added sugar for the month … the list goes on.
When our bodies need time to reset and recover, the easiest cure is to get back to the basics. More plants. Eating a diet that is primarily plant based is not only better for the planet (and let's face it, she could use a break) than a diet heavy in animal products, it feels great for your body and is an easy way to ensure you are getting all the nutrients you need to rejuvenate yourself. (If you're worried about vitamin B12, check your multi-vitamin, it is probably contained there, or, get some nutritional yeast.)
Because a diverse, plant-based diet is so good for health, sports physiotherapist Simon Hill (creator of the Plant Proof Community) created the Plant Proof 40 Challenge. The idea is to challenge people to eat 40 unique plants in one week. And if you're not getting to 40, how many are you getting?
Regardless of adherence to any of these challenges, plant based eating feels good, and it's always fun to challenge yourself to something new and different. Below is a recipe for a warm, winter salad my mother made on New Year's Day. It is hearty with a full, complex flavor that will leave you utterly satisfied, and it is an easy way to fill your plate with healthy greens.
If you're leaning toward the plant side of things you can leave out the cheese, or substitute nutritional yeast.
Here are some resources, recipes and tips and tricks for healthy and safe plant-based eating:
What is a plant-based diet and why should you try it? - Harvard Health Blog
How To Follow A Plant-Based Diet On A Budget
Best Whole Food Plant Based Diet Recipes for Beginners | NHF
Recipe
For the salad:
1 lb. brussel sprouts, thinly sliced
1 cup walnuts, chopped
1 lb. kale (or about ½ large bag) center rib removed, thinly sliced
½ cup sliced or shredded parmesan
For the dressing:
¼ cup lemon juice
½ cup olive oil
1 tbsp. Dijon mustard
½ small onion
1 clove garlic
1 tsp. salt
1 tsp. black pepper
Directions:
Toast walnuts in the oven on 350 degrees for 5-8 minutes until toasted and fragrant. Watch them, they can burn quickly.

Make the dressing by putting all ingredients in a blender or food processor and blending until well combined without any big chunks.

Put sliced brussel sprouts into a large skillet with about half the dressing. Saute until they've turned a brighter green and are "tender-crisp."

Turn off the burner and remove the pan. Stir in sliced kale and put the lid on the pan for 2-3 minutes. (This should allow the kale to soften slightly past the point of being raw, but not cook it)

Move the kale and brussel sprouts to a bowl. When ready to serve, stir in the rest of the dressing and top with crumbled walnuts and parmesan cheese. This salad is best enjoyed warm. (Thanks, mama!)