Outdoors Columns
Notes from a plant nerd: Mountain-mint, a great pick for a pollinator garden
Wednesday, September 20, 2023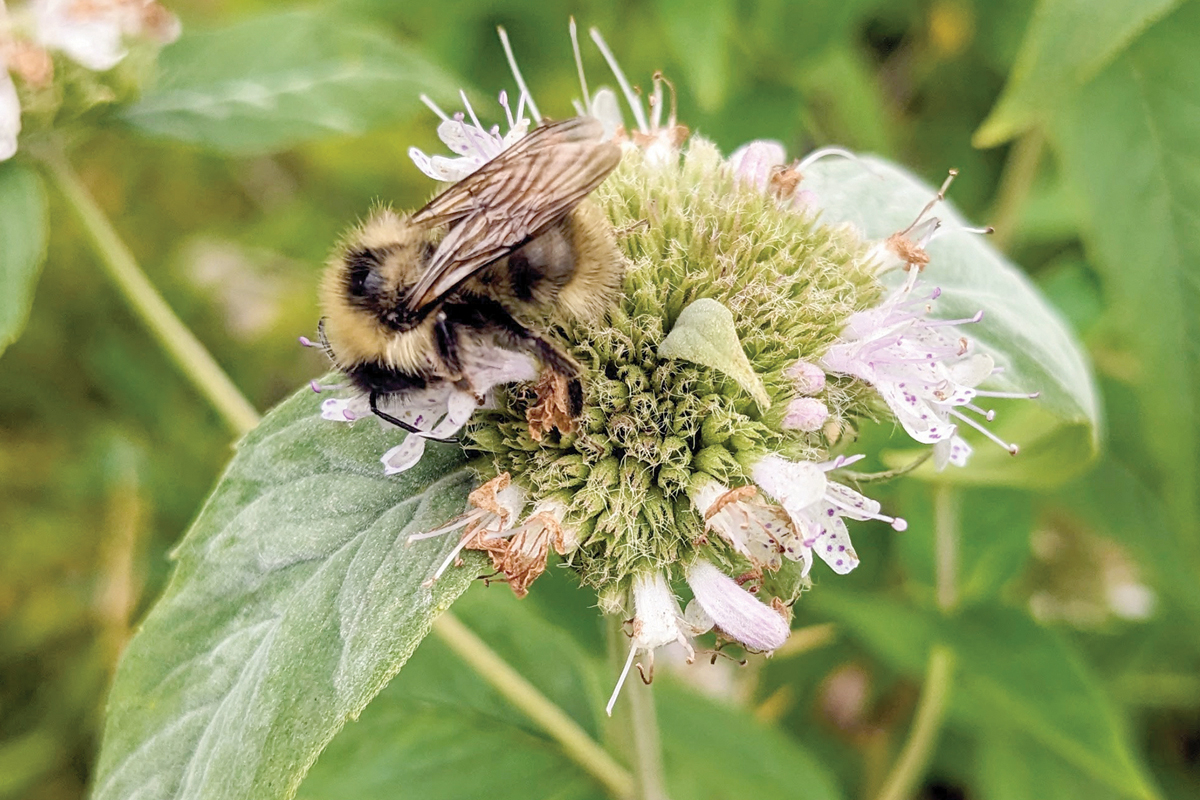 A bumblebee drinks from a mountain mint plant. Adam Bigelow photo
No matter where you are in the world, if you encounter a plant that has a square stem and opposite leaf arrangement — when two leaves grow out of the stem at the same place, but on opposing sides — it is most likely a member of the mint family (Lamiaceae).
Most all members of the mint family are edible, and most are also fragrant. But not all of them. Nature just doesn't seem to want to behave according to the rules that we place on her. And do be careful because our minds like to play tricks on us. So, remember that there is no such thing as almost square, or kind of square. Square means four equal sides. Kind of square is actually a triangle or rectangle, hexagon or trapezoid. Don't be fooled.
Among the many members of the mint family that grow around us and are native here in Southern Appalachia — including self-heal (Prunella vulgaris), bee balms (Monarda spp.), bugleweeds (Lycopus spp.), horsebalms (Collinsonia spp.), obedient plant (Physostegia spp.) and so many more — I have a real affinity for the members of the genus Pycnanthemum. These are the mountain-mints.
There are 14 different species of Pycnanthemum that are native to North Carolina, and all but one can be found in the mountains. Though they are all similar in growth and habit, their differences set them apart as easily as their names do. Beadle's, basil, stone, savannah, hoary, Loomis', thinleaf, clustered, southern, awned, slender, Torrey's, whorled and Virginia are all of the different species, when you add "mountain-mint" to these names. Only the awned mountain-mint (Pycnanthemum setosum) is not found growing in the mountains. And, since it grows only along the coastal plain, is it even really a mountain-mint? Coastal-mint, maybe?
In addition to their opposite leaves and square stems, mountain-mints also share a dense cluster of small flowers held up by leaves that tend to develop a frosty white sheen. This helps keep browsing animals from eating the leaves and attract insects to fly or crawl to the flowers to drink the nectar, providing pollination that leads to seed development.
When it comes to attracting beneficial insects, there may not be a better choice than clustered mountain-mint (Pycnanthemum muticum). Blooming from early summer through frost, the multiple small flowers of clustered mountain-mint are covered in a diversity of insects not seen on most plants, especially all at the same time. I have spent way too much time watching the mountain mint and all of the insects on it — large black and blue iridescent wasps, tiny green and gold metallic bees, bumblebees, ants, beetles, moths, butterflies, fireflies and more all nectaring on the flowers at the same time. They are no more bothered by each other's presence than they are by mine, ogling them, taking pictures and videos and even bravely petting their backs and getting "high fives" from the bumbles. If you add one native plant to your garden this year, let it be clustered mountain-mint.
Insects aren't the only creatures that like to drink from mountain-mint. I often spot this plant at the beginning of a hike, near the trailhead, and I pick some of the leaves to put in my drinking water. By the time I'm thirsty, I have a nice, cool, refreshing drink of mint water. I also enjoy taking some of the leaves and crushing them up with sugar or honey and adding it to a clear liquor. You can use vodka or rum, but I prefer to use my favorite whiskey, which just happens to be clear and untaxed, to make mountain mint mojitos! Cheers!
(Adam Bigelow lives in Cullowhee and leads weekly wildflower walks most Fridays and offers consultations and private group tours through Bigelow's Botanical Excursions. This email address is being protected from spambots. You need JavaScript enabled to view it..)