Archived Outdoors
Ecusta Trail project receives $45 million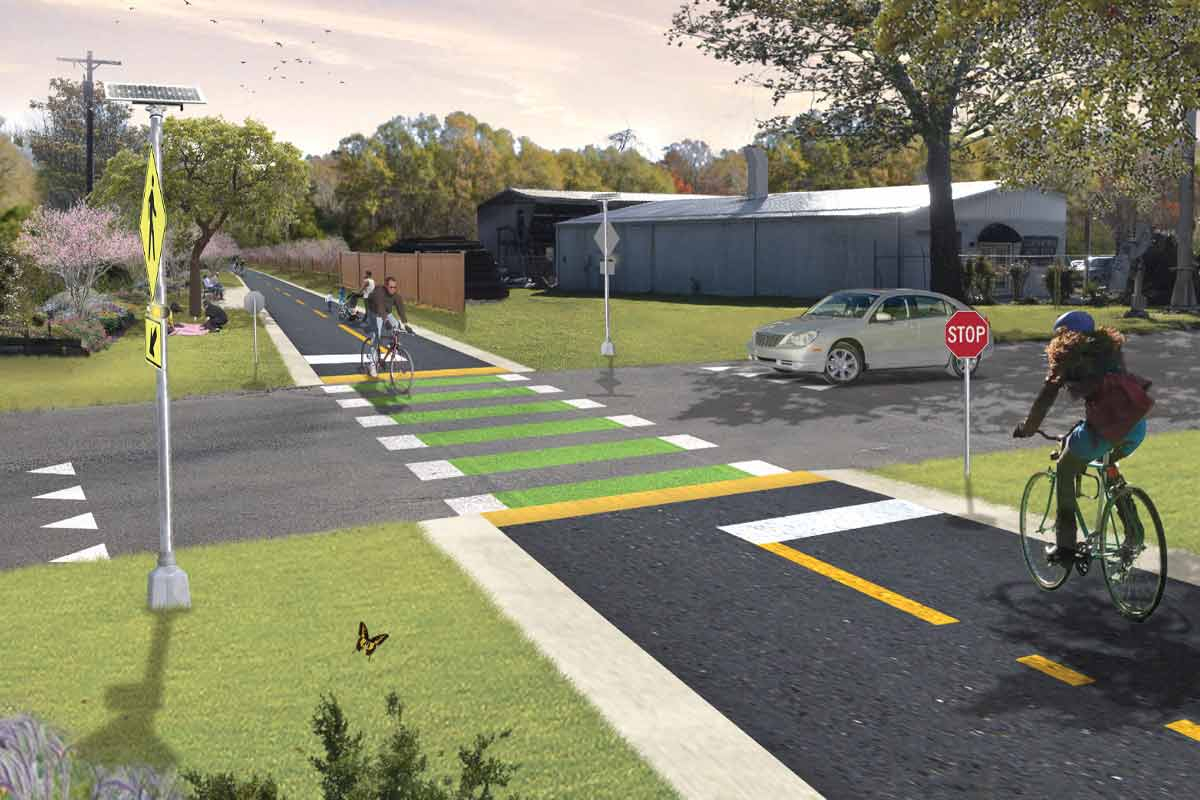 An artist rendering shows what the completed trail might look like. Donated photo
An effort to build a 19.4-mile rail trail between Brevard and Hendersonville got a huge boost following the award of more than $45 million in grants from the U.S. Department of Transportation.
Together with $500,000 provided in the 2021 state budget, the grant dollars get the project most of the way to its projected $53.5 million price tag.
The Ecusta Trail is intended to serve as a "multimodal gateway" to the Pisgah National Forest, Blue Ridge Parkway and Qualla Boundary. The N.C. Department of Transportation and U.S. Forest Service have both expressed concerns over visitors parking on the roadway shoulder of national forest lands during heavy traffic, causing erosion and road degradation.
"The Ecusta Trail stands to address these parking, safety and environmental concerns by providing new options for access to Pisgah and the Blue Ridge Parkway," reads a press release from the City of Brevard.
The $45 million came from two separate grants. In June, the City of Brevard received a $24.5 million RAISE grant, and on July 6 the Federal Highway Administration announced that the city had received an additional $21.4 million from the USDOT's National Significant Federal Lands and Tribal Projects Program.
"This game-changing grant fills a major gap in the funding needed to complete construction of the Ecusta Trail and provides a tremendous boost towards making the dream a reality," said Kieran Roe, Executive Director of Conserving Carolina. "Conserving Carolina is grateful for the leadership of the City of Brevard in pursuing this opportunity and for the strong partnership of organizations and community leaders that came together to develop this successful grant."
Rep. Chuck Edwards, R-Henderson, said the Ecusta Trail has been a priority of his community since he served in the N.C. Senate.
"The long-term benefits will be critical for our economy, and I can't wait to see the many ways it uplifts Transylvania and Henderson counties," he said.
President of Friends of the Ecusta Trail Mark Tooley also voiced his excitement and optimism for the trail's future.
"We are ecstatic about the NSFLTP grant award toward the construction of the Ecusta Trail," said Tooley. "After 14 years, from trail conception to the start of construction, the Friends of the Ecusta Trail has been unwavering in their advocacy and support for the trail and its undeniable benefits for our region."
The City of Brevard is the lead organization for the Transylvania County portion of the trail. NCDOT will administer the grant and collaborate with the city and its partners on the details of how to apply the funds to the project's engineering and construction. According to a grant application, the project is expected to be complete in early 2028.
— Holly Kays, Outdoors Editor