Archived Outdoors
Fontana cleanups remove 3,500 pounds of litter
Wednesday, November 24, 2021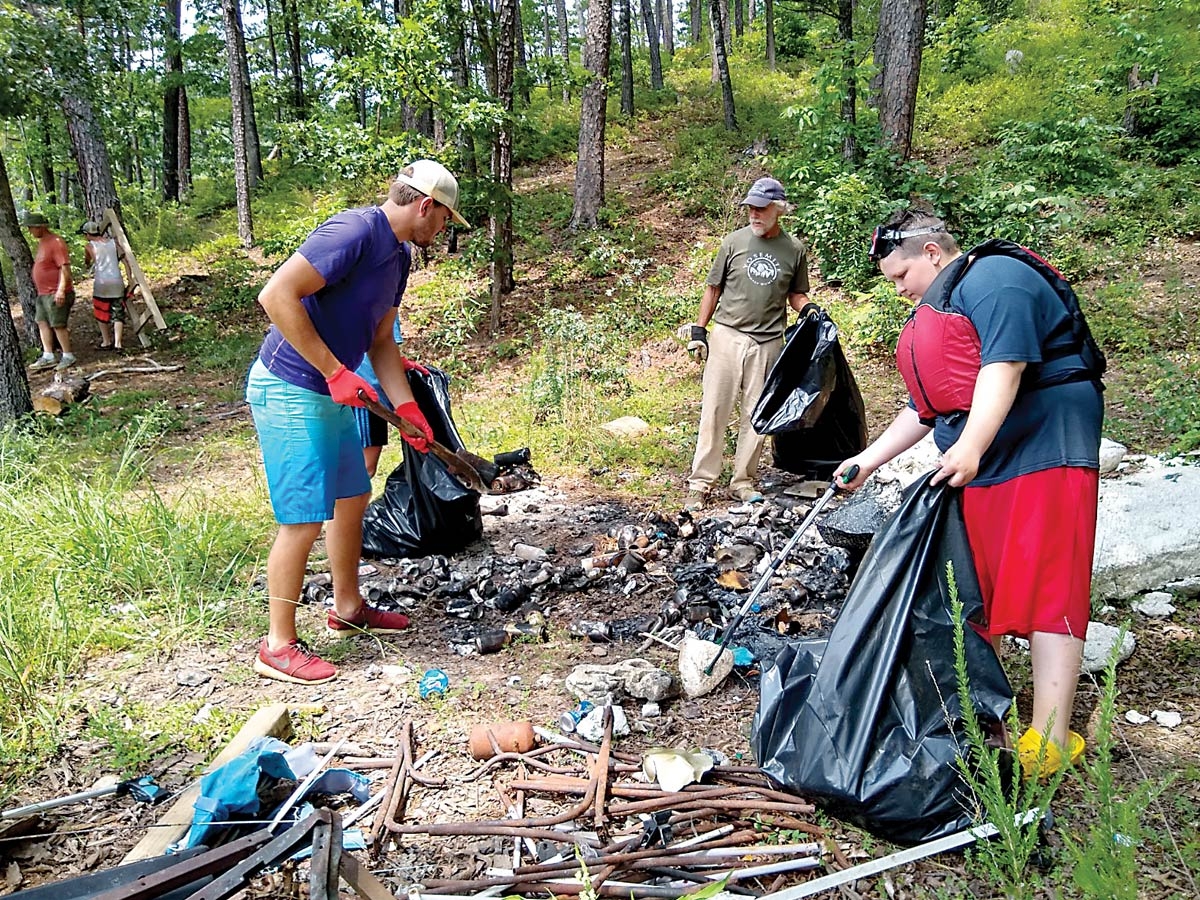 Volunteers pick up a trashed campsite at Fontana Lake. Donated photo
Cleanup efforts at informal campsites along Fontana Lake removed 3,500 pounds of trash this year, thanks to more than 30 volunteers and grant support from the Tennessee Valley Authority.
The vast shoreline of Lake Fontana gets cleaned up each November by area volunteers when the lake levels draw low, and park staff and volunteers tidy campsites on the Great Smoky Mountains National Park side of the lake. But the many verdant campsites that dot the islands and peninsulas are left to deteriorate with strewn litter.
After witnessing the trash firsthand during a June canoe trip, leaders with Outdoor Mission Community decided to do something about it. The TVA fulfilled a grant request from the organization, funding four pontoon boat rentals and lunches for volunteers on cleanup days Aug. 10 and Oct. 16. TVA also provided trash bags, gloves and grabbers.
During the cleanup, volunteers received an education in Leave No Trace principles — in addition to picking up trash, they learned to make a plan for their outdoor activities, stay on durable surfaces rather than taking shortcuts, respect wildlife, leave natural objects behind, dispose of waste properly, minimize campfire impacts and be considerate of others.
When trucks and trailers filled to the brim with trash departed, the campsites looked inviting and volunteers said, "let's do this again!" To help the effort, visit outdoormissioncommunity.org or contact This email address is being protected from spambots. You need JavaScript enabled to view it. or 336.583.9932.
Leave a comment
1

comment
How sad that people who want to get 'back to nature' leave their trash for others to pick up. Thank you to the heroes who participated in the clean up!! 'Leave No Trace' isn't rocket science and doesn't take a whole lot of effort; just some common sense and a sense of decency.

Monday, 11/29/2021