Outdoors Briefs
Smokies seeks input on Laurel Falls plan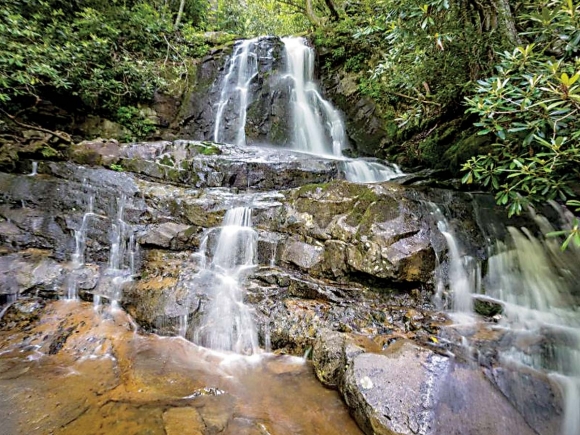 Visitors crowd Laurel Falls during a busy Wednesday in June 2020. NPS photo
The Great Smoky Mountains National Park is taking input on a forthcoming management plan for the Laurel Falls Trail, with public comment accepted through Aug. 7.
The popular 4-mile trail that passes by 80-foot Laurel Falls attracts nearly 350,000 visitors per year, making it the park's most visited trail. The plan will focus on the 1.3-mile segment between the trailhead and the falls, aiming to rehabilitate the trail surface and infrastructure; address crowding issues; improve pedestrian flow and reduce safety risk; enhance opportunities to view and enjoy the falls; reduce resource impacts related to user-created trails and roadside parking; address traffic safety concerns; and overall protect park resources and improve the visitor experience.
Information obtained during the civic engagement period will be used to identify and refine elements and alternatives under consideration.
Submit written comments or learn more about the project at www.parkplanning.nps.gov/LaurelFallselFalls. Comments may also be mailed to Superintendent Cassius Cash, Attn: Laurel Falls Trail Management Plan, Great Smoky Mountains National Park, 107 Park Headquarters Rd., Gatlinburg, TN 37738.
Leave a comment
2

comments
Leave trail alone, post no pets, strollers, or wheelchairs. Post litters will be prosecuted. Redefine and keep main parking lot with someone directing traffic. Close off parking along side of the roads as this has become destructive to vegetation and natural resources, place concrete barriers to allow regrowth. Bus people from Sugarlands, $1 per person charge, free to kids x and under, senior discount, yearly pass, etc. Possibly close trail from x to x during the week or day. Education sign placed as to why with pics of destruction. This will be an inconvenience but temporary fix. Safety is number one.

Monday, 07/19/2021

Leave the trail alone just pave it again. No need for safety barriers needed it makes the walk exciting and fun. Now the main focus of this should be 90% spent building a new parking lot to hold a lot of vehicles. Or I would just consider closing it down cause the parking situation now is the safety concern.

Thursday, 07/15/2021