Outdoors Briefs
Wednesday shuttle service available for Cades Cove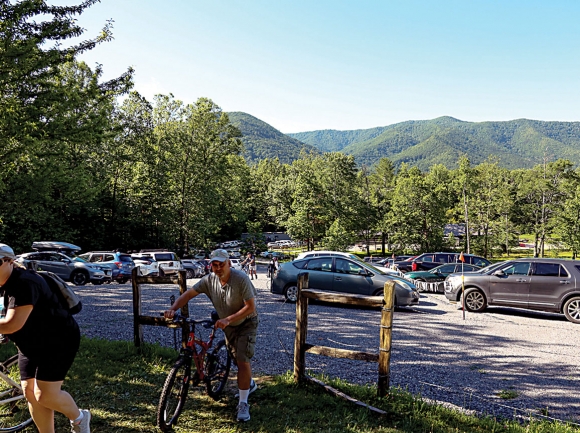 Cyclists leave the newly improved parking area to cruise Cades Cove. NPS photo
A new shuttle service for Cades Cove will start up July 7, continuing 8 a.m. to 3 p.m. each Wednesday through Sept. 1.
Rocky Top Tours will provide the service from Townsend, Tennessee, allowing visitors to attend Vehicle-Free Wednesdays without navigating the hectic parking situation in Cades Cove.
"Vehicle-free Wednesdays in Cades Cove continues to be extremely popular," said Superintendent Cassius Cash. "Our staff has worked hard to manage safe parking access, including making improvements to a field traditionally used for parking that allowed us to add 85 more spots this year. But, the demand still far exceeds the space and we're hopeful the shuttle service will allow more people the opportunity to enjoy this unique experience."
During 2021, parking lots have typically filled by 8 a.m. and remained full until 1 p.m., resulting in hundreds of cars being turned away during that time period as park staff and volunteers actively manage the parking process to improve visitor safety, prevent campground disruptions and reduce damaging roadside parking. The shuttle service will allow more visitors guaranteed access during the morning hours.
Reservations are encouraged at www.rockytoptours.com. Tickets are $25 per person and include roundtrip service that includes bicycle transport. Visitors who choose not to ride the shuttle should plan to visit Cades Cove in the late afternoon and early evening to better spread use throughout the day.
Vehicle-free Wednesdays run May 5 through Sept. 1. More volunteers are needed to help manage this weekly event. Sign up at https://tinyurl.com/grsmccvfd.