Archived Outdoors
Smokies seeks solutions to overcrowding
Wednesday, October 28, 2020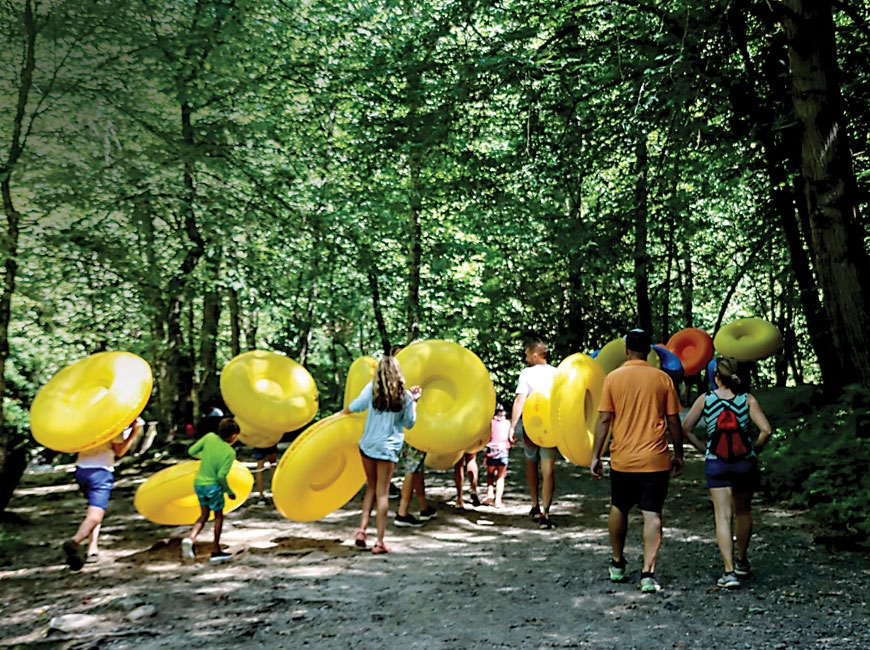 Tubers walk the path at Deep Creek, which has seen an enormous increase in usage this year. NPS photo
The Great Smoky Mountains National Park has gotten a lot busier since its creation in 1931. In 1932, its first full year of existence, the park received only 300,000 visitors — these days, annual visitation is more than 40 times that figure, coming in at 12.5 million last year.
"Over the years we've been applying a lot of Band-Aid fixes to help manage congestion and crowds, but it's time to really pull off those Band-Aids and start to work together to see how we can make this place sustainable and protected in the long term," said Dana Soehn, management assistant for the park.
Soehn spoke during a morning meeting Oct. 22 that was one of four online sessions offered last week with the goal of gathering creative suggestions from members of the public as to how to solve congestion issues at some of the park's most crowded locations. More than 100 people participated in the sessions, held via Zoom, and during breakout sessions built into the agenda they provided a variety of suggestions for the park to consider — some specific to particular locations within the park and others applicable to the park as a whole.
During the same call Oct. 22, Superintendent Cassius Cash said that while the park doesn't usually seek public input until it's developed several specific alternative solutions to an issue, in this case it was coming with a blank slate, aiming to "tap into as much bandwidth of ideas and outcomes as possible."
Palpable tension
Something has to be done, National Park Service representatives in the meeting agreed, because the situation has gotten out of hand. Over the last decade, visitation to the park has increased by 32 percent even as staffing has decreased by more than 10 percent.
On busy days — which have themselves become more numerous over the years — it's not uncommon for people hiking the Laurel Falls Trail to wait in a line several hundred yards long in order to reach the standing-room-only rock below the falls, said Soehn, backing her words up with photos clearly showing the congestion. On a busy Saturday in early November, park staff witnessed a line of more than 80 people waiting for the bathroom at Clingmans Dome.
At the historically lesser-used Big Creek and Deep Creek entrances in North Carolina, use between June and August this year increased by more than 20 percent over the same period in 2019. The existing parking areas were too small to accommodate the onslaught, and visitors left behind muddy pits marked with tire tracks and damaged signage, at Big Creek completely demolishing a split-rail fence and at Deep Creek usurping picnic areas and campgrounds as overflow parking. This spring, the park spent $1 million on a road repair project at Deep Creek, but so many people parked on the shoulders of the road in the following months that "in just one busy summer at Deep Creek so much of our investment has been damaged," said Soehn.
"These are very real challenges," she said. "Visitors are experiencing the tension across the park. Park Service employees are feeling the tension. Our volunteers that try and help manage this are feeling the tension. And it's time to pay attention to that tension."
The toolbelt
Charles Besancon, a national parks planning consultant with Global Park Solutions who presented during the meetings, said that the Smokies is far from being the only national park to face severe crowding issues. The parks draw heavy interest from foreign travelers as well as domestic ones, he said — in 2018, 36.7 percent of international visitors to the U.S. came to see national parks and monuments, and that percentage has increased every year since 2013.
The five main approaches parks use to deal with crowding issues are adding capacity, using electronic systems, instituting public transit systems, deploying visitor demand management measures and making traffic improvements, he said.
Each approach has its pros and its cons — there is no one size fits all solution.
Adding capacity — by expanding parking or adding roads and trails, for example — directly addresses the issue but is expensive and can end up just kicking the can down the road, as increased capacity generally fuels increased use.
Electronic systems like signage or kiosks with current information about congested areas in the park can help visitors make better decisions about where and when to visit, but many out-of-region-guests are so excited to visit their desired area that they'll ignore the messaging and pursue their original plan.
Public transit goes a long way toward relieving congestion on the roads, but it's expensive and can cause new congestion on once-quiet trails that are now an automatic stop for anyone riding the shuttle.
Parks can also use traffic improvements such as adding turn lanes, roundabouts and stop signs to mitigate road congestion. Some such solutions are cheap and easy to implement, while others are expensive and require onerous planning.
Finally, visitor demand management such as higher prices during peak hours and reservation systems can reduce volume and improve visitor experience, but they make access more difficult and often rub locals the wrong way — not to mention, the Smokies' unique history makes charging entrance fees almost impossible.
"The question is, how do you keep from harming the goose that laid the golden egg?" said Besancon.
Cars crawl through Cades Cove in September 2019. NPS photo
Entrance fees not allowed
Among participants in the forums, there was substantial interest in the issue of entrance fees. At most of the nation's larger national parks, it costs between $25 and $35 per car for a seven-day entrance pass, with the individual park keeping 80 percent of that revenue.
That's not possible in the Smokies. When Tennessee passed legislation deeding Newfound Gap and Little River roads to the park in 1951, it included language that prohibited ever placing a toll on those roads. Meanwhile, a 1992 federal law prevents the park from charging entrance fees at other points so long as the main entrance remains fee-free. If the park were to ever charge a fee, said Soehn, the Tennessee legislature would first have to remove that 1951 deed restriction.
Participants in the sessions struggled with that reality.
"Why are we allowing people to flood into the park so much and take advantage of it when all these businesses around the area are making an economic boom from it?" asked Austin "Gus" Zimmerman, a 24-year-old Pigeon Forge resident, during an Oct. 22 small group discussion on issues at Deep Creek. "And the park can't really take that much advantage of it."
Zimmerman, a Tennessee resident, said that he planned to contact his state representatives in support of repealing the deed restrictions.
During a separate meeting held later that day, Jenni Veal, tourism development and marketing coordinator for the Southeast Tennessee Development District, stopped short of calling for the legislature to adopt entrance fees but lamented the lack of financial benefit the park gains from its immense popularity.
"There has to be more of a connect between the tax dollars that are coming in from tourists and the infrastructure that our parks need," she said. "It floors me that there's not enough staffing in our national parks. Somehow there's got to be a way to help support the park that people are coming from all over the world to see."
The park could benefit from beefing up its partnership with local and state-level tourism organizations in order to better communicate the issues it's facing to the public, she said.
Results of the brainstorm
With entrance fees off the table, participants came up with a variety of other ideas for the park to consider.
During the Deep Creek breakout session Oct. 22, participants suggested creating a new trail for tubers so they wouldn't interfere with the hikers' experience. Perhaps the park could then conduct an environmental impact statement as to the effect of various recreation activities on the environment and charge use-specific fees for activities with the highest impact.
"That's definitely something I haven't heard," breakout group facilitator Susan Sachs commented on the suggestion. "I've been facilitating these meetings for a few days now, and that's a new one."
In a separate breakout group held later that day discussing the park as a whole, middle Tennessee resident Tammy Lambert said that she had reservations to stay at Mt. LeConte Lodge the next week but was worried about finding a place to park for the adventure.
"Getting reservations there is like winning the lottery," she said. "Our main concern is where do we park, getting there in enough time that we're not parking our vehicle along the road and hoping it doesn't get hit while we're staying up there."
What if the lodge ran a shuttle from its offices in Townsend so that people could park there safely and get a ride up to the trailhead, she asked?
Overall, feedback from the sessions indicated support for using reservations systems to manage visitation at some of the park's busiest areas, and participants were open to instituting shuttle services as well, particularly at regularly overwhelmed areas like Clingmans Dome and Cades Cove. This year, the park instituted a pilot program in Cades Cove prohibiting all vehicle traffic there on Wednesdays, and multiple participants voiced enthusiasm for that development.
"I almost would suggest to keep that a permanent installation, as in just make a bigger parking lot for vehicles, and allow for people to hike and bike it as much as they want," said Zimmerman. "And then even add in little shuttle buses for people with disabilities so they can come through and see the park as well."
Participants in the sessions also voiced support for roundabouts and turnarounds that would allow vehicles to escape before getting stuck in traffic jams. There should be more law enforcement presence at busy areas, they said, and improved Leave No Trace messaging. Developing an app that informs people when individual parking lots and trailheads are full could help relieve extreme congestion as well.
"One thing that stands out to me at this point is the desire for real-time data to help manage expectations about the current state of traffic before people arrive in the park," Soehn said in an email after the input sessions. "Currently, apps like Google Maps that many people rely on outside the park don't work well in the park due to connectivity issues. People are really hoping we can find some innovative technical solutions to allow this type of capability so people can make better decisions about timing their trips and choosing their destinations."
Soehn told participants that the park would be putting the ideas it receives into two "buckets," hoping to implement some of the "lower hanging fruit" as early as next year while evaluating and prioritizing more complex solutions as longer-term projects.
"Our goal," Soehn said, "is just to continue to work hand-in-hand with the park users and our gateway communities as we look for some of these congestion management solutions so that we can continue to both protect this place and provide better access for visitors.
Be heard
An online survey taking input on proposed solutions for congestion issues in the Great Smoky Mountains National Park is open through Saturday, Oct. 31.
Feedback will be summarized in a report that will serve as the basis for a high-level feasibility analysis, during which park staff will assess proposed solutions for each area. Some solutions will be selected to pilot as soon as 2021, while other proposals requiring a deeper planning effort will take longer to consider.
The survey is available here.
Leave a comment
2

comments
I would put boulders down the roadways to keep people parking all over the place.
Use electric trams/buses to take hikers to trailheads from sugarlands. Incorporate lockers at trailheads and sugarlands. Look at how other national parks move visitors to trails. There are parking lots for the trails and when those are full, hikers must use transportation provided by the park, with a fee.
The park is so overcrowded that it feels abusive.
On another point. Why the rangers at elkmont give campers a hard time getting one tire slightly off the gravel drive while cars are parked all over the park roads to go hike seems inconsistent. Along with campers taking baths in the river but the say nothing about that.

Sunday, 06/06/2021

I would put boulders down the roadways to keep people parking all over the place.
Use electric trams/buses to take hikers to trailheads from sugarlands. Incorporate lockers at trailheads and sugarlands. Look at how other national parks move visitors to trails. There are parking lots for the trails and when those are full, hikers must use transportation provided by the park, with a fee.
The park is so overcrowded that it feels abusive.
On another point. Why the rangers at elkmont give campers a hard time getting one tire slightly off the gravel drive while cars are parked all over the park roads to go hike seems inconsistent. Along with campers taking baths in the river but the say nothing about that.

Sunday, 06/06/2021