Outdoors Latest
It's farmers market time
Wednesday, April 01, 2020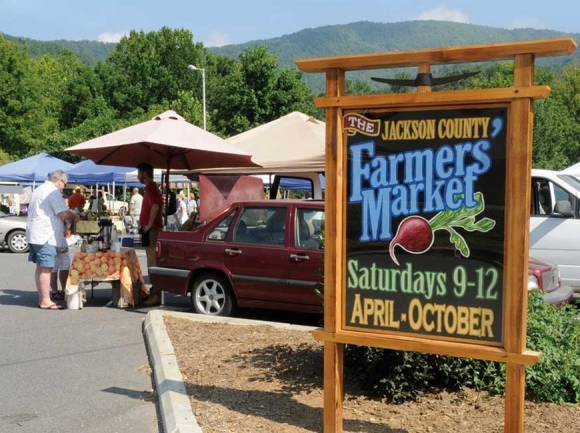 According to guidance from the N.C. Department of Health and Human Services, farmers markets fall under the same classification as grocery stores and are considered an important source of food for local communities.
Farmers markets that stay open during the outbreak should follow the same state and federal mandates as grocery stores regarding social distancing and crowd size. In keeping with Executive Order 118, they also may not offer any kind of dine-in service.
Here's a roundup of the markets that have confirmed their intent to open. This list will be updated as more responses are received.
Haywood County
Haywood Historic Farmers Market, Waynesville
Getting there: 8 a.m. to noon Saturdays, April 18 through Oct. 31, at 250 Pigeon Street in the parking lot of the HART Theatre.
What's happening: Local produce; meats, eggs, honey, dairy, value-added products, heritage crafts and more for sale by 50 vendors at the height of the season, all of whom produce their wares in Haywood or an adjacent county.
Ways to pay: Credit and debit card, SNAP/EBT benefits, cash.
Jackson County
Jackson County Farmers Market, Sylva
Getting there: Market held year-round at Bridge Park. Hours are: April to October, Saturdays, 9 a.m. to noon, and Wednesdays, 3:30 to 6:30 p.m.; November to March 10 a.m. to 1 p.m. Saturdays only.
What's happening: A variety of locally produced vegetables, meats, honey, plants and crafts. Plant starts, native plants, mushrooms, greens and other in-season veggies, spices, eggs, baked goods, occasional brick-oven fired pizza, goat cheese, flowers and local crafts such as pottery, soaps, jewelry, journals, toys, candles, bird feeders, note cards and more for sale by 30-35 vendors. During the COVID-19 pandemic, vendors will be spaced further apart and customers moved through to avoid congregating. Tokens will be sanitized, a handwashing station will be available and a doctor will be on hand to assist and even take temperatures.
Ways to pay: Cash, credit, debit and SNAP benefits accepted. Double Up Food Bucks for SNAP recipients available.
Contact: Lisa McBride, 828.393.5236 or

This email address is being protected from spambots. You need JavaScript enabled to view it.

. Online at www.facebook.com/thegloriousjacksoncountyfarmersmarket, or www.jacksoncountyfarmersmarket.org.
The 'Whee Market, Cullowhee
Getting there: 3 to 6 p.m., Tuesdays through the end of October, at the Prospect Western event lawn at 113 Market Street.
What's happening: Meats, eggs, cheeses, vegetables, cut flowers, milk and value-added products and crafts sold by an average of eight vendors. New vendors welcome. $5 per market or $25 for the season.
Ways to pay: Cash/check, with some vendors accepting credit and debit cards.
Contact: Curt Collins, 828.476.0334. www.thewheemarket.org.
Macon County
Franklin Farmers Tailgate Market
Getting there: 10 a.m. to noon, Saturdays during April, and then 8 a.m. to noon Saturdays May through the end of October, on East Palmer Street across from Drake Software.
What's happening: Variety of homegrown products, including fruits and vegetables, cheese, plants, eggs, trout, preserves, honey and artisan breads sold by an average of 25-30 vendors.
Ways to pay: Cash/check.
Contact: Christy Bredenkamp, 828.349.2049 or

This email address is being protected from spambots. You need JavaScript enabled to view it.

. www.facebook.com/franklinncfarmersmarket.
Swain County
Swain County Farmers Market, Bryson City
Buncombe County
In response to the closure of some farmers markets in the midst of the COVID-19 crisis, the Appalachian Sustainable Agriculture Project has organized an interim market designed to protect shoppers and vendors from virus transmission.
The market meets 9 a.m. to noon Saturdays in parking lots A2, A3 and A7 at A-B Tech in Asheville. The number of shoppers in the market area at one time will be tightly controlled, customers will select pre-packaged items without handling other products, and purchases will be paid online using the honor system. Anybody exhibiting signs of illness will not be allowed in the market.
The market will operate as long as necessary and may expand to others locations and days of the week as opportunity and demand allow. www.asapconnections.org.