Archived Opinion
Climate alarmism is not based in reality
Wednesday, September 01, 2021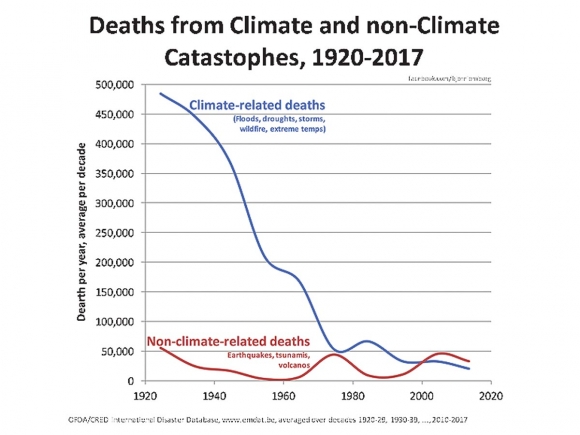 By Patrick Gleason • Guest Columnist | The alarmist rhetoric and proclamations found in Mary Jane Curry's recent column published in The Mountaineer, "A Life Or Death Matter," (Aug. 15) are certainly worrisome. The good news is that they are completely detached from reality.
Don't take my word for it. Instead I encourage Ms. Curry and other climate alarmists to read Unsettled, a new book released this year by Steven Koonin, who served in the Obama administration as the undersecretary for science at the Department of Energy.
In his book, Dr. Koonin debunks the apocalyptic arguments made by activists like Ms. Curry. As Dr. Koonin points out, heat waves are no more common today than in 1900, the warmest temperatures in the U.S. haven't risen in 50 years, there is no detectable human impact on hurricanes, the Greenland ice sheet is not shrinking at an increasing rate, and, most importantly, the economic impact of climate change is negligible. What's more, despite the recent high-profile fires in California and Australia, Dr. Koonin points out that wildfire activity has declined since 2003.
Ms. Curry touts solar as a cure all without acknowledging the dramatic increase in mining activity that would be required to produce more electricity from solar and wind. Nor does Curry address the fact that solar and wind energy are extremely land intensive and, as such, logistically incapable of powering a modern economy.
"No amount of marketing could change the poor physics of resource-intensive and land-intensive renewables," explains Mike Shellenberger, founder of the Environmental Progress, a Berkeley-based non-profit, who was named "Hero of the Environment" by Time Magazine. "Solar farms take 450 times more land than nuclear plants, and wind farms take 700 times more land than natural gas wells, to produce the same amount of energy."
Ms. Curry says she wants to "stop pipelines and fracking." Yet horizontal drilling and hydraulic fracturing, by increasing the use of natural gas at the expense of coal, have done more to reduce carbon emissions in this century than any government program ever dreamt up by environmentalists.
Contrary to the doom and gloom spread by Ms. Curry, the fact is that climate-related deaths have plummeted over the past century, despite a rising population and emissions. For the past 100 years, atmospheric carbon dioxide (CO2) concentrations rose from approximately 305 parts per million to more than 400 ppm, while global average temperatures rose by about 1°C. However, as the below chart illustrates, a person's risk of losing their life in a weather-related disaster has declined by 99 percent during this period.
"In other words, despite there being many more people and lots more stuff in harm's way, the relative economic impact of extreme weather is decreasing," said Marlo Lewis, a senior fellow at the Competitive Enterprise Institute. "It is difficult to reconcile that trend with claims that ours is an 'unsustainable' civilization."
Unsettled and the data displayed within highlights some uplifting facts that contradict Ms. Curry's catastrophic narrative. This includes the fact that the number and severity of droughts are not rising, nor are the frequency and severity of tornados. A review of the data in Unsettled also demonstrates that the rate of sea level rise is not increasing, but global crop yields are.
Contrary to the environmental apocalypse predicted by Curry and others, in reality many aspects of the environment are improving, even with a growing population and economy. Ms. Curry would do well to stop scaring people and see for herself how the existing data and historical record tell a much different story. While the good environmental news mentioned here won't garner attention and clicks as well as Ms. Curry's rhetoric, it has the benefit of being based in fact.
(Patrick Gleason, a resident of Haywood County and Washington, D.C., is vice president of state affairs at Americans for Tax Reform and a senior fellow at the Beacon Center of Tennessee. This email address is being protected from spambots. You need JavaScript enabled to view it..)
Leave a comment
8

comments
Climate change deniers are not only blind to the present and future threats to humanity brought about by a changing climate, but also to those in the past. Have you ever visited or looked at a picture of the ruins of ancient metropolises, in what are now arid and mostly devoid of plant life, and marveled at their ability to survive in such desolate areas? They didn't- many of the locations in which our ancestors lived their lives looked very different climate wise to what they are today. Most, if not all, early human settlements were forced to deal with violently changing seasons, recurring ice ages, and drastic floods. Many of these cultures were forced to change locations and/or they way they lived or perish- the ones that simply chose to deny the world around them and do nothing have been lost to history. These changes all happened only a few thousand years ago- it is very clear that our planet's climate sits on a razor's edge, waiting to topple at a moment's notice.

Most climate alarmists are not denying this fact. Instead, our soapbox is that a wealth of scientific data is showing that the climate is changing in many interconnected ways very fast. To a pragmatic mind, this necessitates at least a hard look at what we can do to help. Even subtle changes to the planet's climate can have far-reaching domino effects on future generations. Rising atmospheric CO2 levels, for example, are not only warming the planet but also making the oceans more acidic, potentially altering global currents and slowly eating away at the shells of marine organisms. Rising atmospheric CO2 is also causing some strange changes in plants, such as reduced nutritional content in fruits and vegetables, and even reduced protein content in pollen.

As we are beginning to see on the west coast, global rainfalls are also severely impacted by a wide variety of factors, including atmospheric and oceanic temperature. If these variables are rapidly changing, we can expect weather to be rapidly changing as well, most likely leading to more frequent droughts and severe storms. It seems that inland rainfall is also closely tied to the amount and location of coastal forests- as more are lost in California and other western states, overburdened inland water tables such as the Colorado river basin will most likely see even more stress.

This is not the time to ignore the reasons for action. It's our responsibility to our ancestors, the ones who also chose to live in a way that avoided disaster rather than tempt fate, to do the same.

Friday, 09/17/2021

The problem I have with Patrick Gleason's opinion piece that climate alarmism is not based on reality is that he ignores technological advancements in factors affecting climate catastrophe deaths. For example, the American Meteorlogical Society was formed in 1920. We did not even have a rudimentary hurricane warning service until 1935. The World Meteorological Organization formed in 1951. We launched our first weather satellite in 1960. Since 1920, we have seen a constant increase in our capabilities to track storms, to control flooding and to improve building construction in order to lessen the impact of catastrophes due to severe weather related events.

Gleason presents a graphical representation of climate catastrophe related deaths in which the resolution is so bad that I could not determine the source for his graph. But, in considering advancements made by the U.S. and the rest of the world since 1920, I would say that climate catastrophes have little impact on the deaths from severe storms thanks to quantum leaps in science and technology. That does not lessen the importance of climate catastrophes. Improvements come at increased economic costs. Perhaps Gleason should chart the climate and non-climate economic costs from 1920 to 2020.

Monday, 09/13/2021

All of the commenters here who have problems with this article could not rebut any of the facts/findings (from Koonin & Shellenberger) that were cited, which come from government agency data sets. As usual, the critics of this article attacked the messenger, but could rebut the message or information included within. Sadly, the resort to ad hominem attacks and rebuttals like this is typical of public discourse today.

As the University of Colorado's Roger Pielke confirmed today, if we go back in time for the North Atlantic & the Western North Pacific, which account for ~70% of all global landfalls, we see an overall decrease in hurricane landfalls since 1945 & no trend for major storms https://twitter.com/RogerPielkeJr/status/1435971453678067716

From the American Meteorological Society: "since 1900 neither observed CONUS landfalling hurricane frequency nor intensity shows significant trends, including the devastating 2017 season."
https://journals.ametsoc.org/view/journals/bams/99/7/bams-d-17-0184.1.xml?tab_body=abstract-display#affiliation0

Facts are stubborn things. Rather than address the facts laid out in this article, critics prefer to attack present and past employers of the author and the scientists cited. This just shows what a weak hand they have to play when it comes to the facts and existing science.

Thursday, 09/09/2021

Why isn't Americans for Tax Reform's ties to fossil fuel money disclosed here?

ATR has received money from Koch Industries CEO Charles Koch...:
https://www.desmog.com/americans-tax-reform/

...and from the oil & petrochemical refinery lobbyists at the AFPM (of which Koch Industries is a member)...:
https://projects.propublica.org/nonprofits/organizations/530115970/201801029349300205/IRS990ScheduleI

...among other undisclosed donors with undisclosed interests. Who is funneling money to ATR via the dark money anonymizer, DonorsTrust?

Did SMN ask for disclosure of any potential conflicts of interest?

That's just the messenger. Where did the message come from?

ATR cites Steve Koonin - without mentioning his career with oil giant BP. Next.

Mr. Shellenberger's collaborates with a variety organizations (read: political front groups, not science institutions) like the CO2 Coalition, CFACT, and Heartland Institute, that have long denied the science of climate change and fought every viable mitigation policy. Next.

**None of these longtime trolls are able to counter the actual science on the matter.**

What a disgrace. How about a promo of Q-Anon next?

Tuesday, 09/07/2021

The vast, overwhelming worldwide concensus of climate scientists, based on irrefutable evidence and which is confirmed by our own experience when we simply walk ouside, is that global is real and happening now.

Koonin is a former oil energy employee, a former chief scientist at BP, and was brought in by the completely biased Trump administration to concoct straw arguments that deny reality and settled science.

From Wikipedia: "In an article in Slate,[21] physicist Raymond Pierrehumbert criticized Koonin's 2014 commentary in The Wall Street Journal, "Climate Science Is Not Settled,"[22] as "a litany of discredited arguments" with nuggets of truth ... buried beneath a rubble of false or misleading claims from the standard climate skeptics' canon. To pick a few examples:

He claims that the rate of sea level rise now is no greater than it was early in the 20th century, but this is a conclusion one could draw only through the most shameless cherry-picking...
He claims that the human imprint on climate is only "comparable" to natural variability, whereas multiple lines of research confirm that the climate signature of human-caused greenhouse gas increases has already risen well above the background noise level..."

In a review in Scientific American, economist Gary Yohe wrote that Koonin "falsely suggest[s] that we don't understand the risks well enough to take action":
The science is stronger than ever around findings that speak to the likelihood and consequences of climate impacts, and has been growing stronger for decades. In the early days of research, the uncertainty was wide; but with each subsequent step that uncertainty has narrowed or become better understood. This is how science works, and in the case of climate, the early indications detected and attributed in the 1980s and 1990s, have come true, over and over again and sooner than anticipated... [Decision makers] are using the best and most honest science to inform prospective investments in abatement (reducing greenhouse gas emissions to diminish the estimated likelihoods of dangerous climate change impacts) and adaptation (reducing vulnerabilities to diminish their current and projected consequences).[23]

"So, what is the takeaway message? Regardless of what Koonin has written in his new book, the science is clear, and the consensus is incredibly wide. Scientists are generating and reporting data with more and more specificity about climate impacts and surrounding uncertainties all the time. This is particularly true with regard to the exaggerated natural, social and economic risks associated with climate extremes—the low-probability, high-consequence events that are such a vital part of effective risk management. This is not an unsettled state of affairs. It is living inside a moving picture of what is happening portrayed with sharper clarity and more detail with every new peer-reviewed paper."

Monday, 09/06/2021

Either or I or one of the scientists who are members of our WNC Climate Action Coalition will respond at greater length soon so readers of the SM News print edition can see our replies. In the mean time, Dr. Wall's comment below puts down all of Mr. Gleason's pretensions to expertise in a nutshell: MR. Gleason's arguments are repeats of those fabricated by the oil-billionaire Koch brothers and their comrades is disinformation.

As for fracking, there's a good reason the EU has banned it.

Because I am not a scientist but am a retired teacher of research, including scientific method-based research, I rely for my opinions on an array of scientists from a number of scientific, non-partisan organizations. The science is unequivocal. Either we do as they urge by the end of this year, or life on this planet becomes Hell for today's children if they live to old age at all.

The solutions are in place and can be replicated US-wide as well as in the other top polluting countries. What I'm "alarmist" about is the necessity of many more voters telling their elected officials at every level that they must quit funding fossil fuels, now.

Thursday, 09/02/2021

The families of the 20-plus people who died in Western Tennessee last month after unprecedented torrential rain might dispute this. And BTW- the founder of the Beacon Center and its predecessor, the Tennessee Center for Policy Research, worked for think tanks funded by oil industry money- the Koch brothers to be specific.

https://www.motherjones.com/environment/2009/12/dirty-dozen-climate-change-denial-04-tennessee-center-policy-research/

Reminds me of the Tobacco Industry propagandists who spent years and hundreds of millions of dollars trying to convince the American public that NO WAY did tobacco cause cancer or heart disease. NO WAY does dumping 24 BILLION TONS of carbon into the atmosphere yearly affect the weather.... Right-- have a cigar-and inhale deeply...

Wednesday, 09/01/2021