Latest
Get ready for Sylva Pride
Wednesday, September 06, 2023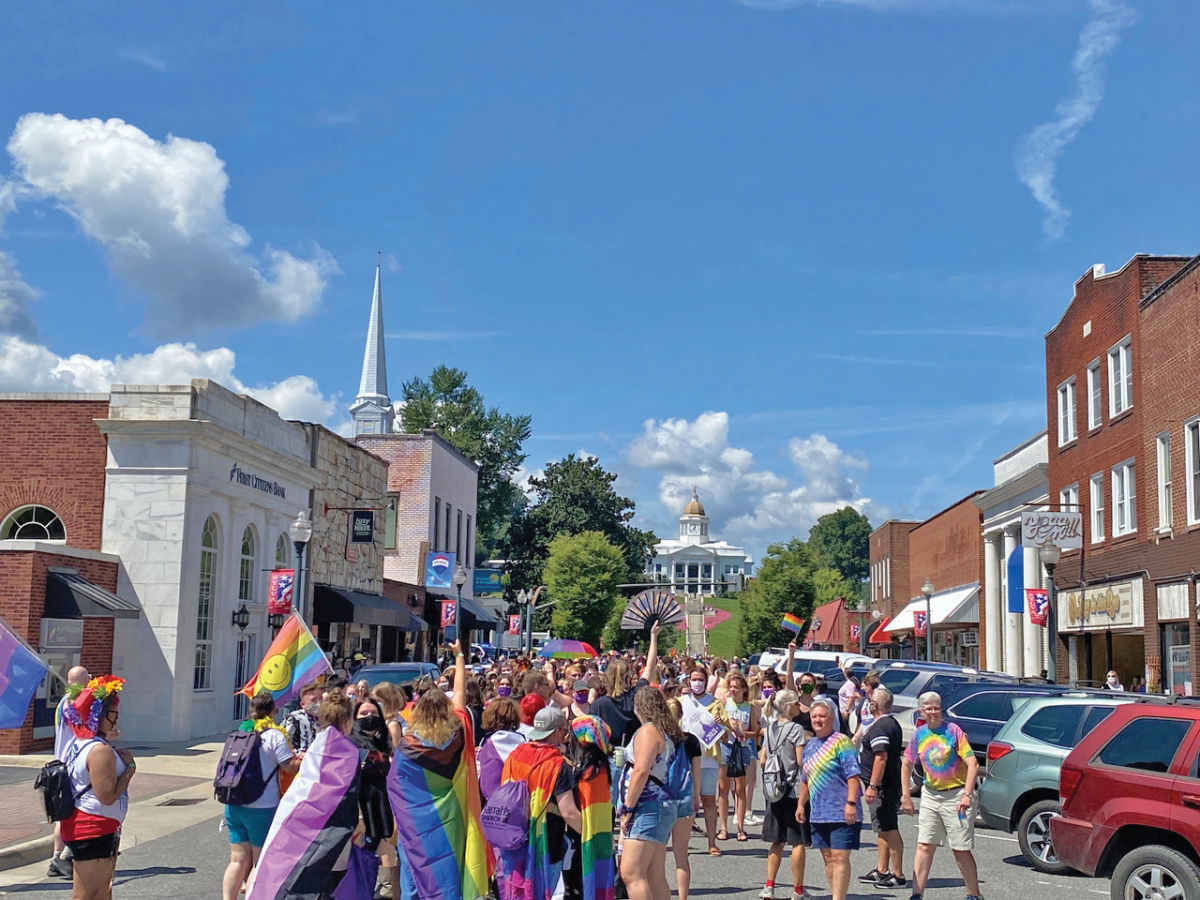 Participants march down Main Street during the inaugural Sylva Pride celebration. Hannah McLeod photo
The third annual Sylva Pride Festival will take place from 11 a.m. to 4 p.m. Saturday, Sept. 9, at Bridge Park in downtown Sylva.
There will be live music, food trucks, vendors, local LGBTQ+ resources, a pride parade through Main Street, a family-friendly drag show and more.
Live music will take place in Bridge Park from 11 a.m. to 12 p.m., followed by the Pride Parade 12-1 p.m. Another band will take the Bridge Park stage from 1:30 to 2:30 p.m., followed by the family-friendly drag show from 2:30 until 4 p.m. Another drag show will take place at 9 p.m. Saturday evening at Lazy Hiker in Sylva.
Attendees of Sylva Pride will also be able to access a new community resource. The Jackson County nonprofit Cornbread and Roses recently founded the Jackson County Rainbow Directory. This online resource, which can be accessed on CBR's website, is a guide for locals and visitors to the area looking for safe and LGBTQ+ allied spaces within Jackson County.
After Sylva Pride, the Rainbow Directory will be shared regularly across multiple social media platforms and newsletters year round. Participants with a physical location will be provided a free window decal and will be included on the Rainbow Directory's Google Map for easy locating.
When Sylva Pride hosted the first annual Pride celebration in September 2021, over 500 people, locals and visitors alike, flocked to downtown for the festivities. Since then, the event has only grown in attendance and support.
The Town of Sylva has a particularly active and connected LGBTQ+ community relative to other small towns in Western North Carolina. It is supported and held together by several grassroots groups like Sylva Pride, Sylva Belles Drag, the nonprofit Cornbread and Roses, as well as a multitude of supportive local businesses. These groups not only foster community for LGBTQ+ folks in Western North Carolina today, but also work alongside Blue Ridge Pride and the Western Carolina University LGBTQ archive to uncover and record stories and histories through its oral history project and archival collection.
Pride celebrations began in 1970 in New York, Los Angeles and Chicago on the one-year anniversary of the Stonewall Uprising. Thousands of people gathered, not only to commemorate Stonewall, but also to demonstrate for equal rights. Since then, the tradition has grown and flourished all over the United States.
"Pride is gathering here together in this space, in this moment to show love to ourselves and our community. It's giving voice and space to those who have felt the darkness or oppression that comes with our identities. It's not only belonging here but staking a claim that this town and that these mountains are ours too, that we can and will hold ourselves up high and be visible in this place," said organizer Travis Rountree at the inaugural Sylva Pride Celebration. "We walk in the street today in celebration, but also to acknowledge all those who came before us. Let's now move forward in tribute to them and in joyous and steadfast determination and celebration to show visibility and pride for our past present and future LGBTQ community members."
For more information visit sylvancpride.org, and for a full list of drag shows happening throughout Pride weekend, follow Sylva Belles Drag on Instagram and Facebook.