Latest
Charges dropped against Shining Rock parent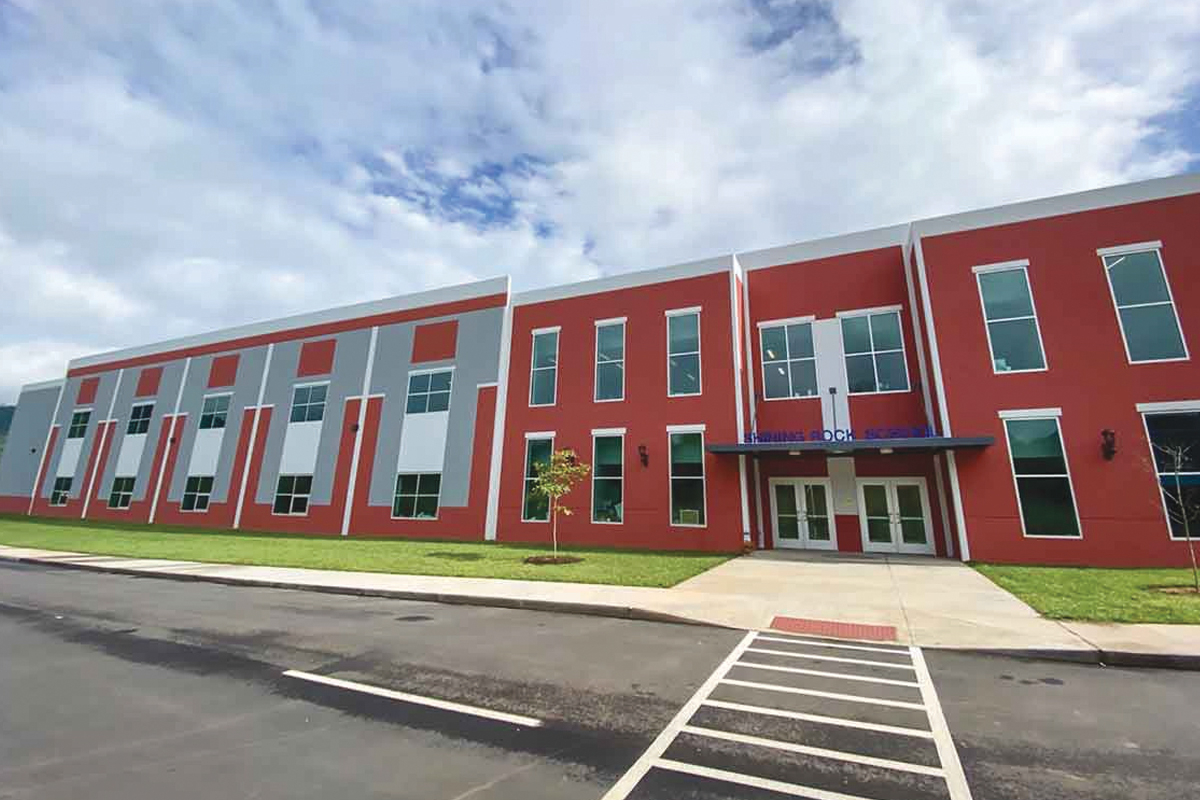 An SRCA parent accused of cyberstalking has had the charge dismissed. Hannah McLeod photo
A criminal charge against the Shining Rock Classical Academy parent accused of cyberstalking has been dismissed.
In March, SRCA pressed criminal charges against a school parent who had previously accused the school of abusive disciplinary tactics .
According to a Waynesville Police Department arrest report, Rebecca Fitzgibbon was charged with one count of cyberstalking, a misdemeanor. She was given a criminal summons and an arrest report on the morning of March 29, after dropping her child off at Shining Rock Classical Academy.
The arrest and incident reports listed the school as the location of the alleged crime. The documents also list one person as the victim of the alleged crime, a white male whose name and age were both redacted.
According to the summons, "the defendant unlawfully and willingly did electronically mail to Principal Joshua Morgan and other staff of Shining Rock Classical Academy repeatedly for the purpose of harassing Principal Joshua Morgan and other staff of Shining Rock Classical Academy."
The original court date was set for April 24. In court, Fitzgibbon made a motion for the Assistant District Attorney to dismiss the charges against her. A trial date was set for July 19, at which time the case was dismissed.
In March, Head of School Joshua Morgan restricted Fitzgibbon's access to SRCA's campus.
On March 22, Morgan sent an email asking Fitzgibbon to "demonstrate self-control and refrain from digitally harassing the staff of SRCA." The email went on to say, "additionally, disruptive conduct on school grounds or events will result in a restriction of your access to SRCA campus and events, prohibiting presence on campus, charges of trespass, or all of the above."
Two days later Morgan notified Fitzgibbon that her access to campus was officially restricted.
"Your actions since this email was [sic] delivered by continually weaponizing our email platform to harass the staff of SRCA demonstrate a complete disregard to these expectations," he wrote. "As such, your access to the campus is now restricted. You may drop and pick-up your child on campus, with the understanding that you will remain in your car."
"Any action, including but not limited to entering an SRCA building, loitering on campus, or attending an SRCA sponsored academic/ athletic event will result in charges of trespass," it went on to say. "You are now being told to not email any SRCA accounts as legal relief is already being sought for present conduct."
Morgan concluded by telling Fitzgibbon that any correspondence that she needed to make with staff of SRCA could be made in writing with delivery conducted by her child to the front desk.
"There are no reasons that I should have been threatened and intimidated by Morgan, banned from the campus and followed out by a police officer. He abuses his power and has done so many times in the past to other people as well," said Fitzgibbon.
Just a few days after being restricted from campus, Fitzgibbon was given the criminal summons and arrest report. Fitzgibbon has claimed that she was emailing the school to obtain academic information and records regarding her son and to request a parent/ teacher conference.
"I don't believe the complaint is true," Fitzgibbon told the Smoky Mountain News in April. "I did email Mr. Morgan and staff a handful of times to ask for records that I have been denied for almost a year now."
Ultimately, Fitzgibbon decided to remove her child from the school.
"The SRCA board and Morgan have painted a false narrative about us. We have been pushed out of what was our school community, and it has been incredibly stressful and sad for my entire family," said Fitzgibbon.