Archived News
Pactiv Evergreen will begin to mail out WARN notices tomorrow
Wednesday, March 22, 2023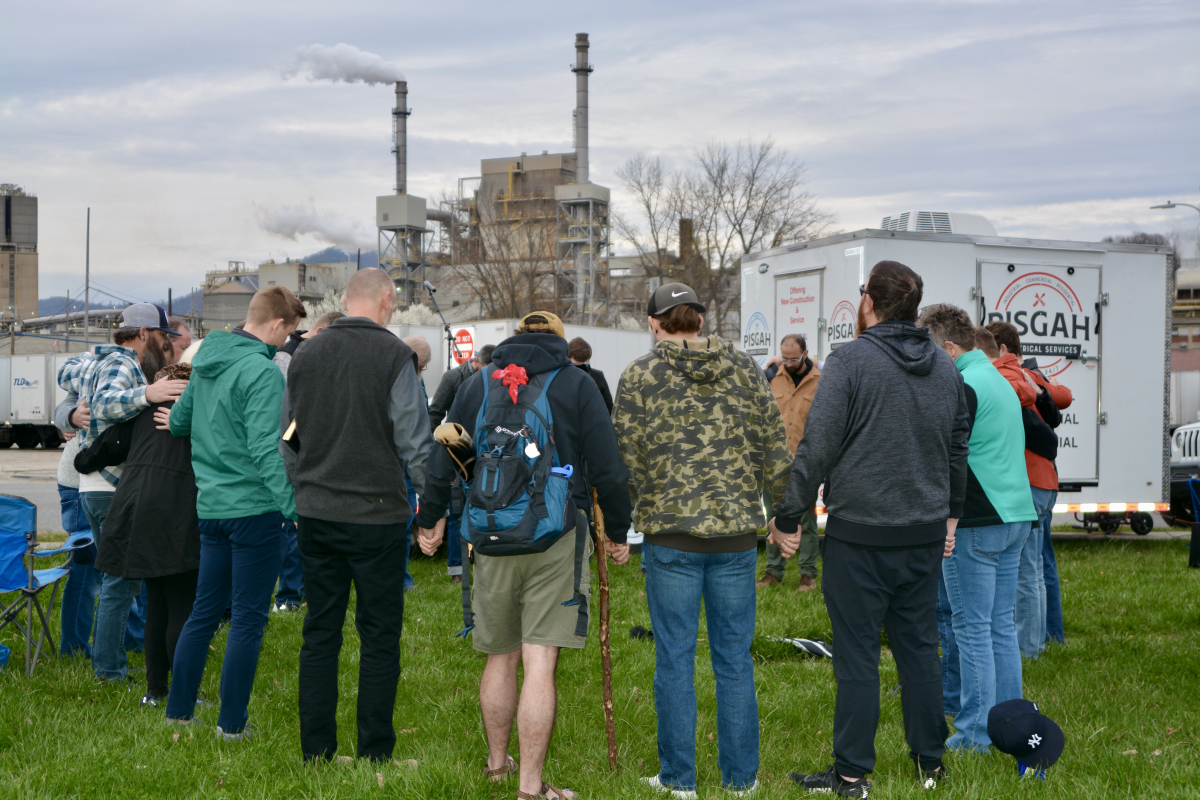 A prayer circle forms during a vigil held for workers in Canton on March 9.
Cory Vaillancourt photo
A March 21 letter from the general manager of Pactiv Evergreen's Canton and Waynesville operations, John McCarthy, says the company will start mailing out mandated WARN notices to workers beginning on Thursday, March 23.
"The advance notice is intended to give workers and their families transition time to adjust to the prospective loss of employment, to seek and to obtain other employment, and if necessary, to enter skill training or retraining programs that would allow these workers to successfully compete in the job market," McCarthy said.
The Worker Adjustment and Retraining Notification (WARN) Act of 1988 is a federal law that requires a company to provide at least 60 days' notice of mass layoffs. McCarthy's letter says the notices will be provided in advance of the 60-day window because the earliest release date for any employee will be June 9.
The letters will contain each individual employee's last date of employment. Employees who do not receive the notices by March 30 are asked to call the company's human resources department at 828.492.6057.
The letter also contains resources for transitional support of workers.
The human resources department will hold open office hours at the old post office building from 1:30-5 p.m. on Tuesdays, 7:30 a.m. to noon on Thursdays and 11 a.m. to 3 p.m. on Fridays.
Rapid response orientation events will take place at the old post office on April 13 and 14 at 6 a.m., 7 a.m. and 8 a.m. and at 3 p.m., 4 p.m., 5 p.m. and 6 p.m. These meetings are intended to help workers assemble information about current skills, career interests and services intended to help them return to work.
A financial planner will also be on hand to answer questions about retirement, loans and 401k plans.
A job fair, jointly presented by Pactiv Evergreen and NCWorks, will be held on May 4 and May 5 at Haywood Community College, from 7-11 a.m. and 2-7 p.m. For more information, contact Will Norman at 828.492.6134 or This email address is being protected from spambots. You need JavaScript enabled to view it. to schedule a session. Or, sign up at tinyurl.com/401Ksignup1.
Leave a comment
1

comment
Many workers want to transfer to other Pactiv Evergreen plants across the country but aren't getting the support from local leaders at Pactiv to encourage this. Pactiv leadership here should be reaching out to all of the Pactiv Evergreen plants to see if any and/or all of these facilities can accommodate some of the displaced workers. That's very common with other companies that have gone through shut downs like this. Get with it Pactiv!

Wednesday, 03/22/2023