Archived News
2022: A Look Back
Wednesday, December 28, 2022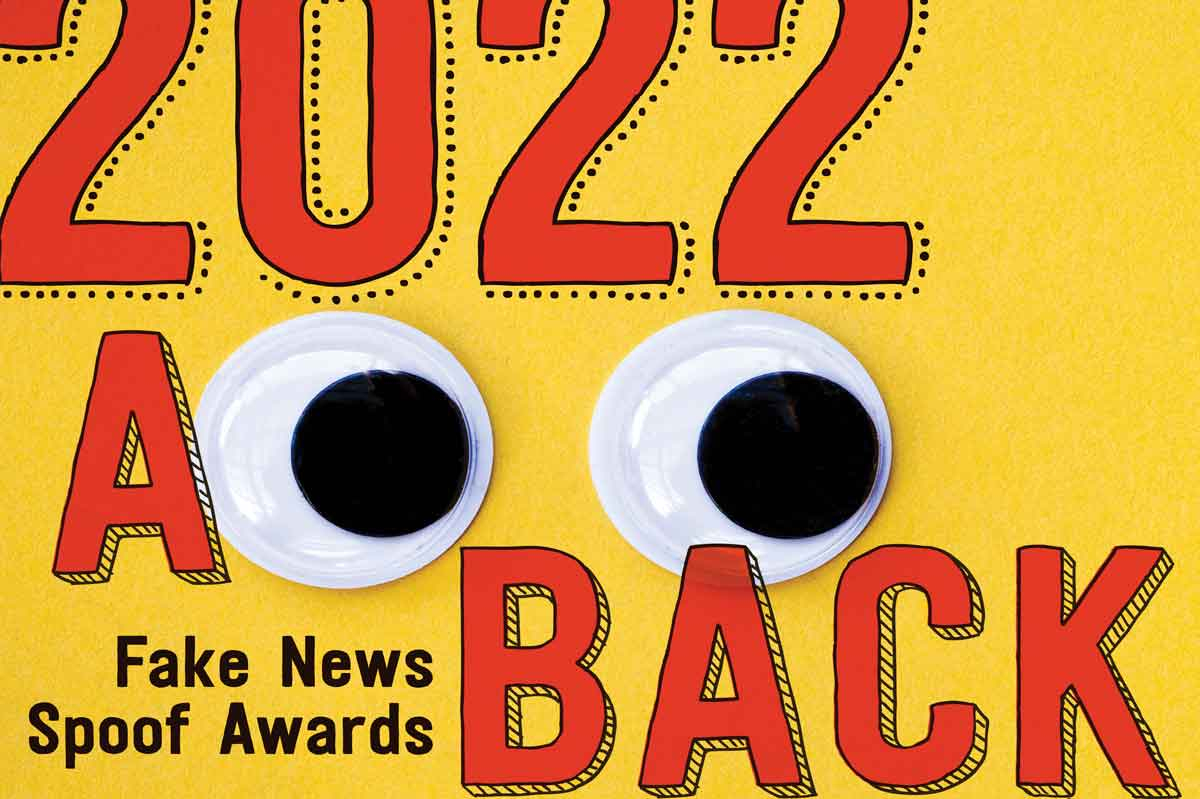 The year 2022 was no 2020. But hey, that's a good thing. In some ways the year seems less exciting than the pandemic years that preceded it, but when you take a step back and look at all that happened, it's striking how consequential this trip around the sun may have been.
From an election that brought Democratic upsets nationwide and a regional red wave to a developing trend bringing increasingly ludicrous misinformation to the mainstream, there's plenty to talk about. Join Smoky Mountain News as we dive into the most consequential and absurd stories we had the pleasure of printing for you in 2022.
A puppet show presented by Monroe Miller (top) and featuring Republican Haywood County Commissioner Terry Ramey will likely be an entertaining one, for as long as it lasts. Andy Bailey illustration
Howdy Doody Award
In the November General Election, Haywood County's lowest-information voters elected a county commissioner who's decadelong, Napoleonesque lust for power led him not only to change parties from Democrat to Republican but also led him to run unsuccessfully in three previous elections.
This year, three-time loser Terry Ramey finally made it, despite being a tax cheat with a history of failed businesses and unpaid bills. Now, Ramey sits on a Republican-dominated commission and makes decisions about taxpayer money while still owing thousands in back taxes to the county, with some bills dating back nearly a full decade.
When interviewed by The Smoky Mountain News in September, Ramey disputed the bills but said he'd pay them if they were valid. Ramey also repeatedly threatened SMN for reporting on the delinquencies.
After a thorough county review, the bills were found to be valid, but as of press time Ramey still hasn't paid them, making his word about as good as his credit rating.
The man pulling Ramey's puppet strings, Monroe Miller, is a wannabe watchdog who spreads misinformation and makes sometimes vicious personal attacks on elected officials and municipal administrators. Miller now cavorts with a group of concerned simpletons who literally use the complicated electronic transmission mechanisms of the internet — partially pioneered by Miller's namesake inventor father — to rant about how they "don't trust science."
Such is Miller's reputation that he's known among local politicos as the Pillsbury Dough Boy because he's soft, pudgy and white on the outside, but not fully baked on the inside.
Most recently, Miller has claimed without evidence and Ramey has parroted in unison that county officials embezzled, misappropriated, hid or otherwise stole $6 million in a property deal, earning Miller another nickname, the "Six Million Dollar Man."
Over the next four years, the antics of Howdy Doody and his Pillsbury puppet master will take center stage amid an otherwise quiet, effective, efficient and sane county commission — so congrats and welcome to The Show, Commissioner Ramey. This is what you've been asking for, all these years. Now dance for us! Dance!
Haywood County clogger Zeb Ross became a social media sensation in 2022. Wayne Ebinger photo
The Z-3 Award
This past year was a good one for anyone named Zeb — or at least three Haywood County natives bearing the uncommon biblical moniker.
Zeb Powell, a goofy-foot snowboarder from Waynesville, has continued to bolster his reputation as one of the most talented, aggressive athletes in competition today. After winning the X Games Knuckle Huck in 2020, Powell placed a disappointing fourth in this year's competition, but he hasn't let that stop him from scrambling to the top of the professional snowboarding world.
Zeb Ross, a J. Creek Clogger from Canton, has brought international attention to a unique dancing style that originated in Maggie Valley. Ross, a powder press operator, inadvertently shot to internet fame when viral videos of him dancing, set to hip-hop, country and bluegrass tracks, garnered millions of views, culminating with an appearance at the Country Music Association awards with Peyton Manning and Luke Bryan.
Zeb Smathers, also of Canton, serves as the town's mayor and spent the second half of 2021 helping to manage the complicated federal cleanup effort after deadly flooding killed six and laid waste to Canton's downtown, including most town facilities, for the second time in 17 years. Since then, Smathers, along with his elected board and staff, have bolstered Canton's reputation as "the little town that won't stay down" by focusing on rebuilding and resiliency.
Well done, Zebs!
I Told You So Award
Darris Moody, of Haywood County, appears to have led a relatively quiet, normal life until at some point during the past few years she became radicalized by internet nonsense spewed forth by the so-called "sovereign citizens movement."
After a Smoky Mountain News investigation in August outed her as the person behind a series of threats to local elected officials and public figures, Moody was taken into custody and arraigned on 58 counts of interstate communicating threats and one count of conspiracy to kidnap.
Against her initial inclination Moody retained one of the best criminal defense attorneys in the region, Sean Devereux, and begged for bond at her preliminary appearance before Judge Carleton Metcalf.
Metcalf carefully weighed Devereux's arguments against those of government prosecutors, who wanted Moody held pending trial. Moody promised that if she was freed, she would comply with the court's orders to appear for trial-related proceedings, despite repeatedly and unabashedly regurgitating the core tenet of the sovereign citizens movement — that the government of the United States and its legal system are illegitimate and have no jurisdiction over her.
In the end, Metcalf released Moody on bond, calling it a difficult decision.
When Moody's next hearing came about, just four weeks later, she failed to show and was taken back into custody by the FBI later that day.
Pictured here on election night, Madison Cawthorn (center) has finally fallen back to earth. Jeffrey Delannoy photo
The Icarus Award
The literature of classical antiquity is littered with tragicomic antiheroes who experience a devastating fall from grace commensurate with the scope and scale of their ascension to power and fame. Contemporary figures sometimes emulate this model; witness one Madison Cawthorn, who in late 2019 was touted as a rising star in the Republican Party.
Cawthorn came out of nowhere to win a crowded congressional primary in 2020, and then handily defeated an eminently qualified Democratic opponent to claim the seat vacated by former Rep. Mark Meadows. Unrestrained by the bounds of modern political discourse, Cawthorn embarked on an epic journey to the highest heights of national notoriety with his weekly screeds, of which there are too many to list here.
But like the fabled Icarus of old, Cawthorn refused to heed the warnings of, well, anyone, as he took flight on gossamer wings held fast by naught but beeswax.
This past spring, a series of scandals including an ill-timed district swap, poor attendance, weak constituent services, racy photos, airport gun gaffes, traffic infractions, a crypto pump-and-dump scheme and a graphic video that can't be unseen all conspired to weaken those wings, even as he attempted to fly ever higher.
Eventually, after getting too close to the sun, they melted — with quite a bit of help from fellow Republicans, including Hendersonville Sen. Chuck "Et tu, Brute?" Edwards, who snuck past Cawthorn in the Republican primary, leaving Cawthorn to rapidly plummet back to earth for the final seven months of his sole term as Western North Carolina's congressman, with only the wings of a lame duck.
You're Not the Boss of Me Award
Haywood Republican Rep. Mark Pless is one of the most honest, straightforward members of the local body politic, which isn't always the most diplomatic approach. Earlier this year Pless, who's known for voicing his opinion without regard to whom it may agitate (at any point on the political spectrum) found himself embroiled in a series of back-to-back barn-burners that drew scorn from across the aisle and across the county.
In May, Pless introduced a bill that would make all Haywood County elections, including municipalities and the school board, partisan. That bill was news to many local elected officials, and drew immediate opposition from an overwhelming majority of the governing bodies involved, with some even passing resolutions condemning the bill.
A few weeks later, Pless introduced another controversial bill that proposed stripping municipalities of their ability to regulate land use on parcels adjacent to and outside of town limits.
This, too, was met with substantial opposition by local officials who said they hadn't been consulted. "They're having a hard time understanding that I don't answer to them," Pless told The Smoky Mountain News. "They're not my boss."
Neither bill ended up going anywhere, but with Pless' dominant performance in this past November's General Election, the bills could come up again.
Close the Gate Award
Since time immemorial, Western North Carolina has been a sparsely settled, out-of-the-way kind of place where nothing much of note ever happened, and people seemed to like it that way just fine. But amid the inevitable national population growth due to natural increase, the area's unique environmental assets and Asheville's prohibitively expensive housing market, Haywood County's local governments have increasingly been butting up against residents who are none too happy to see things change.
That some of these residents are refugees from inferior American states — there, we said it — makes the opposition particularly ironic.
Back in 2018, Waynesville's then-Mayor Gavin Brown uttered some prophetic words after his board chambers were packed with people opposing a badly-needed housing development. "It's like some of you from Florida or Texas got here and decided to close the gate behind you," Brown said. Since then, unprecedented development in and around Waynesville has brought increasingly hostile proceedings and out-of-control planning board meetings marked by NIMBYs (Not In My Backyard) who, with a straight face, vigorously assert their own property rights while simultaneously discounting the property rights of others who choose to sell, develop or build upon their own properties in accordance with state and local laws.
With all this in mind, the "Close the Gate" award goes to all the hypocrites who, if they get their way, will soon have to deal with a stagnant tax base and crippling worker shortage because they're the only ones who will be able to afford to live inside the fences they've built around themselves.
Lime dust covers a windshield near High Street in Canton around Aug. 11. NCDAQ photo
White Christmas Award
Christmas comes year-round for Evergreen Packaging, which wins this award for the white flakes Canton residents have found covering their cars and homes over the past year.
The trouble began in late September 2021, when the N.C. Department of Environmental Quality office in Asheville received 29 complaints from residents who woke to a mysterious white dust covering their cars. The complaints resurfaced in August — twice — and again in September and October, with the issue still not resolved.
The dust is believed to be lime dust, and in one case limestone dust, which while unhealthy to breathe at high concentrations is not considered a toxic substance. However, residents are concerned about the ongoing issue — from the standpoint of health as well as from a practical desire to not have to wash their cars every day. In public documents, Evergreen told DEQ that many of the dust issues were related to problems with filter cartridges. Due to supply chain issues, the mill has had difficulty getting cartridges from its preferred manufacturer and keeping an optimal number of spares on hand. However, the cause of more recent dusting issues remains unknown.
The mill has battled other environmental issues too, logging a total of nine notices of violation between May 2021 and November 2022. Four are related to dust issues. Others stem from a May 2021 turpentine dump, a tall oil soap leak that caused in a fish kill on the Pigeon River and a groundwater seep discharging "black liquor" to the river.
The mill is a critical part of Haywood County's economy, employing 1,140 people with competitive pay rates and benefit packages. Though it has drastically improved its environmental impact over the years, the mill still earns criticism from people concerned about its effect on air and water, both of which are vital to the county's tourism industry. Residents are left hoping that the artificial snow season in Canton wraps up soon.
The Wait for it Award
We're told that the new Pisgah-Nantahala Forest Management Plan should be out any day now, but we've heard that a lot over the past 10 years. In November 2014, the final plan was expected in August 2016. In August 2016, it was to be out by December 2017. And in December 2017 … you get the idea.
In all fairness though, planning the next 20 years for the 1-million-acre forest has been no small task. The U.S. Forest Service held dozens of meetings, published several interim planning documents and received 36,000 comments on the final plan — and then held meetings to consider 891 objections to that document. Now, Deputy Regional Forester Rick Lint is working with his staff to craft a written response to these objections which may include instructions for changes to the final plan. Forest Supervisor James Melonas must incorporate these changes and sign the plan for it to go into effect.
Initial stakeholder meetings for the plan were held in 2012, and the decade since has featured stark disagreement from people and groups with opposing points of view as to how the forest should be managed. Through most of the process, the main tension has been, on one side, with groups who want to see more young forest — and therefore, more logging — in order to benefit wildlife species who rely on this scarce habitat. On the other side are groups who want to see more protections for pristine habitat — and therefore, less logging — to benefit wildlife habitat and recreation values.
Early in the process, these disagreements were often sharp and angry, but as the years went by representatives of these groups began working to hash out compromises everyone could live with. The most notable of these collaborative groups was the Nantahala Pisgah Forest Partnership, whose more than 20 member organizations met for nearly a decade to hammer out a proposal that all those diverse interests could support. Many in the Partnership were disappointed to see that some of these solutions were not incorporated in the final plan.
While the final plan should go into effect soon, if history is any teacher the process could continue for years after that. When the last plan was signed in 1987, multiple environmental groups sued over aspects of the plan they did not believe adequately protected forest resources, and those questions weren't resolved until new amendments were added to the plan seven years later in 1994.
We're still waiting for it, but the waiting might not end with the stroke of Melonas' pen.
Officials from the EBCI and City of Danville break ground on the $650 million casino project Aug. 11. EBCI photo
The Aesop Award
This one goes to the Eastern Band of Cherokee Indians, which like the ant in the well-known fable has been busily storing away the proverbial grain as it anticipates a coming winter of casino profits.
In its 25 years of growth and operation, the tribe's casinos in Cherokee and Murphy have churned out unprecedented profits, funding about half of its $735.2 million 2023 budget plus roughly $16,000 in annual payments to each tribal member. But increased competition is now a certainty, and the tribe is working to ensure that new and planned casinos in the Southeastern region won't destroy its bottom line.
Since the tribe created its first LLC in 2018, this new business activity has taken off, and 2022 has been an especially busy year. Investments in 2022 involving the tribe or one of its business arms include closing on several buildings in downtown Waynesville, including the Southern Concrete property; starting production for a new medical cannabis enterprise with more than $80 million in startup funding; breaking ground on a $650 million casino project in Danville, Virginia; allocating $39 million for a hotel at Sequoyah National Golf Course; breaking ground on a $55 million horse racing track in Kentucky; starting a $275 million expansion to the Valley River Casino in Murphy and approving $75 million for a project with the French amusement park company Puy du Fou on the tribe's 200-acre property in Sevier County.
"We can't sit back and play defense or wait to see what happens," Principal Chief Richard Sneed said in announcing the groundbreaking for the casino in Virginia. "We have to be very proactive. And it's just good business sense, to diversify and be a participant in those emerging markets."
The tribe has been writing some big checks lately, but its leaders believe those investments will pay off later. When winter comes, the EBCI hopes to have not only a stockpile of grain, but system in place to keep the produce coming — regardless of the weather.
The "Grit and Grace" award was inspired by a song title from beloved local bluegrass group Balsam Range. David Simchock Photography
Grit and Grace Award
This award, which borrows the words of Haywood County's hometown band Balsam Range, goes to the farmers of Western North Carolina who have battled floods, drought, untimely frosts and catastrophic inflation to continue producing the fresh fruits, vegetables and meats that the world relies on for survival.
Farmers in Canton and Bethel have had an especially hard time, battling all these elements even as they work to recover from last year's devastating flood. The aftereffects of a major flood can last for years as farmers deal with contaminated and eroded soil, out-of-whack nutrient and pH balances and weeds whose seeds the floodwaters have scattered in their fields.
Weathering the storm has always been part of farming, but it's hard to fight a multi-front war. Gary Griffith, a Bethel farmer who was one of the worst hit in the 2021 flood, said in an August interview that costs like seed, fertilizer and labor have "at least doubled" compared to last year, but revenues haven't kept pace.
"We're still on five-year-ago prices," he said.
According 2017 numbers from the U.S. Department of Agriculture, the average American farmer is 57.5 years old, a figure that's risen steadily in recent decades. However, the average age at which people start needing to eat food hasn't budged.
Nevertheless, WNC's farmers keep pushing on, which explains the grit part of the award. And the grace part? That's in the generous hearts and community-minded spirit that defines this region's agricultural community.
Daddy Warbucks Award
For the past three years, since the sale of Mission Health, Dogwood Health Trust has been doling out substantial grants tailored to improve the health and wellbeing of North Carolina's 18 westernmost counties and the Qualla Boundary. This year, that money made a big difference in the lives of public school students in WNC. Between grants to expand preschool education in Jackson County and secure free lunch for all elementary children in Swain County, there was the opening of the new nursing school building on the campus of Haywood Community College with the best high-tech learning equipment thanks to a grant from the trust.
It's not only students who have reaped the benefits of Daddy Warbucks' deep pockets though; in 2022, the trust put money toward affordable housing in the region, the Center for Native Health, Center for Domestic Peace and countless other organizations.
Silver Jubilee Award
The Silver Jubilee marks 25 years of reign for a monarch. What better award to celebrate the long-time commitment of Vickie Best to the Town of Maggie Valley? Best has worked for the town for 26 years. During that time, she has spent 23 years as town clerk, two years as administrative assistant, was named interim Town Manager after the departure of Nathan Clark earlier this year, and was hired as town manager in December. Maggie Valley will surely benefit from the lengthy experience Best has with the town. Cheers to 26 years and counting!
Pre-K Queens Award
Jackson County Schools Superintendent Dr. Dana Ayers and Elementary Education Director Laura Dills have been named Smoky Mountain News' Pre-K Queens of 2022. These two leaders in Education successfully doubled Jackson County Schools' pre-K capacity with new classrooms at Blue Ridge School, Cullowhee Valley, Scotts Creek and Fairview schools. The women don't appear to be slowing down any time soon either, in December the district announced it would be opening another preschool classroom at Smoky Mountain Elementary School in Whittier.
Ayers is currently in her second year as Superintendent of Jackson County Schools and has been working to expand early childhood education in the district since the very beginning. While some may have balked at the notion of universal preschool for Jackson County students when Ayers first arrived, with capacity already doubled and still growing, her goal is now that much more within reach.
Plans for the new Franklin High School. LS3P photo
'Try it on my own' Award
Whitney said, "I am not afraid to try it on my own, I don't care if I'm right or wrong, I'll live my life the way I feel, no matter what I'll keep it real, you know, time for me to do it on my own."
Perhaps those were the words Macon County voters were hearing when they decided to vote no on the quarter-cent sales tax referendum, all the proceeds of which would have gone toward building a new Franklin High School. Rather than raking in a quarter of a cent on every dollar sold in Macon County, to both residents and visitors alike, voters decided that, for now, they'd like to make a go at funding the entire project all on their own — likely footing the bill with increased property taxes.
Planning began this year for a new high school. The project is desperately needed, not only because the buildings are so old, but also because of the challenges faced by those with disabilities in accessing different areas of the campus. The project will cost the county over $100 million.
Chancellor Kelli R. Brown speaks to the crowd gathered Oct. 21 to cut the ribbon on the new steam plant. WCU photo
The Steam Plant Emeritus Award
This one goes to what is perhaps the longest-serving member of the Western Carolina University community — its steam plant.
Completed in 1924, its original boiler came to campus behind a large team of oxen. The oldest one still in use was installed in 1966, when Lyndon B. Johnson was president and Dr. Seuss's "How the Grinch Stole Christmas" aired for the first time.
These are the kinds of facts former Chancellor David O. Belcher used to tell state leaders visiting campus as he campaigned for the necessary funding to replace the aging structure. Each year as the weather got cold, facility operators would cross their fingers and hope the old machines would make it through another winter. Failure would mean shutting down campus and sending students home.
WCU finally got the first half of its funding to replace the steam plant in 2018, with the second installment of $16.5 million included in the 2020 budget. This October, about 100 people gathered on campus to celebrate the grand opening of a new, state-of-the-art steam plant adjacent to the original building, which will house a lobby, administrative offices and display space for old plant equipment. The university plans to run off the new plant starting Jan. 3.
While the steam plant originally ran on coal, it's been using natural gas since 2006. The new plant will also rely on natural gas, with No. 2 fuel oil as a backup source. Though the new plant's capacity of 110,000 pounds per hour is similar to the current output of 107,000 pounds per hour, the new facility will be much more efficient and reliable, running 90% efficient at full capacity compared to the old facility's 50% efficiency at full capacity.
It's well past time for the old plant to retire. But its long career of service is surely sufficient to earn the emeritus title.
Swain County women's track and field team wins 1A State Championship. Marsha Hicks photo
'Put a ring on it' Award
Amaya Hicks, Swain County High School senior and captain of the women's cross country, basketball, indoor and outdoor track teams, came before the Swain County Board of Education on Sept. 12 with a unique, albeit impressive problem. She and her peers had won so many state championships over the last several seasons that the teams were having trouble raising enough money for the state championship rings.
In June of 2021, Swain County's women's track team won the 1A Track and Field State Championship. That fall, the women's cross country team won the 1A Cross Country State Championship. In February of 2022, the women's indoor track team won the Indoor Track and Field Championship in the 1A/2A division. This May, the women's track and field team again won the 1A Track and Field State Championship. Consecutive state titles by the cross country, indoor track and outdoor track teams is known as the "triple crown." This is the first time a 1A school in North Carolina has accomplished this feat.
Not only are Swain County runners winning championships at a record pace, Hicks eloquently and unabashedly took the team's issue before the school board to ask for greater equality between sports teams within the school system and assistance in fundraising the money needed for all their championship rings.
If at first you don't succeed Award
If at first you don't succeed, try, try again. That's just what the Jackson County Board of Elections did when it realized a v ote counting mistake had been made on Election Day this November with 523 mail-in ballots counted twice. Thanks to the audit that takes place between Election Day and canvass, the board of elections had found the mistake and accounted for it early on the morning following Election Day.
Not only did the board of elections correct its mistake, it held a public meeting to explain, in detail, exactly what had occurred so that members of the public were crystal clear on the outcome of local elections. At a time of widespread misinformation surrounding voter fraud and lack of confidence in the system, this boots-on-the-ground communication from a local board of election was paramount in dispelling any doubts following Election Day.
Gumming Up the Works Award
Plenty of people complain about the state of the justice system, often repeating the old cliché that the courthouse is a "revolving door."
But many don't understand that while some of the issues plaguing the courts in Western North Carolina may be a result of policies such as Haywood County's pretrial release pilot program, the bigger issues are the lack of resources and the sheer size and geography of the 30th Judicial District, which covers the state's seven westernmost counties.
When SMN interviewed 45 people — including attorneys, judges, clerks and prosecutors — most people agreed three things were needed: more judges to hear the region's increasing number of criminal cases; splitting the judicial district to allow judges a much easier commute; and opening a public defender office to handle the large workload providing counsel for indigent defendants.
Some even called the state of the system a "constitutional crisis" that is not affording people their right to counsel.
Of course, none of those solutions were seriously considered in 2022 by those who warm the seats in Raleigh's legislative chambers, despite some rumblings that a new judge or two might find its way into the budget.
There was plenty of he said/she said while conducting these interviews, but at the end of the day, many people pointed to District Attorney Ashley Welch as clumsily playing politics to tank the opportunity to split the district and add new judges. Some opined that Welch's alleged lobbying was an effort to prevent her prosecutorial district from shrinking in the future. When asked about a bill he'd put forward to do just that, Rep. Mike Clampitt told SMN he'd offered her an assurance that she would maintain her broader constituency.
"I reviewed with [Welch] the plan that I had with the bill information and assured her there was no jeopardy to her prosecutorial district," Clampitt said.
While Sen. Kevin Corbin and several representatives said firmly that Welch never pressured them one way or the other on the issue, the truth may ultimately lie with N.C. House Speaker Tim Moore, who multiple sources said got the bill killed in committee. Despite several calls over several weeks, Moore refused to explain to SMN his rationale for allowing WNC courts to continue to struggle.
In some counties like Haywood and Jackson, things may actually be improving as many have noted the backlog is easing. However, in the far western counties, people talk about a situation that gets worse every day, and the forecast isn't creating much optimism.
Will the state consider giving more resources to the region's courts in 2023? Your guess is as good as ours.
Red Wave Award
Demographic trends point to the fact that Republicans in North Carolina may lose ground in the next few years, but boy do they have some huge victories to celebrate in the meantime.
Sure, Bo Hines — widely renowned as a lamentably inexperienced frat bro similar to our own Madison Cawthorn — lost his election and there were a few other losses the GOP wishes it could get back, but when it comes to the courts, the victories stacked up faster than rush hour traffic on I-26.
The GOP swept both the Court of Appeals and the N.C. Supreme Court in both 2020 and 2022.
The effort was a culmination of a strategy that has taken years to play out and included having judicial candidates speak at more events while putting them on GOP slate cards statewide. Their likenesses even appeared on the bus former Rep. Mark Walker once used in his failed Senate run.
"We were six-for-six between Supreme Court and Court of Appeals, and we're 14-for-14 over the last two cycles," N.C. GOP Chair Michael Whatley said.
The consequences of this Republican sweep may be vast. Coming before the court in the near future may be cases involving abortion restrictions, congressional maps and the balance of power in Raleigh.
Perhaps most consequential, the court, which has been seen as increasingly partisan as the Democratic majority delivered several key rulings down party lines, may be facing a crisis of perception, which can lead to a crisis of trust. So, the question is, will the Supreme Court confirm our worst suspicions, or will the justices put party behind them to uphold the law as they see fit?
David Crane offers opening statements during the prosecution of warlord Charles Taylor. Donated photo
The Little Engine that Could Award
If you met David Crane and didn't know he was, you'd probably think he was ridiculous. By God, you might tell yourself, this man is telling me he's going to prosecute Vladimir Putin for war crimes.
But if you dig a bit deeper, you might just believe him. After all, this isn't Crane's first rodeo.
Following Charles Taylor's years of terror committing war crimes in Sierra Leone from the late 1990s through the early 2000s, Crane was able to successfully prosecute the Liberian dictator on war crimes charges in an international tribunal. Should Taylor get the chance to read this spoof award, he'll do so from a cell in a North England prison.
After the Russian invasion of Ukraine on Feb. 24, it became clear that Putin's soldiers were committing atrocity after atrocity in hopes that their war would end in a quick victory. But Ukrainian President Volodymyr Zelenskyy and his military had different plans. As the war raged on and Russia took more losses, the atrocities worsened and became more frequent.
Earlier this year, Crane's group, The Global Accountability Network, published a 276-page white paper making their case for prosecuting Putin.
The road to prosecution is long, and the feckless public may not have the attention span to follow the prolonged process. But as the New York Times editorial board noted, it's worth it.
"Even if the process is difficult and stretches into months and years, it is important that history be left a forensic, credible, verified and judicially processed record of the specific crimes in Ukraine," one editorial reads. "Those responsible should be named, their actions specified, and if at all possible, the guilty should be locked away."
Since Crane spoke with SMN almost a year ago, his group has release more white papers, he's received some international press highlighting his efforts, and he's even been sanctioned by Russia. But as long and potentially daunting as the task may be, Crane still feels like this is a fight worth having, and one he thinks he can win.
After all, he's done it before.
"We held Charles Taylor accountable, and that's what'll happen to Putin," Crane said.
After much back and forth, 2022's Haywood County Clash rivalry football game was played where is was scheduled all along. A Shot from Above Aerial Photography
Think About the Kids Award
Folks who grow up in Haywood County seem to be hardwired to take a side from birth — you gonna go with The Hill or the Mill, The Big T or the Big P, the Mountaineers or the Black Bears?
With that comes a strong sense of community, but also a strong sense of rivalry, a desire to do what's needed to gain an advantage. This is especially true of the annual County Clash football game, which pits Tuscola's and Pisgah's football teams against each other in what is one of the nation's finest rivalries.
In past years, the game itself has been intense, and no doubt there have been some pranks and no shortage of trash talking.
This year, however, brought a new level of gamesmanship as the two schools' administrations jockeyed last-minute to see where the game might be held, leading fans on a rollercoaster that ultimately ended with things, of course, exactly as they'd planned been all along.
While Pisgah should have hosted the game, because of extensive damage to its stadium and field, it was to play as the "home team" at Tuscola's C.E. Weatherby stadium. In the week before the game, people took to Facebook to say it would be played at Bethel Middle School and that it was a done deal. While the maximum occupancy of the middle school football field may not be known, it's fair to say it's several times smaller than Weatherby.
A number of different potential reasons for the shocking move was provided, but God's honest truth seems to have been withheld. At the end of the day, the adults decided to cut the games and just play the thing at Weatherby, although there's also a chance that was mostly due to the fire marshal and law enforcement strongly opposing the move as they identified the logistical nightmares it would pose.
Either way, once the players hit the field, the drama seemed to subside and the community enjoyed what it'd hoped for all along — a close, hard-fought game. The headline at the end of the day was that Tuscola was finally able to put an end to Pisgah's decade-long win streak with a narrow 35-34 win.
After much lobbying from groups on each side of the issue, the town of Highlands passed an ordinance limiting short term rentals. File photo
This Land is My Land Award
Highlands is happenin,' and whatever secret surrounding its status as a fantastic destination for affluent out-of-towners may have once existed is dead now.
As the town arrived on people's radars from Atlanta up to Altoona and all the way down to Alachua, the demand for accommodations skyrocketed. There to meet that demand was the huge number of property owners with second or third homes in Highlands and the surrounding area. And as the number of vacation rentals rose, so too did the backlash.
Two community groups arose, one advocating for the rights of property owners who make a good deal of money renting out their vacation homes and one advocating for the rights of those who don't want to see their playground become everyone else's.
Meanwhile, people employed in Highlands can't even come close to affording a place up there among those who have the privilege and typically commute from other towns, such as Franklin, which is over a half-hour away.
"It's a real problem for the workforce in Western North Carolina and throughout the country," said Highlands Mayor Patrick Taylor. "[The town has] 70 employees and only maybe three live in the town limits."
The debacle in Highlands began last August when the town started hearing complaints from some residents that there were too many short-term rentals (STRs), and an amendment to the town's unified development ordinance was passed on May 19 that used zoning regulations to prevent single-family dwellings from being used as STRs.
In July, the town approved the Highlands Community Plan, which essentially allows it to adopt and enforce zoning regulations, including as they pertain to STRs.
In September the town began passed an ordinance specifically developed to limit STRs, including parking requirements and how long a certain number of people can stay in a certain property based on the number of bedrooms.
Sailing off into the Sunset Award
Each year, the far-reaching network of elected and appointed leaders in Western North Carolina experiences some turnover, be it for electoral or personal reasons. This year was somewhat different in that many of the figures who are leaving the scene have been a critical part of it, in some cases for decades.
While a few changed jobs, others retired and still others lost the elections that made them distinguished public servants in the first place. Regardless of the circumstance, we at The Smoky Mountain News would like to thank all of these dedicated individuals, and any we may have missed, for their work on behalf of the people of Western North Carolina. It is our sincere hope that they'll find only the best in their future endeavors, whatever they may be. We'd also like to wish for those who'll follow in their footsteps good fortune and continued success. Remember, we're all in this together, and their success is our collective success.
• American Whitewater Executive Director Mark Singleton
• Haywood Commissioner and two-time Chair Kirk Kirkpatrick
• Haywood County Sheriff Greg Christopher and Chief Deputy Jeff Haynes
• Haywood Waterways Executive Director Eric Romaniszyn
• Haywood Tourism Development Authority Executive Director Lyn Collins
• Haywood County Schools Superintendent Dr. Bill Nolte
• HART Executive Director Steven Lloyd
• Jackson County Sheriff Chip Hall
• Jackson County Commission Chair Brian McMahan
• Jackson County Commissioners Boyce Deitz and Gayle Woody
• Jackson County Clerk of Superior Court Ann Melton
• Macon County Commission Chair Jim Tate
• Macon County Commissioner Ronnie Beale
• Macon County Clerk of Superior Court Vic Perry
• Macon County Sheriff Robbie Holland
• Maggie Valley Town Manager Nathan Clark
• Swain County Commission Chair Ben Bushyhead
• Swain County Commissioner Danny Burns
• Waynesville Recreation and Parks Director Rhett Langston