Archived News
WCU students network at research forum
Wednesday, November 30, 2022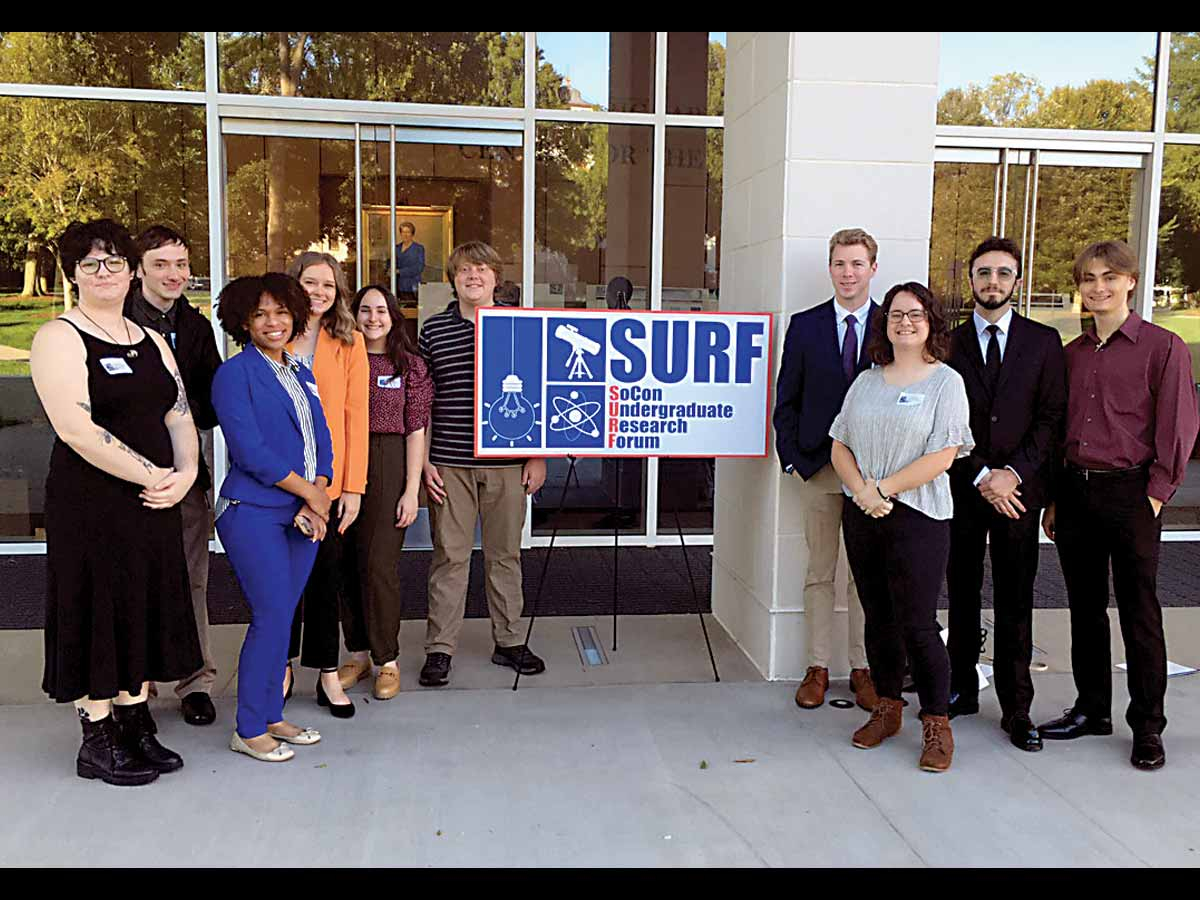 Students from Western Carolina University recently attended the Southern Conference forum at Wofford College to present research projects.
Students from Western Carolina University were given the opportunity to network with students from other Southern Conference schools and expand their knowledge of other academic areas at the SoCon Undergraduate Research Forum held in October.
The event is a collaborative project of the Southern Conference membership hosted annually at Wofford College in Spartanburg, South Carolina.
"We are so thrilled that our students get to experience this forum each year and learn about so many different disciplines," said Kloo Hansen, WCU's undergraduate research coordinator in the Office of the Provost. "This is a fantastic collaboration between the SoCon schools and allows students to network and refine their presentation skills."
Supervised by a panel of faculty members representing each SoCon school, SURF welcomes research from humanities, the arts and STEM disciplines. Nearly 125 students from the 10 Southern Conference institutions gave presentations.
Ten students from WCU participated in this year's SURF.
Abigail Gulley, an interior design student, shared her conference experience and why she chose "Cognitive Disability Informed Design within Religious Building and the Impact of Acoustics" as her research topic:
"The most rewarding part of the conference was experiencing the other presenters' enthusiasm and learning about topics that were never on my radar," said Gulley. "My research set out to prove that designing a space with acoustical awareness will impact the wellbeing of individuals on the autism spectrum. The setting of this research is applied within a religious building because of a personal experience where the decibels were too high during the worship service, and this inspired the research at hand."
Adam Mottershead, a natural research management student, wanted to conduct research on a new approach to market-based water policy using ecological boundaries known as watersheds as the trading areas. His presentation was titled, "Budgeting North Carolina Water through Watershed Trading Quotas."
"In this research I did with Dr. Sean Mulholland, people were given percent allotment of the total available water in the watershed, with hopes to have conservation occur through trading," said Mottershead. "SURF was great because I got exposed to so many disciplines across several universities in attendance. It was a great chance to see incredible work done by other undergraduates, refine my presentation skills, and to network with others."