Archived News
Wildfire grows at Harmons Den
Monday, November 28, 2022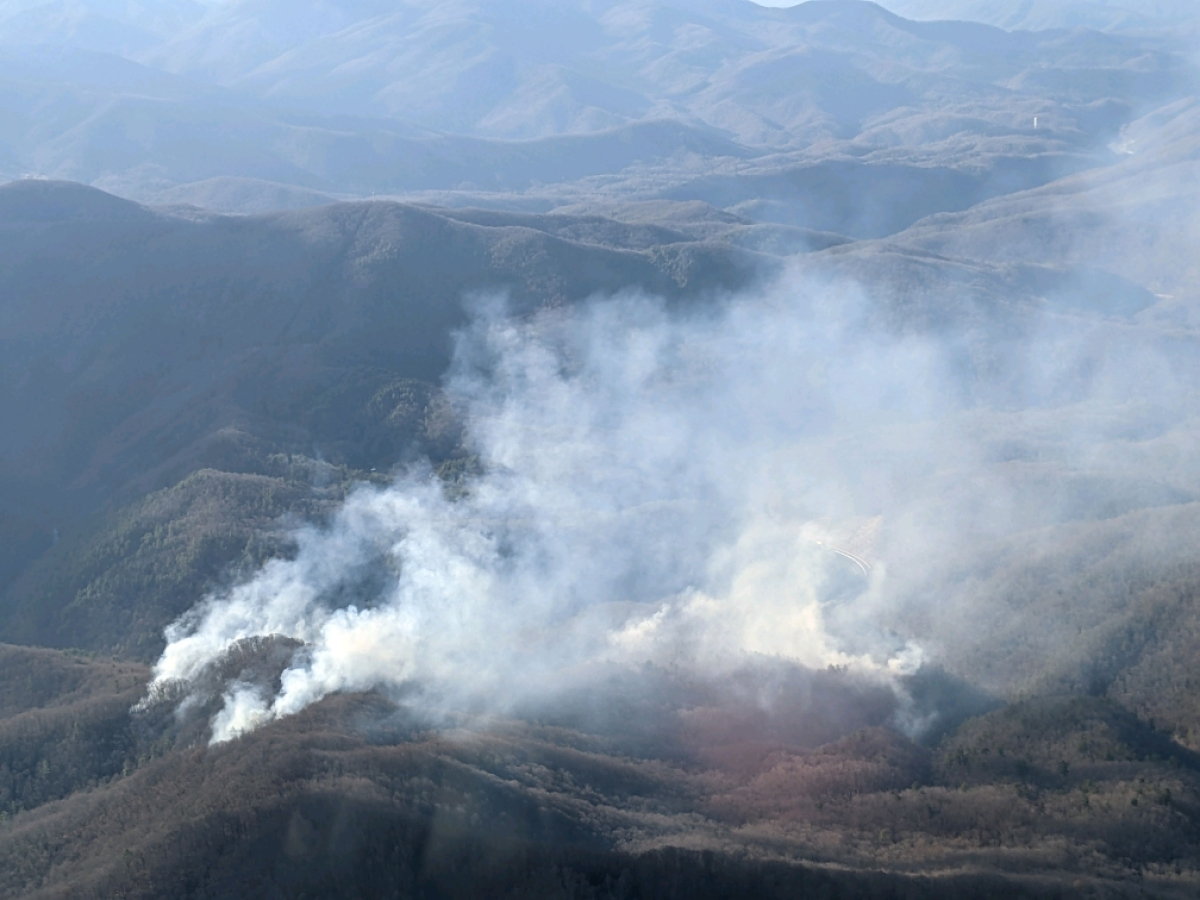 Hurricane Ridge fire as seen by air on Nov. 24
A wildfire reported Wednesday, Nov. 23, in the Harmon Den area of Haywood County was still burning with no containment as of Monday, Nov. 28, estimated at 150 acres.
The Hurricane Ridge Fire is located east of Interstate 40 off Cold Springs Road in the Pisgah National Forest. Because it's so close to the highway, smoke may impact visibility on the road, particularly in the mornings and evenings through Wednesday, Nov. 30. Flames may be visible along the east side of the road, and drivers should use caution, but the highway is expected to remain open. However, the U.S. Forest Service has issued an emergency closure for Brady Road, Forest Service Road 3526.
Firefighters worked from the evening of Nov. 23 through Thanksgiving Day, Nov. 24, to identify and construct containment lines. Fueled by dry, windy, unseasonably warm conditions, the fire flanked around Interstate 40 before spreading upslope to Hurricane Ridge. After topping out on the ridge, the fire started to back down into the remote Hurricane Creek Drainage. Due to the steep terrain and limited access to the fire edge, fire managers identified a contingency plan using primarily area roads, including Cold Springs Road to the north and Hurricane Creek Road to the south. Helicopters were used for water drops to reduce the intensity of the fire near these fire lines.
Aided by rain on Sunday, firefighters worked Monday, Nov. 28, to further identify and improve contingency fire lines around the perimeter of the Hurricane Creek drainage. Several cabins are within the larger contingency area and are being assessed for fire risk and protection needs. The fire is expected to increase in size as accurate mapping is completed.
Dry conditions have prevailed in the mountain region since early October, and the most recent drought map based on Nov. 22 data lists Haywood County as experiencing severe drought. All the seven westernmost counties are in moderate or severe drought. However, until now the far western region has been devoid of large wildfires this fall. A widespread rain Wednesday and significant moisture in the forecast over the next 10 days could roll back current drought designations.
As of Monday evening, 70 firefighters from the U.S. Forest Service and North Carolina Forest Service were responding to the Hurricane Ridge Fire. The response effort is supported by Haywood County Emergency Management and the North Carolina Department of Transportation.
The public should avoid the area so as not to interfere with firefighting operations, and exercise caution as long as conditions remain dry and windy. Drone activity endangers firefighters and firefighting efforts
The fire's cause is not yet known and is under investigation.