Archived News
High wind warning challenges Smokies firefighting efforts
Wednesday, March 30, 2022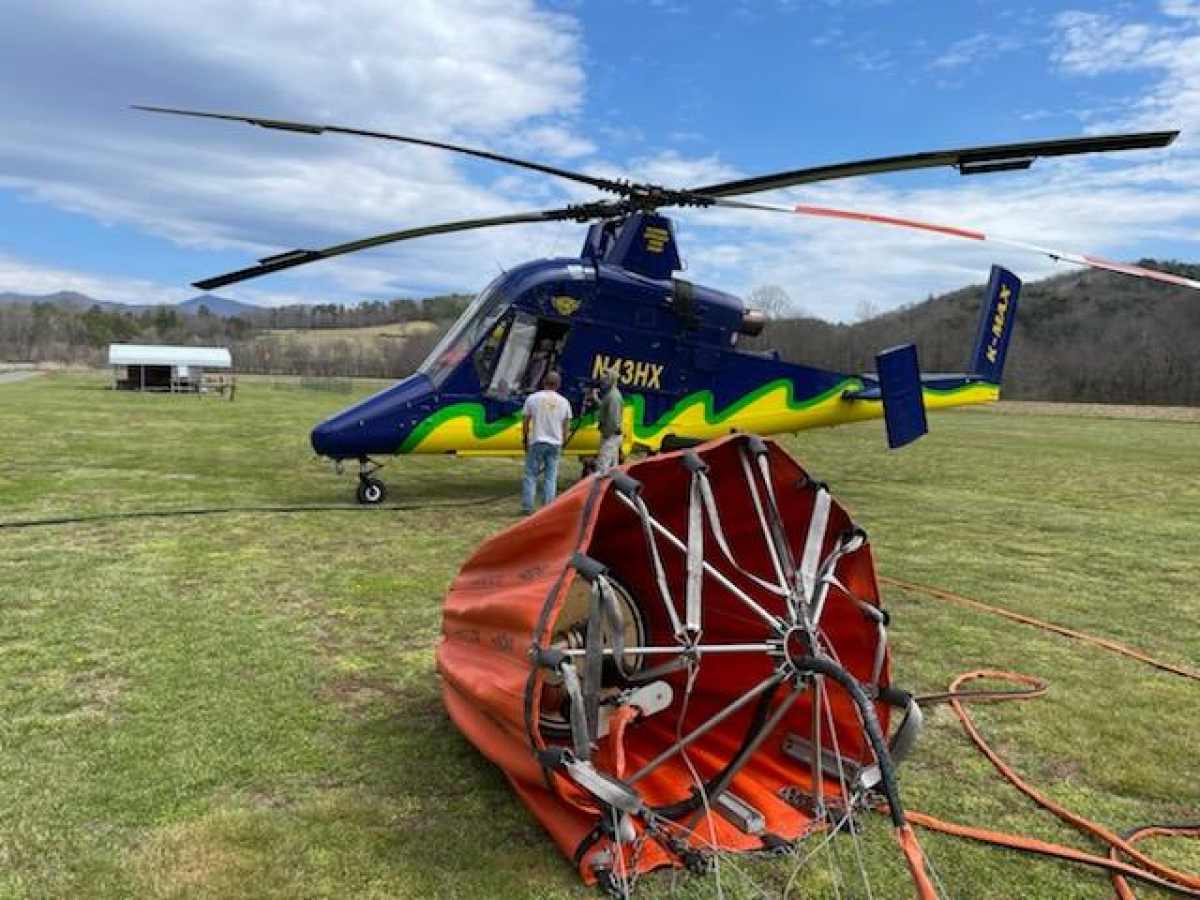 Air support lands to refuel. NPS photo
The Thomas Divide Complex Fire in the Great Smoky Mountains National Park is now 60% contained at 960 acres, but a challenging day awaits the 70 people engaged in firefighting efforts.
High winds are expected across the park today with continued dry conditions, creating an enhanced risk for wildfires and other hazards. A high wind warning is in effect through 6 a.m. Thursday, March 31, with sustained winds of 40-50 miles per hour and gusts up to 90 miles per hour.
As a result, the Great Smoky Mountains National Park has started closing park roads. As of 8 a.m., Newfound Gap Road, Cades Cove Loop Road and Foothills Parkway West from Chilhowee Lake to Wears Valley, and Foothills Parkway East were closed. At noon, additional roads will likely start to close, including Little River Road, Wear Cove Gap Road, Laurel Creek Road, Cherokee Orchard Road and Tremont Road. High winds are expected to primarily affect the Tennessee side of the park.
All closures will remain in effect until the high wind warning has expired. Crews will then assess damage and begin clearing roads for reopening. Park visitor centers, campgrounds and picnic areas remain open, but visitors should exercise extreme caution when making travel plans.
On the Thomas Divide Fire, control lines are well established around the Stone Pile fire section, and crews will continue to monitor and address any remaining burning fuels over the next few days. The larger Cooper Creek Fire section has control lines established around the southern border, and crews will work today to strengthen northern control lines and extinguish hot spots within the perimeter.
An additional fire started yesterday on Newfound Gap Road south of the Deep Creek Trailhead parking area, but it was quickly extinguished due to a quick response from the National Park Service, Cherokee Fire Department and nearby air support. The human-caused fire covered only half an acre.
With high winds expected across the park over the next two days under dry conditions, park officials remind visitors to exercise extreme caution in the park. Campfires should be fully extinguished and cigarettes properly disposed to prevent the accidental spread of wildfires.
The following areas remain closed: Backcountry campsites 46, 51, 52, 53, 54, 55, 56, 57, 58, 59, and 60; Deep Creek and Thomas Divide trails from Deep Creek to Newfound Gap Road; Pole Road Creek, Indian Creek, Stone Pile Gap, Deep Creek Horse Bypass, Juney Whank Falls, Deeplow, Fork Ridge, Sunkota Ridge, Martins Gap, Indian Creek Motor Nature, Mingus Creek, Newton Bald, Kanati Fork, and Loop trails. Toms Branch Road near Deep Creek is also closed. The Deep Creek Campground and Picnic Area are not scheduled to open for the season until April 15.
For the most up to date information about road closures, follow SmokiesRoadsNPS on Twitter. Visit nps.gov/grsm/learn/photosmultimedia/webcams.htm for webcam images from across the park.