Archived Reading Room
Regular people shine in novel set in Paris
Wednesday, November 24, 2021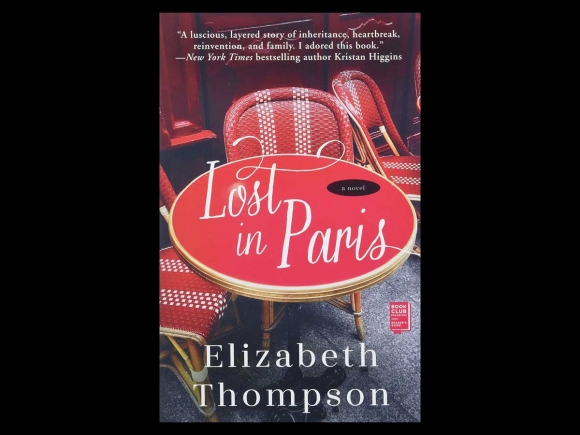 Sometimes the world seems pretty crazy, especially for those of us who follow the daily news and commentaries online.
Recently, I read of a public autopsy in a Marriott Hotel in which viewers paid $500 apiece to watch some guy dissect the corpse of a 98-year-old World War II veteran who had died with COVID-19. In another instance a naked man, clearly missing a few light bulbs in the attic and slathered in hand sanitizer, created a fracas in a police station. When the police tazered him, the hand sanitizer caused him to burst into flames.
On a broader scale, I've read articles about the skyrocketing psychoses and drug abuse the pandemic has caused. Some commentators apparently believe that rising prices at the pump and in the grocery store will be somehow good for Americans. Still others claim that we should judge our fellow citizens by the color of their skin and not by their character, which turns the philosophy of Martin Luther King on its head.
On and on it goes.
Here's the good news: Most people we meet on a daily basis, or the family and friends we hang out with, contradict these dire reports. They are regular folks, with their energies centered on their work, their families, and their everyday lives. They stand in contrast to the news reports we follow, living examples that "normal" is still with us, but just doesn't make the headlines.
And those are the sort of people we find in Elizabeth Thompson's "Lost in Paris" (Gallery Books, 2021, 352 pages).
Hannah Bond, an American, works for Heart to Heart Tours in Britain, where she conducts the Ultimate Jane Austen Tour. When we meet her, Hannah is alone, no lover in the background, no husband or children, and no close family connections. She has great friends, especially her two London flat mates, but otherwise is without the joys and burdens of personal relationships. After leading her most recent tour, she's eagerly anticipating some time off for rest and relaxation.
And then her mother Marla shows up.
Not that Marla was ever much of a mother. She's an alcoholic working on her sobriety who took a string of lovers and left Hannah to the care of her grandmother. Never having known her father — Marla refuses to divulge any information about him, claiming she isn't even sure which man had left her alone and pregnant — Hannah resents Marla's wild past and willful neglect.
But now here she is on New Year's Eve, 2018, bursting into Hannah's life with an old key and a deed to an apartment in Paris that apparently had belonged to Marla's grandmother. Marla convinces Hannah to accompany her to Paris, and there they find the dust-covered apartment, locked down since 1940, where Ivy had lived long ago. They discover her diary in which Ivy describes meeting such American expatriates as Ernest Hemingway and Zelda and Scott Fitzgerald, some painters, and a famous French writer who died in the early days of the Second World War.
During their investigation of Ivy's secret life, Hannah and Marla reconnect with each other, fall in love with two different men, and discover many details from their own hidden pasts, including several family members previously unknown to them. In the end, then, "Lost in Paris" tells the story not only of a renewed relationship between mother and daughter, but also gives us a portrait of love and family.
This novel appealed to me because of the two central female characters. Marla brought to mind women — and for that matter, men — who lose their way when young, but who later try to rectify their mistakes. Hannah is one of those young women who strive to do well in their jobs, who forge wonderful friendships, and who are resilient, bouncing back time and again from difficulties and failure.
Traveling back in time through Ivy's diary to Paris in the 1920s also kept me on board with this book. Many of us romanticize the City of Lights when Hemingway, Fitzgerald, James Joyce, Gertrude Stein, and so many other poets and writers walked those streets. Realizing this appeal, Hannah initiates special tours celebrating that Parisian decade, which are an immediate hit with tourists.
With its descriptions of Paris, its portrayal of a mother-daughter relationship renewed, and a young heroine making her way in the world as did her great-grandmother, "Lost in Paris" is an entertaining and enlightening read peopled by ordinary folks.
•••
December 7, 2021, is the 80th anniversary of the Japanese attack on Pearl Harbor.
One way to commemorate the battle that would eventually change the world forever is to read a bit about it.
Google "Pearl Harbor Attack Books," and you'll find a couple of dozen works on this momentous event.
This week, I visited my public library and picked up Gordon Prange's "Dec. 7 1941: The Day the Japanese Attacked Pearl Harbor." Written with the collaboration of Donald Goldstein and Katherine Dillon, this is a minute-by-minute account of events on what President Franklin D. Roosevelt called a "date which will live in infamy."
Here the authors describe the heroics shown by the American sailors, soldiers, and air personnel then stationed in Hawaii. Blasted from their bunks, mess halls, and ordinary Sunday morning duties, these men battled back as best they could against their attackers, manning their stations, rescuing their comrades at the risk of their own lives, and assisting civilians.
Remembering who they were may help us remember who we are.
(Jeff Minick reviews books and has written four of his own: two novels, "Amanda Bell" and "Dust On Their Wings," and two works of nonfiction, "Learning As I Go" and "Movies Make the Man." This email address is being protected from spambots. You need JavaScript enabled to view it..)