Archived News
Pisgah rolls to nine straight over Mountaineers
Wednesday, October 20, 2021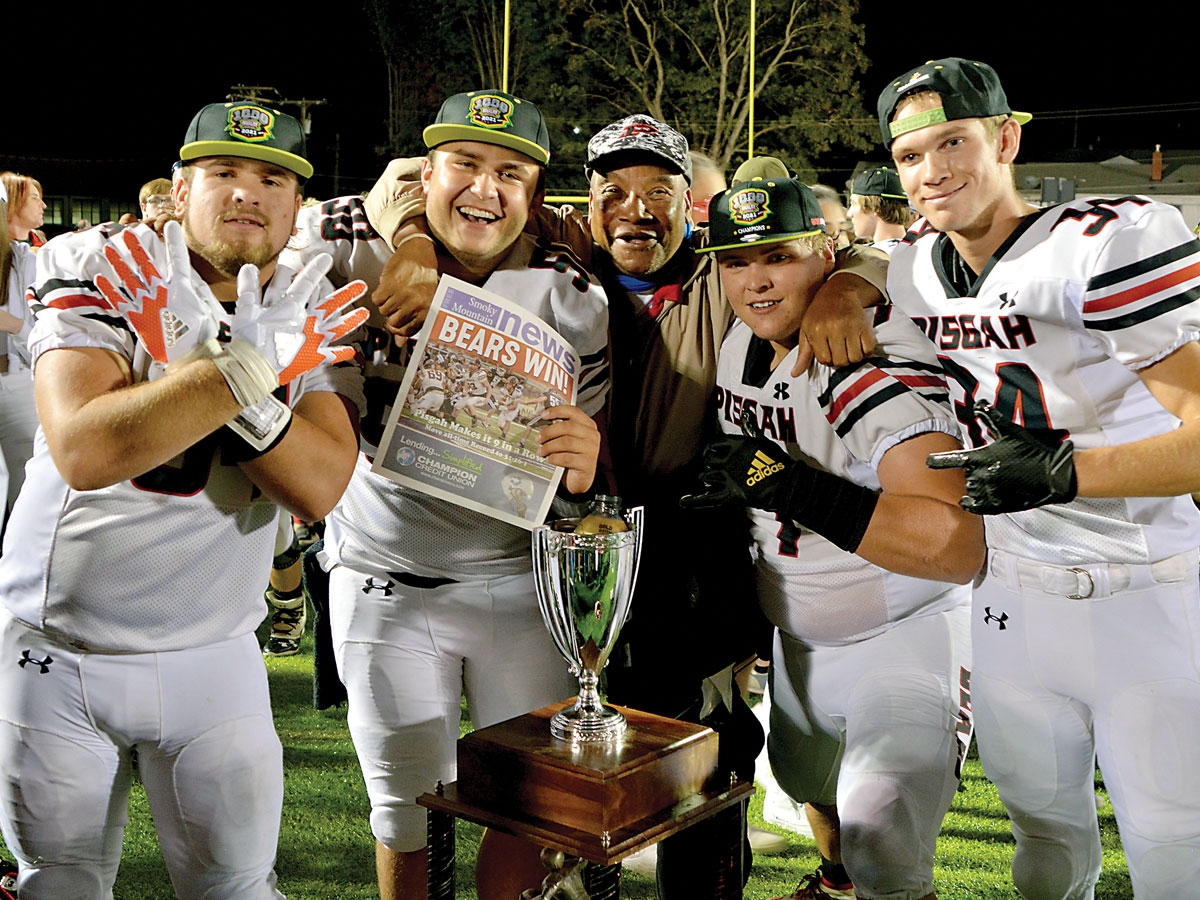 After the Oct. 15 victory, Pisgah looks to extend its 9-game winning streak next year. Cory Vaillancourt photo
It was Friday night football on a perfect fall evening under the lights in front of a capacity crowd at C.E. Weatherby Stadium in Waynesville, and as per usual, the rivalry game between the Mountaineers of Tuscola and the Pisgah Black Bears — the county clash, the "Mill versus the Hill," whatever you want to call it — lived up to the hype.
Underdog Tuscola jumped out to a quick 10-0 lead and headed into the locker room at halftime with a commanding 20-7 advantage, but Pisgah slowly clawed its way back through the second half with a third quarter touchdown and a bend-but-don't-break defense.
Down by 7 early in the fourth quarter, the Bears drove into the red zone only to turn the ball over, but immediately forced the Mountaineers into a three and out.
Pisgah then hit pay dirt with a dazzling flea-flicker — junior quarterback Logan Free tossed a quick pass behind the line of scrimmage to sophomore Breydon Reynolds, and when the aggressive Tuscola defense bit, Reynolds shot a laser to a wide open Caden Robinson for a 55-yard touchdown strike that put Pisgah up 21-20 with just over 7 minutes remaining in the fourth quarter.
The Mountaineers weren't done yet though. Driving into the red zone with less than a minute left, Tuscola found itself pushed back by penalties — a sloppy game on both sides featured more flags than Folkmoot — and left the Mounties with no other option than to attempt a 49-yard field goal for the win.
That attempt, like one in the first quarter, ended up not sailing between the goalposts but instead bouncing around on the ground after being blocked by Pisgah senior Evan Easton.
"This is another chapter in the greatest high school football rivalry in North Carolina," said Canton Mayor Zeb Smathers, a Pisgah alum who, like his father, played for the Bears. "Every year we look forward to this. We work together throughout the year, but on this night, we divide up — it's Canton versus Waynesville. This is just part of our tradition and our heritage. It just means something special."
And it was especially so this year. Last fall's game was cancelled due to COVID-19, but was played this past February, resulting in a 44-14 Bears victory. Then, in August, deadly flooding ravaged rural communities in the eastern part of Haywood County, including Canton.
"Many of these boys come from families that were affected, that lost someone," Smathers said. "It's very important to see smiles on people's faces, because for a few hours, Haywood County has a distraction from the challenges that we have faced across the county."
Next year, the game will take on added significance. Pisgah's home field was significantly damaged in the flood and hasn't yet been used this year.
If it reopens in time for next year's game, that alone would be a triumph, however the Bears have a few more reasons to stay hungry over the winter; 2022 is thought to be the 100th anniversary of a Waynesville high school playing football against a Canton high school.
Additionally, the Bears win last week sets them up to go for 10 straight over the Mountaineers next year, which would equal the longest winning streak during that century of competition.
That 10-game winning streak is currently owned by Tuscola.