Archived News
Masks back at WCU
Wednesday, August 04, 2021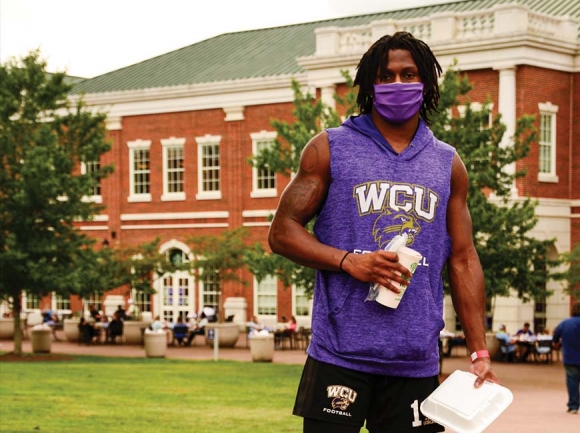 With case numbers surging, Western Carolina University has announced that it will ask members of the campus community to report their vaccination status and require masks in all indoor public spaces.
In an email to students, faculty and staff sent Tuesday, Aug. 3, Chancellor Kelli R. Brown said that WCU remains "committed to having a robust campus experience for students and our campus community" and that "vaccination remains the best path forward for a full return to normal operations this fall."
Effective immediately, she wrote, face coverings would be required in all public indoor spaces on both the Cullowhee and Biltmore Park campuses. The change is in response to new CDC recommendations stating that, regardless of vaccination status, people should wear face coverings in areas with high or substantial community spread. All of Western North Carolina currently falls into this category.
Additionally, beginning this week students, faculty and staff will all be asked to report their vaccination status. Students have already received information about how to do so, and later this week faculty and staff will be asked to provide their status when logging into myWCU.
"This information will be used to inform WCU's ongoing preparations and planning," Brown wrote. "We do not plan to share individual vaccine status information. We plan to share only aggregate group percentages of vaccine status for faculty, staff and students."
The email comes exactly two months after the June 3 message in which Brown announced the lifting of capacity limits and physical distancing requirements, and that face coverings would be optional for fully vaccinated people, except in instructional spaces, the Cat-Tran and healthcare settings.
Free COVID-19 vaccines are available across the region, including at the WCU Clinic. The clinic is open 8 a.m. to 5 p.m. Monday through Friday and offers Pfizer and Johnson & Johnson shots. To make an appointment, call 828.227.7640.