Archived News
Bryson City removed from room tax legislation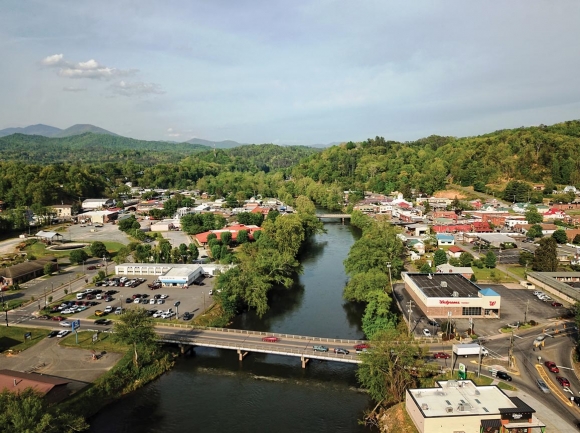 Room tax dollars have been on the steady climb in Swain County as Bryson City has become a tourism hotspot.
The Town of Bryson City has been removed from a piece of state legislation that would have allowed the town to levy its own occupancy tax and establish its own tourism development governing board.
House Bill 412 — sponsored by Rep. Mike Clampitt, R-Bryson City, and Rep. Mark Pless, R-Canton — was originally filed March 25 with language that would allow Bryson City to levy an additional 3 percent tax, but now the bill is called "Maggie Valley Occupancy Taxes" and there's no mention of Bryson City.
"We got pulled from the legislation," said Bryson City Mayor Tom Sutton. "We didn't tell them to do that, so I don't know the reasoning behind it."
When reached for comment about the change on Monday, Clampitt said Bryson City was originally included because he was told the Bryson City Board of Aldermen and the county's Tourism Development Authority didn't seem to be cooperating well together when it came to "sharing" Swain's occupancy tax revenue. After some further communication, he said those issues have worked themselves out since the bill was filed in March.
"Bryson and Swain have had their working relationship improved," Clampitt said.
It also became clear to Clampitt after HB 412 was introduced that not all county and town representatives were on the same page about the proposal, which can make it difficult for local legislation to pass the General Assembly.
On April 16, Clampitt received an email from Swain TDA treasurer Ed Ciociola regarding the proposal for Bryson City to levy its own occupancy tax on top of the county's 4 percent tax. The exchanges were copied to the local media as well as Sen. Kevin Corbin, R-Franklin.
"The TDA is required to spend its tax revenue to promote tourism in Swain County and we operate under that limitation. After reading the brief article in The Smoky Mountain News about Bryson City's desire to enact a separate occupancy tax on visitors who choose to lodge in town, close to our downtown businesses, rather than out in the county, it is clear that we have some government officials contemplating a decision to raise taxes on incomplete and inaccurate information," Ciociola wrote. "The News has quoted a specific statement from Mr. Clampitt alleging a lack of cooperation on the part of the Swain County TDA."
Ciociola went on to say that Clampitt nor Corbin had consulted him as the TDA treasurer to verify those "sharing issues" with Bryson City. He claimed the TDA spends more than 90 percent of its advertising and marketing budget promoting Bryson City and downtown businesses.
Ciociola then provided a list of spending that has benefited the town of Bryson City. Swain TDA Director Mary Anne Baker verified that the information he provided was correct.
He said the TDA had contributed to the renovation of the recreation park swimming pool that will benefit tourists and locals alike. The TDA also contributed to the construction of a pavilion at the new Great Smoky Mountains Event Park that will be available to schools, businesses, citizens and visitors in Bryson City and Swain County.
The TDA pays for and donates office space for the Swain County Chamber of Commerce inside the fly-fishing museum and funds the free museum in Bryson City at no cost to the chamber. TDA funds also pay for the free fresh-water aquarium in downtown Bryson City that is available to local residents, school groups and visitors.
The TDA recently purchased lodging tax compliance software and offered the data to the town of Bryson City to help Bryson City identify properties within the town that are collecting overnight rental income but only paying residential revenue rates to the town for town services rather than the commercial rate.
The TDA is currently helping to fund the construction of a historic grist mill in downtown Bryson City being built by county employees. The TDA continues to pay thousands of dollars every month toward the loan for the prior construction of the Great Smoky Mountain Railroad turntable used for the restored 1702 steam engine, which brings thousands of visitors into downtown Bryson City every year. The TDA pays for flower beautification in downtown and the Christmas decorations in town every year.
"Collectively these TDA contributions total well over $200,000, so to say there is a 'sharing issue' can only be based on either bias or a lack of correct information," Ciociola wrote. "Given the specific governing regulations for a TDA to spend occupancy tax revenue for the express purpose of promoting tourism to their respective area, it is difficult to see how Bryson City could do more to promote our town than is already being done by the current Swain County TDA at no cost to the town."
Mayor Sutton said the idea for a new 3 percent occupancy tax for Bryson City had more to do with the town looking for a new revenue stream to complete some bigger projects that need to get done.
"This was not about being unhappy with the TDA," he said. "This was just one of many irons in the fire as we were looking more at specific projects we'd like to do."
For example, Sutton said the town would like to enhance Island Park for tourism use, but right now the property can't be utilized because of the cost to complete the project. It would require constructing a causeway over to the island to get equipment over to it, and that structure could only stay up for one year, which limits the timeline for construction.
"We'd like to try to use TDA money for that. We've done some engineering work and tried to get grant money for it. We thought we could use FEMA money for it, but it ended up being a lot less than what we were initially told, so the scope of work on Island Park is really a big high-cost item that we can't afford out of the regular budget," he said. "The island needs a lot of bank restoration to make it safer and we'd like to get power over there, and maybe even a pavilion if possible."
However, Clampitt said even if Bryson City eventually did establish its own room tax, the vast majority of the funds have to be spent on advertising — not infrastructure — another indicator that the town and county needed to get on the same page regarding these issues before a legislative proposal can be made.
Clampitt replied to Ciociola stating that his original comments about the lack of cooperation between the TDA and Bryson City were the words that were expressed to him by the town leaders directly.
"I have to take town and county leaders at their word — I'm not gonna go behind people's backs," he said Monday. "They (the town) need a plan in place for the room tax."
Baker said Ciociola's correspondence with Clampitt was not representative of the TDA board's position as a whole.
"Ed is the treasurer of the TDA, but his communication with Clampitt was from a position of constituent and did not represent the opinions of the TDA. Only Jeremiah Wiggins (chairman) or I can speak on behalf of the TDA board, and that would only take place after the group was consulted to obtain a consensus," she said. "The Swain County TDA has not discussed an official position. However, any injection of financial resources into an otherwise economically disadvantaged area, particularly given the fact that the burden is shouldered by non-residents, has to be a good thing. The prospect of having incremental dollars to support the tourism industry in Bryson City and Swain County is exciting and could allow the Swain TDA to deploy further tourism drivers inside of the county like Nantahala Gorge, Fontana Lake, Deep Creek, the Swain County Event Park, etc."
Either way, the email exchanges did seem to indicate some degree of dissension among stakeholders. Sutton said the town aldermen and county commissioners were planning to meet in the near future to discuss the issue.
"We're going to meet with the county in the near future about occupancy tax to make sure we're all on the same piece of music," he said.
Swain County has seen substantial tourism growth over the last several years. Even during the pandemic the Swain TDA saw record growth, collecting about $1.8 million in occupancy tax revenue. In comparison, 2019 collections surpassed $1 million in Swain County for the first time.
Leave a comment
1

comment