Archived News
Merchant group forms in Canton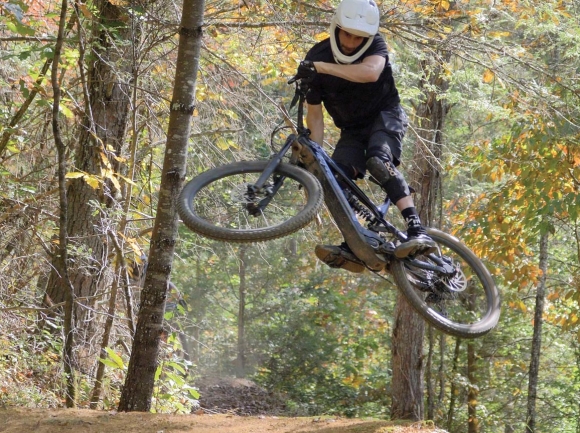 A biker takes a jump at a bike park similar to the one Asheville YouTuber Seth Alvo is building within Canton's Chestnut Mountain Park. Seth Alvo photo
The Haywood County town of Canton hasn't always been a major tourist destination, but with downtown revitalization well underway and a major mountain biking park about to open, all that's about to change, and a group of concerned citizens want to make sure the town takes full advantage of the interest soon to come.
"We have a lot of work to do with regards to getting ready for the opening of these parks with regards to better signage in town, some sprucing up, some beautification projects like bike racks," said Jeanne Forrest, a Realtor who along with Wildflour Blue owner Kelly Allred and Southern Porch proprietor Michaela Blanton Lowe is one of the founders of a group called CNCM — Canton North Carolina Merchants.
Forrest said the group will raise money and work alongside the town on small revitalization projects and also hopes to help with the 5th of July and Labor Day events Canton is known for, as well as addressing the town's faded public art projects.
While Forrest's group hasn't formally incorporated, she said they will have some help from Waynesville businessman Mike Coble, who's started a nonprofit that can help CNCM apply for grants it wouldn't normally be able to access (see DWA, p.12).
"I had a phone call," Coble said. "It was Kelly who reached out and said, 'Mike, I have a business in Waynesville and I have a business in Canton. I need to be successful in both. This is a countywide situation. What else can we do?'"
Canton Mayor Zeb Smathers said he's supportive of both the way the group came together and its goals.
"I think the next step in Canton's revitalization is the formation of, for lack of better words, a downtown merchant association. There have been several attempts in the past to form one. They have not been successful. I hope this time that it does work. It could help in promoting businesses and events and bringing people downtown," Smathers said. "I've always supported the idea. However, something I think myself and the board agree on is that this needs to come organically from the merchants. As a government entity, we will support and we will do everything we can to help, but I think to succeed it needs to come from the merchants themselves and not from the government. From the bottom up, not top down."
Smathers also said he's not opposed to pursuing a municipal service district similar to the one that's existed in Waynesville since the mid-1980s, albeit with the same bottom-up mentality as the merchant association.
"I think it's something that if brought forth from the merchants, if it's is something that they would like to address, I think it's definitely something we would look at," he said. "I think it has proven to be a successful model in Waynesville and other municipalities, but again, if the merchants brought that to us, I think the board absolutely would look at it as a tool that could help not just revitalize, but have a sustained downtown effort for businesses."
And with the emergence of Berm Park, a mountain biking facility on the eastern edge of town slated to open this fall or spring, Smathers said he too plans to make sure the experience is one to remember and one that will keep bikers, their friends and families thinking about Canton year-round.
"I think what you'll see is the town go out of our way to make sure that when people go to Berm Park, we'll direct them to Canton. It's a natural fit simply because it's the closest place to shop and eat and drink. We don't want people to come and be disappointed," he said. "We want people to come once, and come back again, and then tell their friends. So we'll as a town work through an entity like this and others like the Chamber of Commerce, and we'll will put forth a plan and a strategy to attract people downtown and provide them an experience that will make them want to come back."