Archived News
What is the deal with COVID vaccines? Dr. Jernigan addresses SMN readers' concerns
Wednesday, April 14, 2021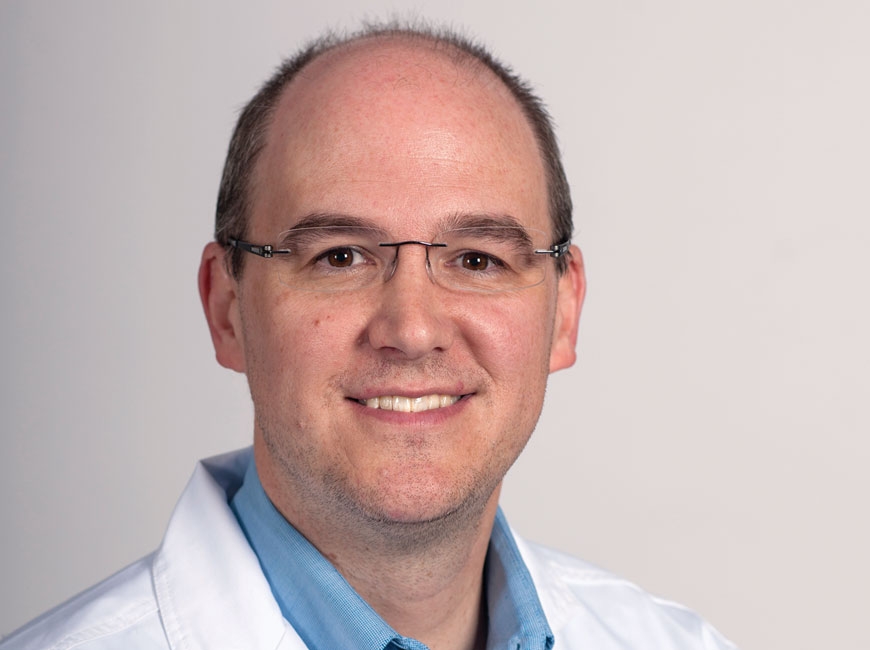 Dr. Nicholas Jernigan, chief medical officer at Harris Regional Hospital and Swain Community Hospital, is a board-certified pediatrician. Donated photo
The COVID-19 vaccination rollout is in full swing, and while many people rushed to get their shot at the first opportunity, others say they still have questions and will wait for a vaccine — or won't get one at all.
Dr. Nicholas Jernigan, a board-certified pediatrician who serves as chief medical officer for Harris Regional Hospital and Swain Community Hospital, addressed some of those concerns in a conversation with The Smoky Mountain News, responding to questions generated through a recent survey of vaccine attitudes among SMN readers.
SMN: How do the three vaccines currently available in the United States work to protect against COVID-19?
Dr. Jernigan: The Moderna and Pfizer vaccines are mRNA vaccines. They provide information to the cells close to where you receive the vaccine. The cells convert the genetic message from mRNA to a protein that your body then makes antibodies against. The mRNA rapidly degrades once in the body. Several reports I've read suggest that the mRNA may be completely gone from the body in as little as a few hours.
The second vaccine is a more traditional vaccine. J&J injects pieces of viral protein already made. The body then manufactures antibodies to the pieces.
In neither circumstance does the body receive an intact virus that can replicate inside of the body. With both vaccines, it is common to experience flu-like symptoms. This is the process of building immune response. Younger adults tend to have more robust symptoms, while older adults have milder symptoms. There is not an apparent difference in the efficacy of the vaccine, however.
SMN: How effective are they, and what do those percentages mean?
Dr. Jernigan: Moderna and Pfizer were found to be 90% effective after two doses (80% after one dose) in real-world applications. This means preventing asymptomatic and symptomatic infections. The J&J vaccine showed 66.3% effectiveness in preventing illness in its initial studies. Real-world studies are in progress.
SMN: If I have already had and recovered from COVID-19, do I still need to get the vaccine?
Dr. Jernigan: Yes, you should be vaccinated regardless of whether you already had COVID-19. That is because we do not know how long you are immune after recovering from COVID-19. Even if you have already recovered from COVID-19, it is possible you can be infected with the virus that causes COVID-19 again.
SMN: What percentage of the population needs to be vaccinated in order to achieve herd immunity?
Dr. Jernigan: Herd immunity is difficult. Different viruses require different vaccination rates. For example, measles is so contagious it requires 95% vaccination rates to achieve herd immunity, while less contagious viruses such as polio require lower rates like 80%. This will likely be a moving target as the recent variants appear to be more contagious than the original virus, but it is likely that we will need at least 75% or up to 90% of the population vaccinated to achieve herd immunity.
SMN: In the U.S., how common are severe reactions to the vaccine? Has anybody died due to the vaccine?
Dr. Jernigan: Severe reactions to the vaccines are rare, with the CDC reporting approximately two to five cases per million doses administered of anaphylaxis (this number was determined prior to J&J). Mild side effects are much more common such as headache, fatigue, fever, dizziness, pain, nausea, muscle aches and injection site pain. On April 13, the FDA paused J&J administration based on six cases of blood clots within two weeks of administration after 6.8 million administered doses. This is very small effect but the FDA takes all side effects seriously.
According to the CDC, there is a rate of death after the COVID vaccine of 0.00167%. However, the CDC is investigating each report. To date, there are no reported deaths as a result of the vaccine — that information should be available soon.
SMN: These vaccines have an Emergency Use Authorization from the Food and Drug Administration, but they have not gone through the full approval process. What data and studies are required for full FDA approval but not for a EUA?
Dr. Jernigan: EUA requires application to the FDA to prove the vaccines are effective and that the benefits outweigh the risks. To achieve full approval, the Moderna and Pfizer vaccines are currently applying for full approval, as the last round of data supplied enough to support the application. In short, full approval required an increased number of vaccines administered and six months of safety data, which is now available. It will likely be several more months prior to the J&J vaccine receiving approval since it's newer to the market.
SMN: Because it is such a new vaccine, there is no data on the potential for long-term effects. Based on what we know about previously created vaccines, what kinds of long-term effects will scientists be watching for?
Dr. Jernigan: Scientists are looking at all unexplained illnesses and conditions for possible links to vaccines. The U.S. maintains a data bank for identifying trends that all providers contribute to. The Vaccine Adverse Event Reporting System has been maintained for years and continues to help the CDC identify unintended outcomes from vaccines and address them in the timeliest manner. This is evidenced in the pause of the J&J vaccine.
SMN: How were these vaccines developed so quickly, if not by cutting corners or overlooking safety concerns?
Dr. Jernigan: Despite what the name may suggest, "Operation Warp Speed" does not mean that manufacturers were able to skip steps or cut corners in the vaccine development process. Instead, after development of the vaccine, manufacturers took a secured risk and overlapped the study, manufacturing and distribution phases. The FDA committed to giving these vaccinations priority (not rushed) review at all phases of the studies, which helped speed up the overall process. The CDC is clear in its statements that the strictest scientific integrity was upheld in the development of the vaccines. The clinical trials were the normal length and had the normal scientific standards. Ordinarily, there is downtime between clinical trials. However, that was significantly reduced as vaccines could submit data along the way instead of in a finalized form at the end of the study.
SMN: What is pathogenic priming, and is it a concern with the vaccines currently available in the U.S.?
Dr. Jernigan: Pathogenic priming refers to animal studies in the SARS-1 vaccine and human RSV vaccines in the 1950s where after vaccination the animals developed severe overwhelming immune responses when exposed to the actual virus. The data with Moderna vaccines and Pfizer vaccines suggests that this is clearly not the case. While this is something that vaccine developers take/took seriously, it does not appear to be an issue with our current vaccines. This is especially true now that real-world studies are available.
SMN: What do we know about the vaccines' potential to impact fertility, pregnancy and breastfeeding? Should women in this phase of life think twice about getting the vaccine right away?
Dr. Jernigan: We do not have adequate studies in humans on this topic to say anything with certainty. However, animal studies suggest that COVID vaccination during pregnancy is safe and effective. Because the vaccine does not replicate inside the body and previous non-replicating virus vaccines are safe for lactating women, the CDC states that lactating women can choose to be vaccinated. The American College of Obstetrics & Gynecology states that women are free to choose if they want to be vaccinated during pregnancy. There is an early study by a group of medical professionals and researchers that suggests getting COVID vaccines earlier in pregnancy may be better for the baby, specifically noting that vaccinated mothers pass more antibodies than mothers who have contracted COVID during pregnancy. The infants in the study showed antibody levels like those of vaccinated mothers.