Archived News
Free at a cost: Entrance fee prohibition creates challenges for the Smokies
Wednesday, December 04, 2019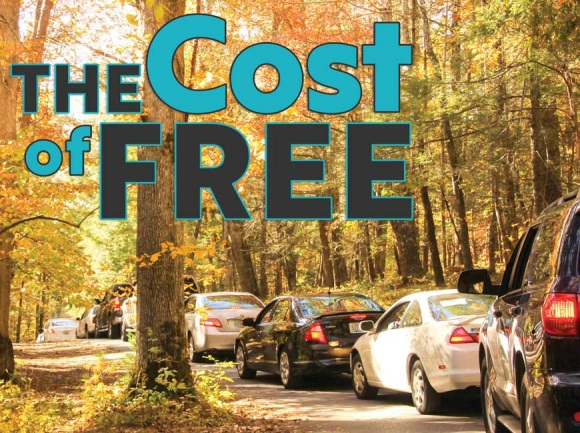 Growing up in West Asheville, Daniel Pierce was a frequent visitor to the Great Smoky Mountains National Park. The park was — and still is — free to enter, and to Pierce that was normal.
"I'll never forget the first time I went in a national park that charged an entrance fee," said Pierce, who now holds a doctorate and is a history professor at the University of North Carolina Asheville who specializes in Smokies history. "I was just horrified by the thought that you would have to pay to go into a national park."
He'd been to a few of the western parks before and uncomplainingly paid fees there. But the fee that faced him as a doctoral student swinging by Shenandoah National Park on his way to Washington, D.C., somehow seemed different.
"This is not Yellowstone, this is not Yosemite," said Pierce. "There's just something about it that's very different there. One, you're generally a good distance away from any sort of an urban area whereas in the East you're relatively close to population. I don't know — it was just a different feeling."
Many people from Western North Carolina and Eastern Tennessee who grew up with the Smokies as their model of a "normal" national park would likely agree with Pierce. However, the truth is that the Smokies' situation is anything but normal.
That's not to say that it's the only national park without a fee. In fact, only about a quarter of the country's 419 National Park Service units charge an entrance fee. But of the 419, only 61 are officially designated as national parks. The remainder fall under a different designation, like national monument, national battlefield or national scenic trail. Among the national parks, entrance fees are quite common — 37 charge some sort of fee to enter, while the remaining 24 do not.
That doesn't mean that visitors should expect to enjoy all 24 "free" parks without paying. Mammoth Cave National Park in Kentucky, for example, does not charge an entrance fee but does require visitors who wish to tour the caverns for which the park is named to pay for the privilege. The same is true for Wind Cave National Park in South Dakota.
Most of the free-to-enter national parks fall on the low side of the visitation spectrum, with only five of the 24 drawing more than a million visitors in 2018. The Smokies is one of the five, in 2018 logging 11.4 million visitors to continue its streak as the nation's most-visited national park, drawing nearly twice as many visitors as second-place Grand Canyon National Park, which saw 6.4 million visitors that year.
"Every park has its culture, and that's just a part of the Smokies' culture, that it's free," said Pierce. "Although, people don't think about what that costs the Smokies in the long run."
Visitors explore the newly open 'Missing Link; section of the Foothills Parkway in November 2018. In the first two months it was open, this section of the park attracted nearly 200,000 people. Joye Ardyn/NPS photo
Legally enshrined
The Smokies' culture of free entrance goes back to its establishment in 1934. Unlike large western national parks like Yosemite and Yellowstone, which were created from land already owned by the federal government — though of course all land in what is now the United States was once inhabited by Native Americans who were forcibly removed — the land that now contains the Great Smoky Mountains National Park was privately owned, settled with homes, farms, stores and churches.
The Smokies' transition from private settlement to public ownership was a painful and contentious one, and even now, nearly 100 years later, the wounds have not completely healed. Especially to people with deep roots in the region, the idea of paying a fee to visit land that they in some ways still consider to be theirs is nothing short of heinous.
However, there is nothing in the park's enabling legislation that prohibits it from charging an entrance fee, and there was never any written agreement between the government and former park residents guaranteeing free entrance to the park. At least, said Pierce, not explicitly.
"The only promise I know of is that they would have access to the cemeteries," he said.
The agreement states that the government will maintain the graveyards where settlers buried their dead, as well as the roads and trails used to get there. The agreement is more about physical access, said Pierce, and doesn't specifically address the issue of entrance fees. However, were the Park Service to impose an entrance fee it's likely it would find itself defending against a lawsuit claiming violation of the agreement.
There is another, stronger legal barrier to instituting an entrance fee in the Smokies, and that is the 1951 deed transfer the Tennessee legislature enacted to grant the federal government ownership of Little River Road and Newfound Gap Road.
"No toll or license fee shall ever be imposed by the United States or any agency thereof for the use by the public of State Highway Nos. 71 and 73, and the rights is (sic) especially reserved unto the State of Tennessee to allow the public to use said highways," the document reads.
The prohibitions in that language have been generally understood to include charging an entrance fee, and removing the prohibition would require action from the Tennessee legislature. According to legislators representing areas bordering the park, such action is unlikely.
"I would expect significant resistance from all affected," said Sen. Art Swann, R-Maryville. "This was built as an economic aid to a Depression-ravaged mountain area. Locals still see this as a loss of their homes, forests and farmland. The whole idea was to take their land 'for the public good.' Tennesseans see these mountains as their home. You don't charge them as visitors visiting their condemned homes and family land."
"We want everyone to be able to come to the park without any charge, from the rich to the poor, the poor to the rich," added Sen. Steve Southerland, R-Morristown. "We want everyone to be able to use the park and we don't want to impose that fee on them."
Southerland, who chairs Tennessee's Senate Energy, Agriculture and Natural Resources Committee, said that Tennessee acts that belief out with its state parks.
The state's 56 parks feature 1,300 miles of trails, 372 cabins, 36 campgrounds, 80-plus waterfalls — and no entrance fees.
Free access is not only good for visitors, said Southerland, but it's also good for his district's booming tourism industry.
"When those visitors come into Sevier County, they're spending dollars on tourism, like clothing, like gasoline, like food — everything," he said. "So the sales tax that we generate out of that is enormous. In fact, Sevier County is the third-largest taxpayer to the state as far as sales tax dollars."
North Carolina turned over its portion of Newfound Gap Road through a process called abandonment, and the formal agreement did not include any language preventing an entrance fee from being instituted. However, the action did reference a 1936 letter from NPS Director Arno Cammerer, which stated that it was not the Park Service's intent to charge a fee, said Smokies spokesperson Dana Soehn.
"So, although legislative action by North Carolina would not be needed to impose an entrance fee, some concurrence by the state would be desirable," said Soehn.
The park's main entrances at Oconaluftee and Sugarlands — both located along Newfound Gap Road — are by far the most popular ways to enter the park. But there are many other, lesser-used entrances as well as popular areas like Cades Cove that don't rely on access to Newfound Gap or Little River roads. However, the park can't charge access fees there, either, due to a 1992 federal law that prohibits fees from being charged for "entrance on other routes into the Great Smoky Mountains National Park or any part thereof unless fees are charged for entrance into that park on main highways and thoroughfares."
That legal framework means that the expansive, diverse park — the largest east of the Mississippi River — is free to enter and easily accessible even to residents of urban areas like Atlanta, Chattanooga and Memphis. The Great Smoky Mountains National Park is undeniably a unique jewel in the crown that is the National Park Service.
Visitors mill through the Sugarlands Visitor Center near Gatlinburg in March 2018, checking out the bookstore and exhibits or waiting their turn to speak with visitor center staff. Andrea Walton/NPS photo
Disparity of dollars
The Smokies' fee-free status is not without cost, however.
Of 2018's 10 most-visited national parks, the Smokies — which held the number one spot by a margin of 5 million — was the only one without an entrance fee. The remaining nine parks charged a per-vehicle fee of $30 or $35, with passes good for seven days. Parks are allowed to keep 80 percent of their fee revenue to pay for maintenance and visitor services, and this can add up to millions of dollars. In 2018, for example, Grand Canyon National Park, which had the second-highest visitation, took in $16.2 million in fees, equivalent to 75 percent of the park's congressional allocation that fiscal year.
It's hard to estimate how much money the Smokies would receive if it charged the same $35 fee as Grand Canyon. The park's visitation numbers are padded by traffic from people passing through the park to commute between Gatlinburg and Cherokee or taking the Spur between Gatlinburg and Pigeon Forge, so many of these people would likely purchase a park-specific annual pass ($70 at Grand Canyon) rather than paying for every seven-day use period. It's also difficult to predict how people, especially locals, might change their behavior and use the park less often if a fee were in place. After all, it's free to hike in any of the three national forests surrounding the Smokies.
It is, however, safe to say that an entrance fee would greatly increase the park's budget, and that such an increase is greatly needed.
Every national park receives an annual base appropriation from Congress. That, along with fee revenue, typically comprises the bulk of the budget, with some other, smaller funding sources rounding it out.
Despite logging the highest national park visitation for each of the past five years, the Smokies' level of congressional funding ranked third among 2018's five most-visited national parks, with the park receiving $19.4 million in fiscal year 2018. By contrast, Yellowstone received $39.9 million and Grand Canyon got $21.6 million. Fourth and fifth place Rocky Mountain and Zion national parks received $13 million and $7.7 million, respectively.
Add in the fees, and the gap gets even wider. The Smokies takes in some fee revenue from visitors who rent campsites or buy backcountry camping permits, but it's just a fraction of what other comparable parks receive. In 2018 the Smokies earned $2.5 million this way. Of the year's five most-visited parks, Zion had the next-lowest fee revenue, with $7.9 million.
The funding gap is even more pronounced when taking visitation levels into account. Adding together congressional appropriations and fees for each park and then dividing by visitation yields a funding rate of about $2 per Great Smoky Mountains National Park visitor in each of the last five years, 2014 to 2018. The same formula yields a five-year average of $3.57 for Zion, $4.96 for Rocky Mountain and $6.10 for Grand Canyon. The outlier is Yellowstone, which saw an average per-visitor rate of $14.13 from congressional appropriations and fees over the past five years.
Park volunteer Grant Palmer impersonates the Smokies' first superintendent Ross Eakin while leading the 2018 Christmas Memories Walk at the 2018 Festival of Christmas Past with Ranger Jennifer Hale. Warren Bielenberg/NPS photo
Implications for infrastructure
This disparity creates a challenge for America's most-visited national park, whose popularity is only growing. Visitation rose each year between 2014 and 2018 for an increase of 13.09 percent.
"Most of the infrastructure in the Smokies was developed over 50 years ago," said Smokies Superintendent Cassius Cash. "We have dedicated staff who work hard to maintain it, but it's an ongoing challenge with facilities that have exceeded their normal lifecycle and increased visitation. We appreciate all the support in donations and funding through our partners, which allows us to match federal dollars through innovative public-private partnerships in our efforts to care for this special place."
According to the most recent report, based on fiscal year 2018 data, the Smokies has a deferred maintenance backlog of $236.9 million — more than 10 times its total revenue in fees and federal appropriations that same year.
It's not the only park facing massive backlogs, though. As of Sept. 30, 2018, the National Park Service as a whole carried $11.92 billion in deferred maintenance, and even parks that are able to charge entrance fees deal with the problem. Grand Canyon, for example, has $313.9 million in deferred maintenance — at 8.2 times the park's total fees and appropriations revenue for 2018, it's proportionally less than the burden the Smokies bears but is still quite large. Yellowstone has a similar story, its $657.7 million backlog coming in at 7.8 times the park's fee and congressional intake that year. Rocky Mountain and Zion are in a less dire situation with $84.1 million and $67.6 million, respectively, accounting for 3.9 and 4.3 times their fee and federal appropriations revenue in 2018.
That reality makes it hard for even a cash-strapped park like the Smokies to push for increased funding, said Great Smoky Mountains Association Executive Director Laurel Rematore.
"The Park Service is in a really awkward position here, because Congress gives the Park Service 'x' amount of dollars to distribute amongst the parks and all the various programs that the Park Service is responsible for, so if the Great Smoky Mountains National Park went and complained to even their higher-ups or to somebody in the federal government, the solution is to take money away from another park that needs the money as well," said Rematore. "Everybody's got crushing amounts of deferred maintenance backlogs that number in the millions, and federal appropriations don't come close to touching that."
Sen. Lamar Alexander, R-Tennessee, has a long history of work with park-related issues, first as the state's governor from 1979-1987 and then as a U.S. senator from 2002 to present. He's opposed to instituting a park entrance fee, but he also acknowledges the need for additional funding — in the Smokies and elsewhere.
In 2005 Alexander worked with then-Sen. Bill Frist, R-Tennessee, to make some progress on this front with a bill amendment that allowed the Smokies to keep 100 percent of the money it collects from fees, rather than having to send 20 percent of it back up the food chain as is the case with fees collected at other parks. But that change resulted in a revenue increase in the hundreds of thousands of dollars, and the Smokies needed a bump of millions.
"The Great Smoky Mountains National Park was given to the country by the states of North Carolina and Tennessee and by a fundraising drive with children giving pennies and John D. Rockefeller giving $5 million," said Alexander. "That was the deal when the park was created, and it's a matter of the law. All the other popular parks created in the West were carved out of land the federal government already owned, so the federal government can charge an entrance fee. That's why it is important to pass my Restore Our Parks legislation — which would cut in half the maintenance backlog at our 419 national parks, including the Smokies, and help ensure future generations have the same opportunity to enjoy the great American outdoors."
The bipartisan Restore Our Parks Act, of which Alexander is a cosponsor, passed the Senate Committee on Natural Resources and Energy on Nov. 19 and now awaits a vote. As written, it would create a National Park Service Legacy Restoration Fund that, from 2019 through 2023, would receive half of all energy development revenues paid to the U.S. government, not to exceed $1.3 billion. The money would be used for deferred maintenance needs within the National Park Service. The bill's 45 cosponsors also include N.C. Sen. Thom Tillis.
A House version of the bill — whose 329 cosponsors include Rep. Mark Meadows, R-Asheville, and Rep. David Roe, R-Jonesborough — is working its way through the House of Representatives and was placed on the calendar Oct. 22, though it has yet to come up for a vote. That version would create a fund to include an equivalent amount of money derived in an equivalent manner to that proposed in the Senate version, but it would fund deferred maintenance on land managed by the U.S. Fish and Wildlife Service, Bureau of Land Management and Bureau of Indian Affairs in addition to that of the National Park Service.
The daughter and granddaughter of Cherokee tribal member Segli Nedde, shown in this undated photo, are just some of the people who used to live on the land that is now the Great Smoky Mountains National Park. NPS archives
A helping hand
An influx of funding like that outlined in the Restore Our Parks Act would be helpful, maybe even game-changing, but that possibility doesn't negate the need for continued work to see that the Smokies' needs are met.
Nearly every national park has a partner organization or two that works to raise money and support the park's mission, but the Smokies' unique funding issues heighten the importance of its relationship with its main partners, GSMA and Friends of the Smokies.
As did Friends of the Smokies President Jim Hart, Rematore said her organization does not have a position either way on the park fee issue. Its role, instead, is to work with the park to identify funding priorities and then to generate dollars to support them. However, said Rematore, the combined challenges of high visitation and lack of an entrance fee certainly affect the urgency of the nonprofit's role.
"It puts considerable pressure on GSMA to make sure that we are being as efficient as possible in conducting our own operations so we can reserve as much as possible to give to the National Park Service to help bridge its needs between what it receives through federal appropriations and what its actual needs are," she said.
"We only exist to raise funds for them, and that's what we're doing," said Hart.
Together, the organizations certainly help to pad the park's budget. Friends of the Smokies typically raises between $3.5 and $4 million each year, and GSMA gives $1.3 to $2 million annually. Taking the low end of both of those ranges, those contributions add another 21.9 percent to the Smokies combined fee and congressional appropriations revenue, when looking at numbers for fiscal year 2018.
"I think we enjoy great success at what we do, but then you turn around and you look at the unmet need that is still there, and it's daunting," said Rematore.
'A complicated discussion'
Entrance fees have been a topic of discussion at Park Service units across the country recently, with a rate hike going into effect at national parks nationwide on July 1, 2018.
Looking at 2018's top five most-visited parks, Yellowstone, Grand Canyon and Zion saw their fees increase from $30 to $35 for a seven-day vehicle pass, while Rocky Mountain's went from $25 to $30. While many were disgruntled at the increases, they don't appear to have dampened visitation — none of the four parks reported a decrease in visitation attributable to the fee hike. After all, $35 for a whole family to enjoy seven days of exploration really isn't much, especially when you consider that an amusement park ticket might set you back $80 or more, and that would just cover one person for one day.
But the calculus is different when you're talking about a national park that many consider to be their local park — a place to enjoy an afternoon picnic, take a detour to soak in the view or escape for a quick overnight backpacking trip.
"There is a sense of ownership in Eastern Tennessee and Western North Carolina because of the way the park was created that would make it difficult to charge an entrance fee, and secondly if they did the level of resentment there I think would be pretty high," said Pierce. "So it's hard to weigh all those things. It's such a complicated discussion."
While mountain residents may view the Smokies as their local park, by law the federal government cannot see it that way. The national parks belong to every American, be they from Bryson City or Baton Rouge. If the Smokies were to ever have an entrance fee, it would have to be the same for everybody.
That could be a hard pill to swallow, especially for North Carolina locals still embittered by the decades of legal wrangling involved with getting the federal government to pay out the settlement it promised Swain County residents in return for not rebuilding the road it had promised to rebuild after constructing Fontana Dam. Known as "The Road to Nowhere," only 7 miles of the promised 26-mile road were ever built, and the full $52 million settlement wasn't paid out until 2018 — 15 years after the settlement agreement was signed and seven decades after the promise was made.
"The fact that the settlement had not been paid was just incredibly awkward and I think introduced a lot of acrimony into any discussions that might have occurred about the possibility of implementing an entrance fee," said Rematore.
Pierce is willing to wager that every Smokies superintendent has at some point started poking around the idea of instituting an entrance fee, but none of them have ever pushed it forward for public comment.
"It's something that's been on their minds for a long time, but I think it's so tangled and so potentially contentious that they have avoided any sort of public talk about it," said Pierce. "It would be a particularly brave superintendent that would tackle that issue."
It's still tangled, and it's still contentious, but if the park's funding continues to stay flat as its visitation continues to rise, the day could come when open discussion of an entrance fee begins.
"I think it has the potential at least to become something that would rise to the level of a public comment period today because the revenue issues and the maintenance issues are so huge at this point," said Pierce. "But it would take a massive public relations campaign."
The park's nonprofit partners would have to come out in support — and potentially risk alienating supporters committed to the park remaining free — and the Tennessee legislature would have to amend its 1951 deed transfer legislation, which itself would require a grassroots show of support from voters in that state to prompt action from legislators. Finally, federal action would be needed to enact the fee.
"I don't see it coming any time soon. I'll just put it that way," said Pierce. "It would be a long, long process."
Per-visitor funding at 2018's five most popular parks
• $1.92 — Great Smoky Mountains National Park. In fiscal year 2018, this park received $21.9 million to serve 11.4 million visitors.
• $5.94 — Grand Canyon National Park. In fiscal year 2018, this park received $37.9 million to serve 6.4 million visitors.
• $4.67 — Rocky Mountain National Park. In fiscal year 2018, this park received $21.4 million to serve 4.6 million visitors.
• $3.61 — Zion National Park. In fiscal year 2018, this park received $15.6 million to serve 4.3 million visitors.
• $20.36 — Yellowstone National Park. In fiscal year 2018, this park received $83.8 million to serve 4.1 million visitors.
Park funding is calculated by adding congressional appropriations and fee revenue. Calculations made using data from the National Park Service. Visitation data refers to calendar year 2018.