Archived News
Abundant Labs to open hemp processing facility in Canton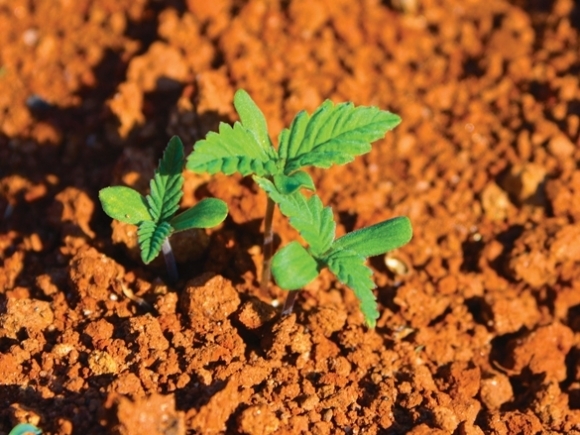 Tiny hemp seedlings sprout at the North Carolina Department of Agriculture and Consumer Services' Mountain Research Station in Haywood County in July, 2017.
Cory Vaillancourt photo
Haywood County's latest economic development victory – a state of the art, $12 million hemp processing facility – means that Canton will become among the first local municipalities to cash in on the new "green" economy.
"Abundant Labs, LLC partners developed a plan to bring new technology to the cultivation of hemp. Abundant Labs provides extraction of the cannabinoids from the cola of the Cannabis Sativa L with genetics high in CBD," said Jodi Miller, a media representative for Abundant Labs, in a press release sent by the Haywood Chamber of Commerce's Economic Development Council earlier today. "The lab takes the extracted product to deliver either a Full Hemp Extract to business for creation of consumer products or isolation of certain cannabinoids to provide higher concentrations of specific molecules."
Cannabidiol – known more commonly as CBD – is a non-psychoactive component derived from the cannabis plant that is reported to hold myriad health benefits. The Farm Bill passed by Congress late last year removed obstacles to growing the plant across the nation, and North Carolina is one of more than 30 states that also permits cultivation of the plant.
According to Forbes, the retail CBD market nationwide in 2018 was somewhere between $600 million and $2 billion, but could grow to more than $16 billion in the next six years.
The new facility expects to create 18 local jobs as it establishes operations, but may grow to employ upwards of 40 people in the coming years. According to Abundant Labs' website, the company is "always looking for sources of biomass," meaning local growers might be able to cash in as well.
"The Haywood Chamber of Commerce is excited to welcome an emerging business to Haywood County and Canton," said CeCe Hipps, president of the Haywood Chamber.
Chamber Board Chairman Ken Flynt said that Abundant Labs is "on the leading edge of the burgeoning industrial hemp business in North Carolina, and will provide both substantial investment and new jobs in our community."
A formal announcement will be held at 4 p.m. today at BearWaters Brewing Company, in Canton.
Look for more on this developing story in the next issue of The Smoky Mountain News, on newsstands and online on Wednesday, June 12.