Archived News
Ground breaks on crisis unit in Cherokee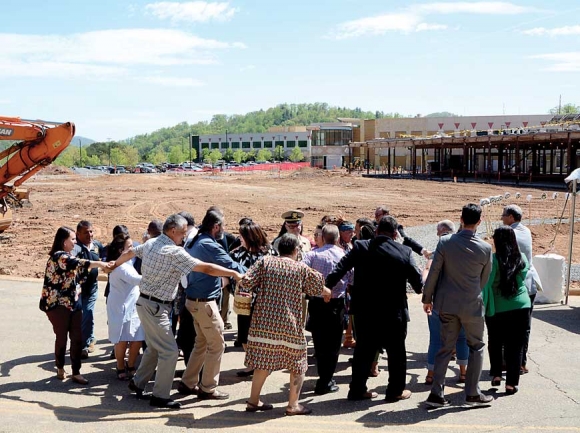 Groundbreaking attendees participate in a Cherokee Friendship Dance (above) immediately before witnessing the first shovelfuls of dirt being turned. Bo Crowe, executive director of the Museum of the Cherokee Indian, greets the crowd (below) to begin the program April 24. Holly Kays photos
The weather matched the mood when the Eastern Band of Cherokee Indians broke ground on a $39 million crisis stabilization unit Wednesday, April 24.
The sun shone brightly as elected leaders, healthcare workers and community members gathered under a tent erected at the rear of the existing Cherokee Indian Hospital to celebrate the start of a project that will result in a safe and nurturing place for people at the height of their battles with addiction and mental health disorders.
"It is often said that a true measure of any nation can be found in how it cares for its most vulnerable people," said Carmaleta Monteith, chair of the Cherokee Indian Hospital Authority governing board. "The Eastern Band is a great nation, one that demonstrates its greatness not through its economic prosperity, but rather through its commitment to its weak, vulnerable and voiceless."
A special type of groundbreaking
When the facility opens in fall 2020, it will feature 14 semi-private rooms and four high-risk rooms to house patients in crisis. Some rooms would have the capacity for conversion to double-occupancy rooms with a potential for 28 total beds.
In addition to the residential facilities, the building will also include an inpatient unit as well as a treatment mall featuring group therapy rooms, a wellness gym and a secure outdoor roof garden. Analenisgi, the tribe's program to support people in recovery, will relocate its offices to the new building as well, with those facilities including 11 office spaces, 24 work stations, 13 talking rooms, a large group therapy room, two small group therapy rooms and two classrooms. According to an informational flyer the hospital distributed in July 2018, 59 percent of the square footage will be for direct patient care and 41 percent will be for office space.
"We consider ourselves a very client-focused, community-based organization, and it's really a value to us to work with an organization like the Cherokee Indian Hospital that shares the same values and ideals that we do," said Cullen Pitts, principal architect for McMillan Pazdan Smith Architecture, which designed the building.
From the beginning, Pitts said, three goals were made clear to his firm: build a facility that is safe for everyone from patients to staff to visitors, honors the population served, and finishes on schedule and within budget.
"The exterior and the interior of this facility will be seamless with the existing building, and the interior will be connected back to the hospital in a very purposeful way," he said.
Purpose will be key to the construction aspect as well, said Robin Savage, president and COO of construction firm Robins & Morton. During an initial brainstorming session, he said "there was this presence in the room, and it was Carmaleta (Monteith)," — her comment that the project is about the community taking care of the community was "forceful for the entire team," said Savage.
"You have office buildings, you have stadiums, you have all kinds of buildings, but a health care building is special because it's being put here to make people whole," he said. "It's being put here to provide health care and caring and healing for people. And so the groundbreaking on a building like this is more special than other types of buildings."
'This is all of us'
Cherokee took over management of its health system in 2002, which is when the Cherokee Indian Hospital Authority and its governing board were created. Initially, said Monteith, the board's focus was simply on learning how to manage a health system without running out of cash, but in 2013 the tribe proposed that the authority take on managing behavioral health services as well. Initially, Monteith said, the board had "great reservations" about that proposal.
"But the board in reflecting on this decision, we asked ourselves, 'What is our core purpose?' It is to ensure the prosperity of the next seven generations, and we knew in our hearts that we cannot improve the health of the people without addressing its behavioral health and the substance abuse," she said.
The board had no way of knowing then just how central behavioral health would become to combating a scourge that has caused nearly everyone in the community to see a friend or family member die too soon.
"Back in 2002 when we were worrying about diabetes, we had no idea what was coming that was going to once again take our people," said former Principal Chief Joyce Dugan and hospital board member, 2002-2018. "Something else was coming that has the potential to decimate our people the same as diabetes has for years."
Four years later, in 2006, Dugan's granddaughter would become one of the first casualties of the opioid epidemic that has since rent a hole through families across the Qualla Boundary. For the past decade plus, finding a way to repair those holes, and restore the people battling addiction to full and happy lives, has been a heartfelt focus for all levels of tribal leadership.
At one point during the April 24 ceremony, Principal Chief Richard Sneed asked all those present who know someone struggling with addiction to raise their hands. Nearly everyone in the audience extended an arm upward.
"Look around," he said. "This is all of us. This is our community. These are our families. We are very fortunate to live in a community where there has been a culture shift. We no longer view addicts through the eyes of judgment and punishment, but through the eyes of compassion and caring for our people."
Providing a continuum
The tribe made a big commitment to that end in 2015, when Tribal Council passed a resolution authorizing $16 million in capital spending to provide a "continuum of services" to help those recovering from drug addiction. The flagship facility in that plan was the 20-bed Snowbird Treatment Center, a residential recovery center opened in December 2017.
Dugan has seen the hope that center offers firsthand, picking up the sister of her deceased granddaughter from the facility after she graduated from the program, and witnessing firsthand the new lease on life she left with.
"We can't fix the problem piecemeal. We cannot put a Band-Aid on it," she said. "We recognize that there must be a continuum of services. If an addict presents to us a sign they need help and there's no room for them, we've lost them again. We've lost an opportunity to help them, because that opportunity may only come one time. This crisis stabilization center will help alleviate that problem and get those folks in when they present."
The new $82 million hospital building was completed in October 2015, and it was designed with the idea of building a crisis center nearby, said Monteith. Currently, patients with severe behavioral health problems are kept in emergency room units for weeks or even months — those facilities don't give them the help they truly need, and their long-term presence there means fewer rooms available to serve patients entering the ER with acute medical emergencies.
After months of debate, Tribal Council approved $31 million for the crisis facility in July 2018, with the hospital board committing to provide the estimated $8 million needed to finish the project. Funding was approved in a 9-2 vote, with Councilmembers Tommye Saunooke, of Painttown, and Bucky Brown, of Snowbird, voting against. Councilmember Boyd Owle, of Birdtown, was absent.
It was a "big number," Sneed said April 24, and it resulted in some "hard conversations," but it's now looking possible that the tribe will not have to pay back any of the money it borrowed to build the facility. The tribe has received the first $5.5 million distribution from Indian Health Services to pursue what's known as the 105L lease option, which allows IHS to lease tribal buildings delivering services under the Indian Self-Determination and Education Assistance Act.
Under the lease, IHS must compensate the tribe for "reasonable facility expenses," according to a July 2018 letter sent to tribal leaders nationwide. The conclusion of the court case Maniilaq Association v. Burwell spurred the letter, as that decision held that IHS is required to enter into such leases upon request from tribes and tribal organizations.
"Our hope is that will remain in perpetuity," Sneed said of the lease payments. "If that's the case the money that we borrowed to build this facility, the debt will be completely covered and funded by 105L lease payments."
That will make the project much less financially burdensome, though as various speakers pointed out, it's impossible to calculate the value of even one life saved.
"We can't save everyone," said Councilmember Richard French, of Big Cove. "We all know that. But if we can save that one person, we've did our job. We all hear from these people that they didn't wake up one day and want to be in the situation they were in. We're thankful that we're in a situation where we can help these people."