Archived News
Suicide prevention training to be held Sept. 10
Wednesday, August 29, 2018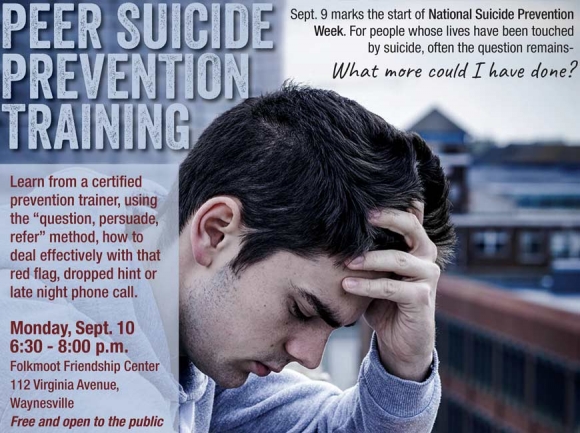 Many among us have been touched by the tragedy of suicide, and in the age of social media, many more of us have heard or seen behavior from family, friends or even total strangers that gives us pause.
According to the American Foundation for Suicide Prevention, almost 45,000 people choose to end their lives each year; what's more, for every suicide there are 25 unsuccessful suicide attempts. Roughly 1.3 out of every 10,000 people will kill themselves each year — it's the 10th leading cause of death in the United States, and is likely the most preventable.
"My favorite story involves a young lady at Erwin High School several years ago when I was doing prevention work there," said Bob Cummings, certified QPR peer suicide prevention trainer. "I was in Minnesota at the Hazelden Institute getting trained in another program, and I got a text about two o'clock in the morning, saying, 'Mr. Bob, I'm thinking about killing myself.'"
What would you do if you got that text?
QPR
Bob Cummings has been working in mental health and ministry for about 30 years. With a bachelor's degree in human services, he's a certified substance abuse prevention consultant, an EMT with a wilderness EMT designation, and has worked at Red Oak Recovery for three years.
"Red Oak Recovery is neat, it's a family of addiction recovery programs for young adults. We have a male campus in Leicester in the Big Sandy Mush area, we have a female campus in Fairview, and we're about to open up an adolescent program in Ellenboro, which is near Gastonia in the Forest City area," he said. "We provide addiction recovery, typically a 90-day stay."
A lot of what Cummings sees in his work is what's called dual diagnosis.
"People who go through [substance abuse] treatment often have trauma or other co-occurring issues — depression, bipolar, other mental health issues — going along with the substance abuse, so we address both," said Cummings.
Everyone at Red Oak is trained in the QPR method of peer suicide prevention.
"A lot of people coming to the program because of substance abuse, because of the mental health issues, have suicidal issues or suicidal tendencies," he said. "They're thinking about it, or have thought about it in the past, so all the staff are trained to deal with it."
QPR is an acronym. The "Q" stands for "question," the "P" stands for "persuade," and the "R" stands for refer.
"We have this idea in America sometimes that I don't want to talk about suicide or ask someone if they're suicidal because if I do, I might make them suicidal, and that's just not true," he said. "The research shows very clearly that if someone's dropping hints, they're already suicidal."
Research conducted by Dr. Paul Quinnett, now of the QPR Institute, shows that people who are suicidal or are thinking about suicide drop hints about a week before they make an attempt.
"They're saying things typically in a conscious or unconscious effort to find somebody who's going to say, 'Hey man, what's going on? This isn't like you,'" said Cummings. "They're saying things, they're doing things in an attempt to have someone say, 'Let's talk, I want to help you through this.'"
As Cummings explains, QPR isn't an extended or drawn-out therapy or counseling method; although it is handy for people who work within the mental health, substance abuse or suicide prevention fields, it's really for people like you and me who may nonetheless encounter those troubling red flags, or those 2 a.m. texts.
Starting with the "question" phase of QPR, much effort is spent overcoming the cultural taboo of even uttering the word "suicide."
"If you and I are sitting here and I said something like, 'I didn't eat breakfast today,' you wouldn't say to yourself, 'I don't want to ask Bob if he's hungry, I might make him hungry,'" he said. "If I'm dropping hints, I'm already hungry and I really want you to do something about it. People's fear is, again, if I ask them if they're suicidal, I'm going to make them that way and that's just not true."
The question, he said, must be asked in a bold, clear way.
"Hey listen, some of what you're saying scares me, man. Are you thinking of suicide? Are you thinking of killing yourself?"
Training in QPR teaches participants not to water it down with euphemisms full of ineffective weasel words like "doing something" or "hurting yourself."
The persuasion phase of QPR might not be what you think — it's less about painting a rosy picture of what can often be a real or imagined train wreck of personal issues, and more about convincing people to accept help.
"I'm persuading you to not kill yourself until I can get you some help like right now, which might mean I'm going to call your doctor, I'm going to call your pastor or your priest, or your family or mobile crisis and we're going to take care of this right now," said Cummings. "If someone is having a heart attack, I'm not going to diagnose. I'm not going to go through a protracted appointment with them. I'm going to take care of them right here and now, and I'm going to in a call a higher level of care. "
That's where the "refer" of QPR comes in.
But again, the stigma of suicide often stops people from even popping the Q; after all, what if I'm wrong? What if they get offended because I think they're going to kill themself and they're contemplating nothing of the sort?
"In the context of love and respect, if you and I have a relationship and I'm seeing some things and I say something like, 'Cory, some of the things that you're saying kind of scare me. I love you and I'm concerned about you. Are you thinking about suicide?' In the context of your and my relationship, and my love and respect for you, you're going to tend to not be offended," he said. "You may say, 'No, I'm not suicidal at all,' and at that point I can say, 'Well cool man, I'm glad to hear that because I care about you.'"
In his career, Cummings has had to ask the question more than a hundred times.
"I've never had anyone be offended or angry," he said. "I've had people say 'No, not at all.' My experience has been, if someone is suicidal there's almost a sigh of relief like, 'Yeah, yeah I am.'"
There's never been a suicide at Red Oak, but Red Oak can't be everywhere, and not everyone can avail themselves of the programs there.
That's why Cummings will hold a free training in the QPR method of suicide prevention at the Folkmoot Friendship Center on Sept. 10, in hopes that even one tragedy can be averted.
"We can prevent it if we're trained in how to do it," he said.
The training takes less than two hours and includes lecture, some exercises and a video from a man named Kevin Hines.
In 2000, Hines jumped off San Francisco's Golden Gate Bridge but somehow avoided becoming one of the estimated 2,000 people who have died in the frothing, frigid waters below it. Since then, he's become a worldwide crusader speaking on suicide.
The training will also include role-play exercises designed to help non-professionals like you and me become desensitized to the "s-word."
"I'll give a scenario. I may say that you are a 40-year-old guy and you just lost your family, you got a DWI last week, and you suffer from depression normally," Cummings said. "Now, it's really flaring up, and you're talking to your friend, and you start dropping some hints."
Included in those exercises are techniques to identify major red flags, including a lack of concern for the future, and what Cummings called "the smiling depressive."
"If someone you know has been depressed recently, and has been depressed for a while, and you see them again and suddenly they're smiling, and they almost seem at peace, that's a red flag," he said. "Beware of the smiling depressive, because there's a chance that that person now has figured out, OK, on Thursday when my family's at work and no one's at home, I'm going to take these pills, or I'm going to shoot myself or whatever, and now they're at peace with it."
Getting back to what Cummings said was his "favorite story" about that two a.m. text from the high school student — undoubtedly one of many success stories due to the QPR method — he asked the question, persuaded the girl to wake her mom, made a plan, and referred her to help the very next morning.
"This was five years ago," he said. "She completed Erwin High School, she's in college now, we're Facebook buddies and she texted me the other day and said, "Bob, I want to work at Red Oak Recovery with you."