Travel Features
Force of nature: WNC bluegrass star shines bright in Music City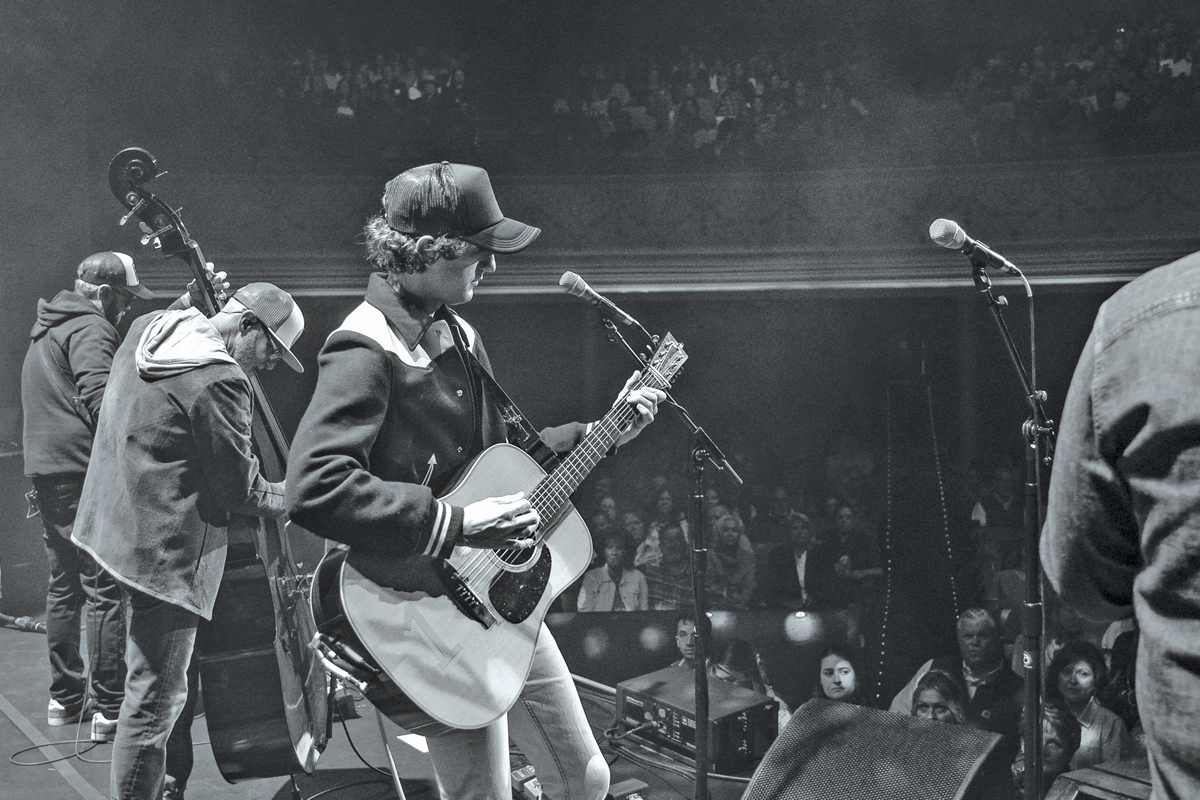 Seth Taylor (center).
This past spring, guitarist Seth Taylor and his band, longtime bluegrass staple Mountain Heart, once again took the stage under the bright lights at the legendary Ryman Auditorium in Nashville, Tennessee.
"I love getting to play other instruments onstage as well, but the guitar [and I] feel the most connected," the 29-year-old said. "The guitar found me at such an early age, and we clicked — I feel like I never really made this decision [to pick it up and learn]."
Hailing from Bryson City, Taylor, a multi-instrumentalist, is well-known and regarded around "Music City" as a six-string virtuoso on the acoustic guitar, one where his name gets whispered in the same breath as Billy Strings, Molly Tuttle and Bryan Sutton, with Sutton also a Western North Carolina native.
"I got into music super early in life. I don't remember it, but apparently, I asked for a guitar when I was two [years old]," Taylor said. "My parents and siblings don't play music, but they're all big music fans, so there was always music playing in my house. I always just wanted to play. And, by the time I was 15, I had my first touring gig."
Aside from his relentless work on the road and in the studio with Mountain Heart, Taylor is constantly involved in a bevy of musical projects and ever-evolving session work. One new project, Woodbox Heroes, just released a highly-anticipated EP.
Amid a slew of heavyweight musicians, Woodbox Heroes includes legendary bassist Barry Bales of Alison Krauss & Union Station and fiddle wizard Jenee Fleenor, the first woman ever to be nominated and win the Country Music Association (CMA) award for "Musician of the Year," which she's now won four times (2019-2022).
"Being involved in so many different types of music as a session musician, I'm so thankful to have a bluegrass background to fall back on," Taylor said. "While it can be super difficult to play, I love the simplicity of the music — I think we can all just relate to bluegrass music."
But, most recently, Taylor was excited about the public unveiling of his bluegrass super-group, Grass Of '23. When the group played at the Stecoah Valley Center in Robbinsville in April of this year, the ensemble featured Barry Abernathy (banjo), Mark Fain (bass), Darrell Webb (mandolin) and Ron Stewart (fiddle).
"Grass of '23 is the brainchild of my old boss and Mountain Heart bandmate Barry Abernathy. He called me several months ago with the idea of forming an 'all-star' band for this show," Taylor said. "Some of my favorite musicians are involved. And there are no plans for further dates or recordings, which made the show feel even more special — one night only."
The talented pickers have worked with musical icons Dolly Parton, Tom Petty, Martina McBride, Alan Jackson, J.D. Crowe, Dailey & Vincent, Joe Diffie, Rhonda Vincent, Lonesome River Band, Ricky Skaggs, Lee Ann Womack and Doyle Lawson & Quicksilver, among numerous others.
"The uncertainty [of the music industry] is really what keeps most people in my position inspired to keep working. Because we never know what is going to work, and what people will relate to musically," Taylor said. "That's why I keep pushing to just create. I think seeing how excited people are to see shows post-shutdown makes me feel like we're definitely supposed to be doing this."
Looking at the current state of music — especially with Nashville at the center of the whirlwind of genres, artists and collaborations — Taylor views the unknown horizon and unfolding sonic landscape as bountiful as any previous era. To that, Taylor was part of Zach Bryan's juggernaut 2022 album "American Heartbreak."
"I [saw] how people embraced that [Zach Bryan] project, not only in Nashville, but the whole country," Taylor said. "And being involved in the alt-country scene has opened my eyes to how excited young people are about music, as well — genre lines have blurred so much and I think that's great."
For more information
The Stecoah Vallety Center is housed in a renovated schoolhouse in the village of Stecoah, which is is about a half-hour west of Bryson City via US-74 West and NC-28 North — roughly midway between Bryson City and Fontana Dam.
The center is also about 15 minutes north of Robbinsville via NC-143 and NC-28 South.
For more information about the center or upcoming shows and exhibits visit www.stecoahvalleycenter.com, call 828.479.3364, or email This email address is being protected from spambots. You need JavaScript enabled to view it..