Travel Features
Pouring a cup of community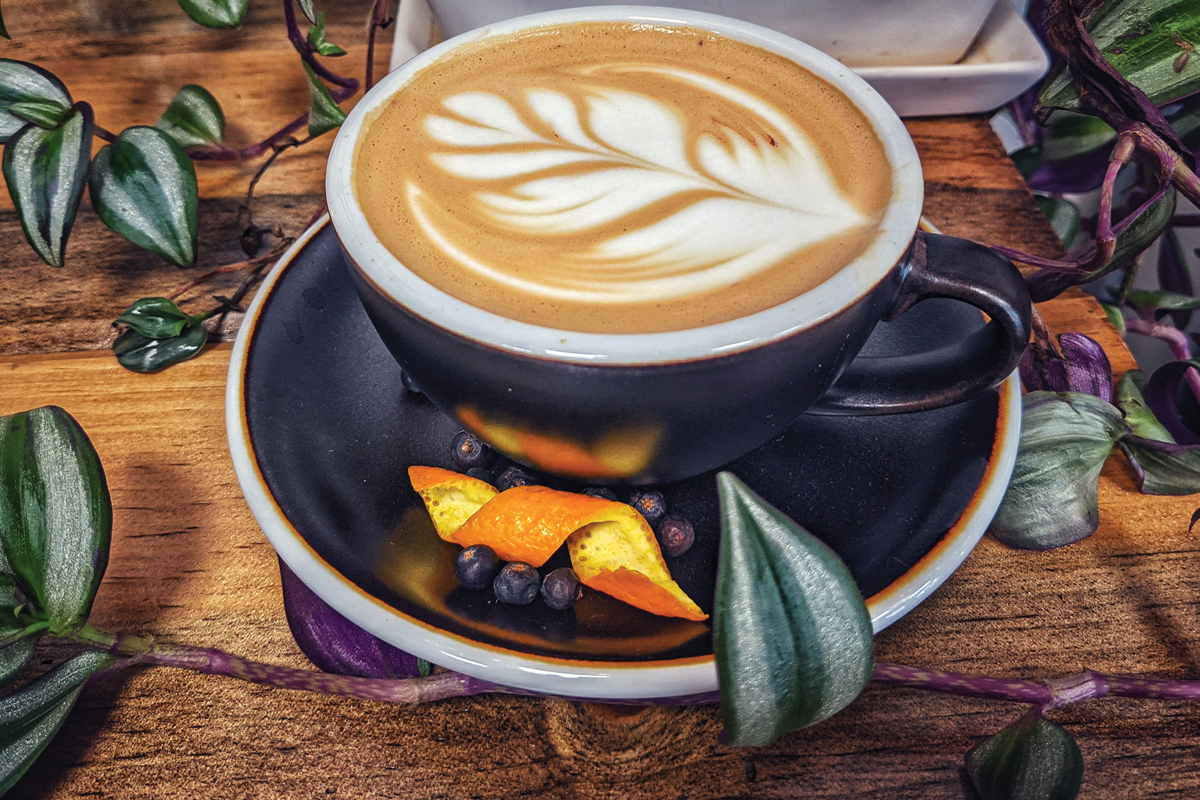 Coffee shop becomes Canton staple Like many recent businesses opening in downtown Canton, it's usually a story of someone deciding to take a chance on a quiet town — a community full of potential that many have either disregarded or overlooked.
"We had people wondering why we'd open something here," Russ Grimmett recalled. "But, then other business owners in town, the mayor and aldermen all said, 'This is what Canton needs.' So, we went on that."
Opened in June 2019, Papertown Coffee has become a beloved spot of sorts on Main Street in the longtime blue-collar mountain town. It's a social hub — more so a beehive — of people, conversations and interactions, all of which bring a strong sense of connectivity to a place that, like the rest of the world, has felt a little disconnected over the past two years.
"And we really feel that connection to the community," Grimmett said. "Even during the shutdown, when we were just doing mobile to-go orders, all of these people were buying gift certificates or buying whatever they could to support us — it was pretty amazing."
Alongside his partner, Liz Rhine, the couple bounced around the United States for several years before ultimately landing in Haywood County. Rhine grew up in Lincolnton, with Grimmett hailing from Charlotte. From there, they put roots down in "The Triangle" (Raleigh/Chapel Hill/Durham), Seattle, Washington, and Morganton.
The couple met at a coffee shop in "The Triangle." At the time, Grimmett was a drink trainer, with Rhine one of his employees. Grimmett also competed in several barista competitions, where he perfected the craft of the latte among other coffee specialties.
Eventually, Grimmett shifted his focus into the more technical side of the coffee industry, doing equipment service in Seattle, then around the Southeast. As this was all going on, Rhine was on the road constantly as the tour manager for juggernaut Americana/roots act Mandolin Orange (now known as Watchhouse).
"She was away a lot and we both decided we wanted to start a business together," Grimmett said. "We thought about all sorts of ideas for a company, but coffee made the most sense since I'd been in this industry for 15 years and she'd been in it on and off for about the same amount of time."
Initially, Grimmett and Rhine were looking to launch a coffee shop somewhere in the Asheville area. But, a friend of the family, Kristina Smith Proctor, who is now on the Canton Board of Aldermen, suggested they look into the town.
Russ Grimmett and Liz Rhine.
"There were a lot of empty buildings in downtown and the place we found seemed perfect for what we were trying to do," Grimmett said. "So, we just started to roll the ball downhill — you either catch up or you fall over."
Grimmett remembers those first days on Main Street, whether it was renovating and retrofitting the building or simply being a new presence in the downtown business corridor.
"The most encouraging thing was just really talking to people in the community," Grimmett said. "I'd be out in front of the building painting and somebody would walk by and ask what was happening. It was those people who really gave us the confidence that this was going to work out — that we would go all in on this."
Reminiscing about opening day back in 2019, Grimmett can't help but chuckle thinking about all the last-minute details the couple was scrambling to get done before the coffee was ready to brew, the front door soon to be unlocked
"I was still writing the menu on the chalkboard an hour before we were supposed to open," Grimmett said. "And being someone who used to work on the service side of coffee, there are so many parts of the whole operation that most people don't even realize. It's all of those little things that you might not think about, but it all adds up. But, we opened and were slammed with business — community support from day one."
So, what is it about coffee the couple finds so alluring?
"Coming from the technical side, I have more of an analytical mind, where I'm fascinated by the process and science behind coffee, where you're aiming to create the pinnacle of the product," Grimmett said. "Liz comes from more of the artistic and social side of coffee, where it's about blending together the business and the community. But, now that we're back open, just seeing everybody every day I think has been the best part for her."
With Papertown Coffee now entering its fourth year of operation, plans are already in the works to expand next door, which would include an onsite roastery and more food options in terms of small plates and grab-n-go items.
"We love seeing people come in and try something new or unexpected with coffee, where they'll say, 'I didn't know coffee could taste like this,'" Grimmett said. "We're always changing up what we're serving and what we want to present to our customers — it's exciting for us."