Ask Leah! The Ingles Dietitian
Sponsored: Are seed oils bad to use?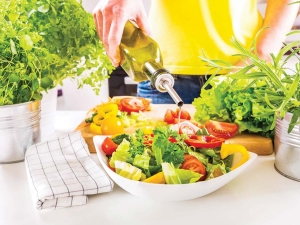 Q: Are "seed oils" bad to use?
A: There's a lot of misinformation floating around these days about seed oils and health. Often people with no training or education in food science or nutrition just love to scare people about the foods we eat - sometimes in an effort to have us buy something more expensive!
Typically "seed" oils refers to canola and soybean oils.
There are many food products that can be used to make oils that you can find on the shelf at your Ingles Market including tree fruits like avocadoes and olives, nuts (walnut, pecan), legumes (peanut) etc.
The American Heart Association recommends using oils in moderation and choosing oils that are higher in monounsaturated and polyunsaturated fats. www.heart.org/en/healthy-living/healthy-eating/eat-smart/fats/healthy-cooking-oils.
You also want to make sure you are choosing the right oil for your cooking or baking task to make sure your oils don't smoke at high temperatures or give foods a bad taste.
Confused about coconut oil, canola oil, olive oil and all the other options? Find out which are the best cooking oils for your heart health, how to use and store them, and what smoke point means at www.heart.org.
Leah McGrath, RDN, LDN
Ingles Markets Corporate Dietitian
facebook.com/LeahMcgrathDietitian
800-334-4936