Travel Features
Jump right in: Rivers in WNC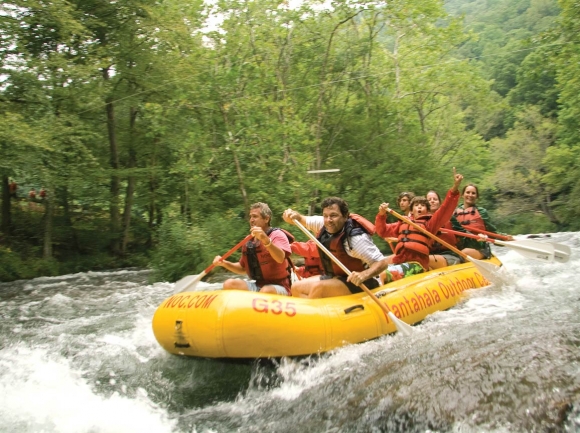 NOC photo
From mild to wild, paddlers can find whatever kind of river experience they're looking for in the mountains of Western North Carolina.
The area around Western North Carolina has earned a reputation as one of the premier whitewater regions in the country, for many reasons.
In addition to rafting becoming one of the top activities sought by visitors to the area, the region has become a magnet for top kayakers and white water canoers. The Nantahala Outdoor Center located in the Nantahala Gorge south of Bryson City is the leader of the rafting and paddling industry in the region. The Nantahala Outdoor Center is more than an outfitter and guide companybut a support network for the many world class paddlers — including members of current and past U.S. Olympic paddling team and the World Cup champions — that come here to train and live. Many of them work for NOC. The center hosts several top competitions each year that draws international paddlers.
The NOC has also solidified its reputation as one of the top teaching centers in the country. It has a "Rapid Progression, Learn-to-Kayak guarantee" that promises those who sign up will learn to kayak. If the boater does not feel they have mastered all the techniques necessary to feel comfortable, they are allowed to come back for additional training at no extra expense.
Rafters should consider several factors before embarking on a trip.
• Are you looking for a mild trip or a wild ride?
• How long do you want to be on the river?
• Are their any children in you party, and how much do they weigh?
• How comfortable are the members of your party in the water should they take a fall out of the raft?
These are questions you should have at least partially answered for before contacting a rafting company.
Many of the raft companies operate their own lodging facilities, from campgrounds and rustic cabins by the river to luxury cabin rentals secluded in the woods.
Expect $10 to $30 per person for rafting trips depending on the trip and how much is included, such as guided versus self-guided and what type of water craft you're traveling in.
Nantahala
The Nantahala River in Swain and Macon counties has been called "every man's river." It is an 8-mile run of basically Class II rapids (19 of them) with Class III Nantahala Falls waiting at the end. There is a slalom course on the river at the Nantahala Outdoor Center as well as "the wave" for playboaters. It is a wonderful river for rafting and beginner kayakers. Several outfitters on the river allow raft rentals without guides, and they'll also shuttle you to the put-in.
Tuckasegee
For beginners, tubers and those looking for a leisurely river trip, there is the Tuckasegee River in Jackson and Swain counties. There are five sections, almost 40 miles of navigable waterway from the tiny community of Tuckaseigee to Bryson City. The Tuck is great for family outings. Calmer water allows for a minimum weight requirement of 40 pounds.
Other rivers in the region:
French Broad
The French Broad River through Buncombe and Madison counties offers opportunities from flat water to waves for surfers to the class IV Frank Bell's rapids. The most popular run on the French Broad is section nine from Barnard to Hot Springs. There is also a kayakers' playground at the Ledges Park in Asheville.
Chattooga
The Chattooga River winds up in Lake Tugaloo. This scenic, free-flowing river offers a variety of whitewater experiences. Section II from N.C. 28 to Earl's Ford is basically Class II with one Class III rapids, Bull Shoals. Section III begins at Earl's Ford and runs 10 miles to U.S. 76. There are six rapids on this section ending with Bull Sluice, which is class IV or V depending on water level. Section IV is eight miles, from U.S. 76 to Lake Tugaloo. This section includes the difficult and potentially treacherous Woodall Shoals and finishes with "Five Falls;" First Falls, Corkscrew, Crack in the Rock, Jawbone and Sock.Em.Dog.
Nolichucky
One of the most scenic paddles in the region would be the Nolichucky. Born out of the confluence of the Toe and Cane rivers, the first few miles of the Nolichucky are full of big water and challenging rapids. The run from Poplar to Erwin, Tenn., is eight.and.a.half miles of Class III and IV rapids, provided the river is up. The Nolichucky is not dam controlled and is dependent on rainfall.
Pigeon
The Pigeon has scheduled releases from Memorial Day weekend through Labor Day, with Class III and IV rapids. It has become a popular whitewater trip for paddlers and rafters in recent years, providing a shorter but exciting trip. A number of outfitters are located in Hartford, Tennessee.
Ocoee
The Ocoee is the furthest west of the whitewater rivers, flowing through a beautiful gorge in East Tennessee. Rafters must be at least 12 years old to go on either the upper or lower Ocoee, and it has Class III and IV rapids for the entire ride.