Summer Camp Guide
Proud past, bright future: Camp Henry soldiers on
Wednesday, March 10, 2021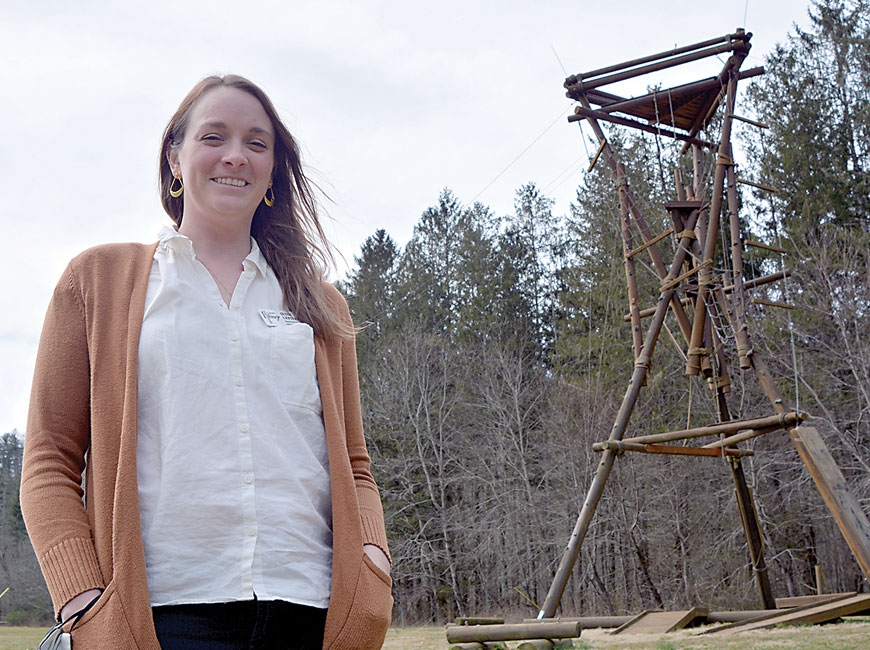 Jessi LeFiles, executive director of Camp Henry, stands before the camp's Alpine tower. Cory Vaillancourt photo
Founded in the 1950s, Camp Henry's history is rooted in the logging operations that once dominated the area. Indeed, the Haywood County camp's mile-long lake was created when the site of a former logging camp was dammed up, but now the 300-acre property on the edge of the Pisgah National Forest is looking to build upon last year's successes just as the nation starts to take its first tentative steps past the Coronavirus Pandemic.
"We're one of the only camps that operated last summer," said Jessi LeFiles, executive director of Camp Henry. "We put a lot of COVID protocols in place following all of the guidelines that were given to us by the Department of Health and Human services and the CDC, but we did it in a way that the campers could still have fun."
LeFiles started with Camp Henry just as the pandemic began in earnest last winter, forcing camp directors to evaluate the feasibility of even opening the doors.
"You know, they weren't in prison," LeFiles said of last year's campers. "They wore face coverings while they were inside getting food. We ate outside, they wore face coverings while they were playing in the cabins. Once they got in their bed, they could take them off. The rest of the time, we just picked games and fun activities where they could stay socially distanced and we kept the numbers low to keep the chances of COVID transmission low. From a safety standpoint, that's something I'm proud of."
Camp Henry is perfectly situated to implement those socially distanced activities; the camp itself is spacious and tidy and is relatively isolated, hemmed in as it is between the Pigeon River and the towering ridges of the Shining Rock Wilderness Area.
"We have something for everyone, so we have camps that are based on expeditions and you go backpacking and rafting and climbing," LeFiles said. "And then we have a camp this summer that is a performing arts camp, so if your child isn't the type of kid that wants to go rafting and climbing they can come here and be part of a production and learn how to do directing or lighting or get singing instruction, play musical instruments. We try to provide something for any type of child, whatever they would like to do."
This year, there are more than a dozen different camp experiences for children from kindergarten through grade 12.
There are also a number of options for parents who might find it difficult to afford a traditional camp experience for their child or children. LeFiles says they don't like to turn campers away if they can't pay.
"The camp is owned by the Episcopal Diocese of Western North Carolina, which does mean that it has a spiritual aspect, but the other side of being part of the Episcopal Diocese is that we have a really great monetary support system," said LeFiles. "They give us an amount for scholarships and then they also provide a network of donors that donate to our scholarship fund or set up their own individual scholarship funds."
That support helps bolster inclusiveness, so that more kids can experience Camp Henry's proud past, while simultaneously becoming part of its bright future.
"Camp Henry is a place where grandparents, parents, kids, they all come and they all have memories of this place and they all realize that it's a special place," LeFiles said. "We like to say it's a thin place, a place where when you're here, you feel a little bit closer to God or whatever your spirituality is. Kids feel like they can be more themselves. They forge friendships that they would probably never forge at school and for maybe reasons that I don't even know, they come back year after year. The community piece is really what makes Camp Henry special."
For more information on Camp Henry's programs, visit www.lakelogan.org/camphenry.