Summer Camp Guide
Camp with the critters
Wednesday, March 18, 2020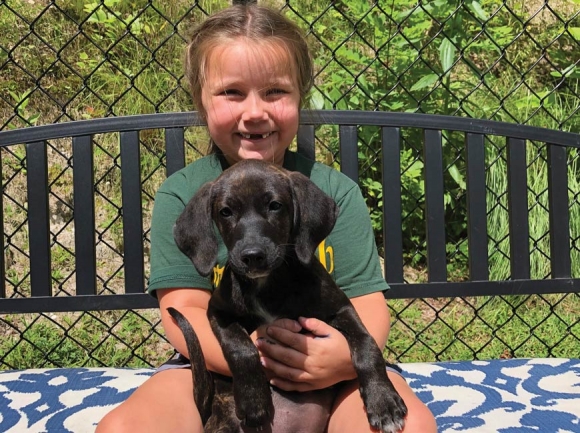 A camper enjoys the chance to cuddle a shelter pup. CHHS photo
Now in its second year, Critter Camp at the Cashiers-Highlands Humane Society is a win for kids and critters alike.
The week-long sessions give kids a chance to interact with the animals, but also to learn how best to care for them and about all the ways that adult animal lovers have found to earn a living working with their favorite creatures.
"It's really interesting to see how the kids react to the animals and how the animals react to the kids," said Jodi Henkel, assistant shelter manager. "I think a lot of people underestimate just how caring and loving kids are. They do really well with animals. We haven't had any issue as far as them being rough with the animals. Overall they've been really amazing with them."
Each session of camp accommodates 12 children, with elementary sessions for rising first through fifth graders and middle school sessions for rising sixth through eighth graders. Every day includes an opportunity to interact with the shelter animals and learn about how to care for animals with classes on responsible pet ownership, pet safety and other topics.
Animal-themed arts and crafts and guest speaker sessions round out the program. Past speakers have included Steve O'Neil, a wildlife biologist who talks about reptiles; Rob Gudger, who brings one of his wolves as part of an education session about the wild canines; and a Jackson County sheriff's deputy who introduces the campers to his K-9. During that session, Henkel will put on a bite sleeve and let the kids see her get bitten — it's always a hit, she said.
Then, as a grand finale, the campers will spend Friday afternoon taking the shelter dogs for a hike. It's safe to say, that excursion is a favorite for the pups.
"Anytime a dog can get out and socialize with people, that's great for them," said Henkel. "It's also great to be able to tell an adopter this is a dog that our campers took on a hike, and they did great with the kids."
The program gives the dogs a track record that shelter workers can report on, boosting their adoption profile.
For many people, when they think about careers for people who love animals, they automatically go to veterinarians. But there are many other options for becoming a career animal lover — camp gives kids a chance to see what those are, said Henkel.
"Kids are the future of animal welfare, and they're like little sponges," she said. "They soak up information so much more than anybody would realize, so they really get involved in the humane education lessons. I can't tell you how many parents have signed up their dog to get them fixed because we talked to them about overpopulation."
Last year was the first year for Critter Camp, but the feedback was so strongly positive that CHHS decided to increase the number of sessions from four to seven. For instance, said Henkel, last year as one of the sessions wrapped up, a little girl who had already done two camps that year spoke up.
"As we were walking back, she said, 'This is the best week of my life,'" said Henkel.
Go to camp
All camp sessions accommodate 12 children and run 9 a.m. to 4 p.m. Monday through Friday. Remaining session dates for rising elementary schoolers are June 15-19, July 13-17, and Aug. 3-7. Session dates for rising middle schoolers are June 22-26 and July 20-24.
Cost for one week is $250, with some scholarships available. Contact Jodi Henkel at 828.743.5752 or This email address is being protected from spambots. You need JavaScript enabled to view it..