Summer Camp Guide
Camp explores earth, space and in between
Wednesday, March 18, 2020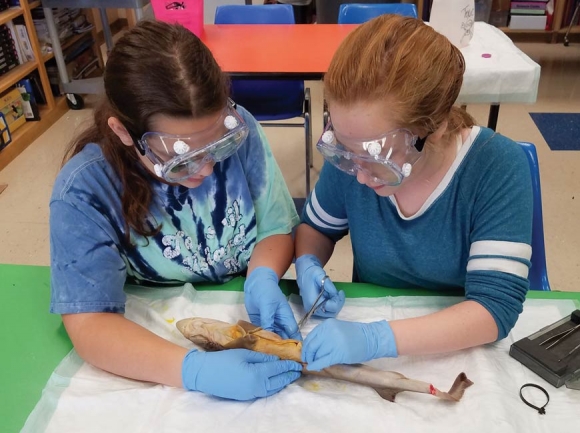 Campers work together to dissect a fish. Donated photo
Kids with a penchant for learning and exploration will have the chance to see where their curiosity takes them during ASTROcamp this summer at Smokey Mountain Elementary School.
The camp is one of a menu of programs funded by a five-year grant that Southwestern Community College landed from NASA in 2015, and that connection shows.
"The NASA-inspired summer camps have the advantage of being very future-oriented and very possibilities-oriented, and really spark the imagination of young people I think," said Randi Neff, project coordinator for the Smoky Mountain STEM Collaborative. "On top of that, they learn some really valuable skills on how everybody has to work together."
The projects are collaborative in nature, mimicking what happens with actual NASA teams.
"Everybody has a particular job, but they also back each other up so it's not like you're doing just this one task," said Neff. "You have to understand and be a part of all the tasks so you can run backup for your teammates."
The exact activities vary, as it's up to the teachers to pick the activities they want to lead. However, past activities have included designing a mission patch, building a rocket, performing dissections, using microscopes and exploring robotics.
"One of the things they really enjoyed doing is the green screen that they used to make informational videos about what to pack if you're going to the moon," said Neff. "They video-taped themselves on different backgrounds to design their pitch for going to the moon. That was last year, because it was the 50th anniversary of the Apollo moon landing."
Parent feedback has been extremely positive, said Neff, with parents excited about the opportunities their kids are having at camp.
"Children expressed that they didn't want to leave their projects and they were sad on the last day of camp," read one comment from last year. "They would gladly come back for another week."
Comments like that spurred camp organizers to expand this year's camp from one week to two.
"That's what we're doing this year is giving them an additional week of stuff," said Neff. "It's a low-stakes setting, so the children are getting to explore and do things that they can't really do within the confines of school."
Along with expanding camp's duration, SCC is working to expand its capacity, hoping to attract 50 campers this year — about double last year's participation. It's been a success, and Neff hopes to see that success continue. It's now the last year of the five-year grant, but she's working on a grant extension application seeking another five years of funding.
Go to camp
ASTROcamp will be held 8 a.m. to 1 p.m. June 15-26 and is open to rising fifth through eighth graders. The program is free, thanks to collaboration from Southwestern Community College and Jackson County Public Schools, and hosted at Smokey Mountain Elementary School. Breakfast and lunch are provided each day.
No registration link is yet available, but interested parents can contact Randi Neff, program coordinator for the Smoky Mountain STEM Collaborative, at This email address is being protected from spambots. You need JavaScript enabled to view it..