Archived Travel Guide
Aw, shucks: Haywood County crafter keeps heritage craft alive, vibrant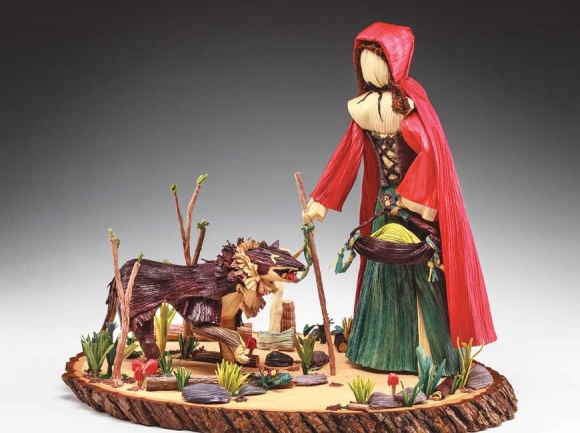 Taking the longtime Appalachian craft of corn shuck dolls to a whole new and creative level, Karen Collis can spend upwards of 70 hours on one piece.
You've probably driven by the Red Barn Greenhouse & Garden Center on Dellwood Road between Maggie Valley and Waynesville. But, have you ever stopped in?
Tucked between rows of beautiful flowers on one end and the Mountain Museum filled with Appalachian artifacts on the other are several shelves of corn shuck dolls. The intricate doll designs and scenes they're set in come straight out of the creative mind and nimble fingers of Karen Collis, a highly-sought after artist in this centuries-old craft medium.
"I try to use all corn shucks, not many people make corn shuck dolls and corn shuck accordions," Collis chuckled. "I enjoy the challenge of figuring out how to do something. [For example], a dog made of corn shucks would take me four hours to make, but it would take me four days to complete because each process has to dry in-between to get the shape you need in the final product."
Once a common craft in Appalachia, stretching all the way back to the family farms of the 1800s, the corn shuck dolls were a way for children, many from poor families, to entertain themselves in the depths of the isolated mountains.
"It's a dying art today," Collis said. "Back in the 1920s and 1930s, the home demonstration ladies would teach the ladies at home [in Appalachia] how to make them, so that they could make them at home and stay with their children. Then, they would sell the dolls at outlets in New York to 'benefit the poor of Appalachia.' It gave the mountain ladies a cottage craft, a home craft, to make money."
Collis estimates each corn shuck creation of hers can take from three to 70 hours to finish. It all depends on what she wants to do and also what a particular client might have in mind for her.
"I've done about 1,200 dolls total over the years. I do a lot of commission pieces, where someone sends me a photograph and I immortalize them in corn shucks," Collis said. "I have all of these ideas in my head — we have the whole human race to choose from. I get an idea, sketch it out as stick figures, and start working at it, then see how it evolves."
Raised in Maggie Valley, Collis opened the Red Barn 45 years ago. Each spring, thousands of eager locals and tourists ready to plant what natural beauty she has grown. Aside from her deep love of plants, she also has a similar passion for Appalachian history, with Collis being able to trace her family's history in North Carolina back over 200 years. This passion led to Collis launching the Mountain Museum 20 years ago.
"My life's work is plants and flowers. And I love history, so I go into the museum and tell stories and tales," Collis said. "I just enjoy creating things. The plants are how I make my living, the corn shuck dolls are the vacation money. [Laughs]."
As a kid, Collis was a member of the Girl Scouts, where she remembers making the corn shuck dolls. When she was 18, she taught the craft at a Girl Scouts day camp to over 100 children. And throughout most of her life, she kept at it, making dolls here and there to not lose the skill, selling them sporadically at craft shows.
Following a health scare in 2009, Collis got more serious about the craft of corn shuck dolls, seeing as it might have to be a vital source of income if her health worsened and she couldn't be in the garden center anymore. Luckily, her health improved and she's still front-and-center in the Red Barn. But, the ball kept rolling in the corn shuck doll world, with certain pieces of hers going for upwards of $1,000.
"What I do is one-of-a-kind, nothing is mass produced," Collis proudly noted.
In 2014, Collis was selected to become a member of the highly-competitive and prestigious Southern Highland Craft Guild, with her work now on display and sold at the Folk Art Center on the Blue Ridge Parkway, and also the guild's renowned craft fair at the U.S. Cellular Center in downtown Asheville each fall. Out of 100 applicants that year, nine were selected, with Collis the only artisan specializing in corn shuck dolls.
"All of the hardcore Appalachian crafts are disappearing completely. It's the mechanics that need to be continually taught, otherwise it gets forgotten," Collis said. "Somebody can look at a piece a hundred years from now and say, 'How did they do that?' There's no instruction books step-by-step, especially the creative part of it. Most of what I've done I've learned from doing, just starting very simple."
Walking around between the shelves of corn shuck dolls and the elaborate exhibits of the Mountain Museum, one can feel the sincere appreciation Collis has for those who came before her. It's important to her, and should be, seeing as it's this history and these heritage crafts that made up the rich and vibrant culture of Western North Carolina and greater Southern Appalachia.
"The museum shows how mountain people really did live. You can get the high-end and the elaborateness with the Biltmore House, but as far as our poor, hardscrabble subsistence farmers, most people come out of our museum and say, 'How in the world did they live?' It was hard work every minute of the day just to survive," Collis said. "A lot of the younger kids aren't interested in the history at all. But, the 11 and 12 year olds love it. There's not a lot of people sitting around the dinner table telling stories anymore. This heritage is not getting passed on. I love getting a grandparent in here with a grandkid and something in here sparks a memory, a story to tell them — it gives me a little hope for the future."
Want to know more?
For more information on corn shuck dolls by Karen Collis, visit www.shuckdollsbykaren.com. The Red Barn Greenhouse & Garden Center and Mountain Museum are located at 1856 Dellwood Road in Waynesville. Admission to the museum is free, with donations accepted. Call 828.926.1901.