Travel Features
The Great Smoky Mountains National Park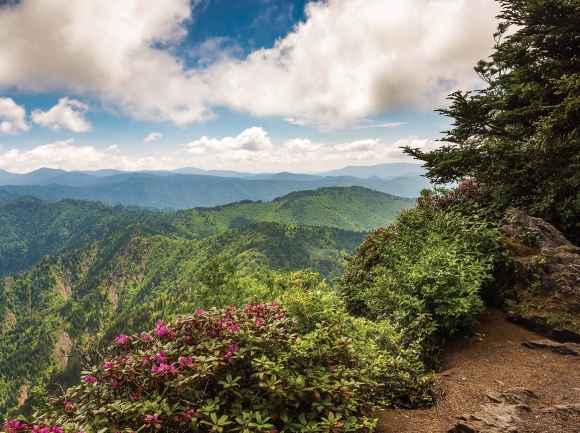 GSMNP photo
The Great Smoky Mountains National Park has an amazing array of mini-ecosystems within its borders — from peaks over 6,000 feet to low valleys, from moist densely forested coves to dry meadows. A walk from mountain base to peak compares with traveling 1,250 miles north. Several resident plants and animals live only in the Smokies.
The park has more than 100 species of trees and 4,000 species of plants. Some people say if you throw a rock and then trace its path, you're likely to walk by at least 30 different kinds of trees.
The Great Smoky Mountains National Park encompasses more than 500,000 acres, making it the largest national park in the East
Oconaluftee Visitor Center
Along with knowledgeable rangers who can help you plan your time in the park, fabulous exhibits will take you back in time among the early settlers and Cherokee who called these mountains home. The visitor center chronicles the culture and history of the Smokies, from exhibits on the Civil War in the Smokies to moonshine making. Located on U.S. 441 at the North Carolina entrance to the park, north of Cherokee and near the terminus of the Blue Ridge Parkway. 828.497.1904.
Mountain Farm Museum
This stroll through an historic Appalachian farm offers a window on the ingenuity and self-reliance of early mountain people and Cherokee. A blacksmith shop to make everything from barn door hinges to horseshoes, a spring house to keep milk and butter cool, and sundry buildings for storing the food they raised, from corn cribs to apple houses to smoke houses. The outhouse is a guaranteed eye-opener for kids. Located at the entrance to the park on U.S. 441 just north of Cherokee.
Deep Creek
Enjoy a little of everything at Deep Creek. Hiking to waterfalls, picnicking, mountain biking, camping and what Deep Creek is famous for: tubing. Several outfitters rent inner tubes for just a few dollars to float all day in the creek. This is a fantastic place to visit for a few hours because you can do so many different activities without having to go to different places. If you are in the Bryson City area, treat yourself to a visit.
Mingus Mill
The rumble of mill stones, the whistle of corn meal sliding down the wooden shoot, the slap-slap-slap of water falling over the giant paddle wheel. Explore this historic site just one mile from the park entrance on U.S. 441 north of Cherokee.
Clingmans Dome
A paved half-mile trail leads to a soaring lookout tower atop the highest peak in the Smokies. At 6,643 feet, the panoramic view offers spectacular scenery and is one of the best examples of the region's famed blue mountain ridges marching endlessly across the horizon. The tower features a spiraling 375-foot ramp to the top.
Cataloochee Valley
History and nature intersect in this picturesque meadow, a long, narrow valley cradled by mountains on all sides. An elk herd has been re-introduced into the park and calls the valley home. Cataloochee Valley is also home to a former mountain settlement, with intact farm houses, churches, schoolhouse and cemeteries that can be toured by car and short walks. Pick up an interpretive brochure at the campground on the left after you get down to the valley floor that describes the historic buildings.
Big Creek
This relatively isolated area is a favorite of locals, with a campground, bathroom, picnic area and jumping off point for some great hikes into the Smokies, including the all-day hike up to Mount Cammerer look-out tower. One of the coldest, clearest swimming holes in the Smokies — aptly named Midnight Hole — is a short 1-mile-hike up the wide Big Creek Trail.
Vehicle-free Wednesdays
Vehicle-free Wednesdays at Cades Cove in the Great Smoky Mountains National Park will provide cyclists and pedestrians the chance to enjoy this popular area without battling cars and motorcycles.
No motorized vehicles will be allowed on Cades Cove Loop Road on Wednesdays through Sept. 1, and non-motorized users are encouraged to spread out use throughout the day by planning afternoon and early evening visits. Limited on-site parking often fills to capacity during the early morning hours.
This summer, the park expects to launch new tools to avoid these parking issues. Tools will include information systems that allow visitors to find out if parking lots are full before entering the park and shuttles to bring people from Townsend to Cades Cove.
The park piloted the vehicle-free Wednesday program last year, and after receiving generally positive feedback from visitors, managers decided to continue it this year. In 2021, staff will manage on-site parking to improve visitor safety, minimize impacts to campground operations and reduce roadside parking on nondurable surfaces.
By state law, all cyclists 16 and under must wear a helmet, and helmet use is encouraged for riders of all ages. Bicycle rentals are available at the campground store near Cades Cove Campground on a first-come, first-served basis during summer and fall. 865.448.9034.