Ask Leah! The Ingles Dietitian
Sponsored: Welcome to Ingles, Tyger River Smart Farms
Wednesday, April 05, 2017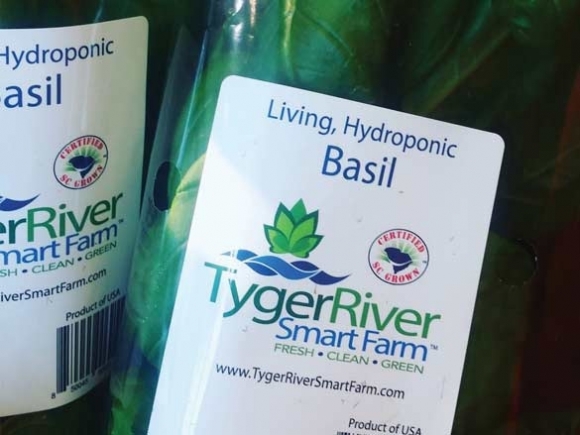 You may notice some bright green live basil plants in the produce section of your Ingles Market with a "Tyger River Smart Farm" sticker.
Tyger River Smart Farm (www.tygerriversmartfarm.com) is a hydroponic operation that grows basil, lettuces and other leafy greens using hydroponic methods. This means the plants are grown in a greenhouse instead of in the field and they are grown in water rather than soil. Their automated greenhouse is in Greer, SC and they supply live herbs like basil as well as arugula, Swiss chard, lettuce and kale to retailers like Ingles and restaurants in Upstate SC.
Hydroponic growing allows CEO and President, Ryan Oates and his employees to carefully control temperature and nutrients. All nutrients are delivered through the plant's root system by water. Ryan, a graduate of Clemson University (Biological Sciences) and Miami University of Ohio (Plant Molecular Biology) is thrilled to have his plants at Ingles, "I grew up shopping at Ingles and it makes me so proud to see my basil plants in my local Ingles store!"
Leah McGrath, RDN, LDN
Ingles Markets Corporate Dietitian
facebook.com/LeahMcgrathDietitian
800-334-4936